Cekindo Offers Referral Program for Loyal Clients
While we assure you of excellent-quality service from us as part of saying thank-you for your continuous recommendation of Cekindo to friends, business partners, and associates, we feel that you deserve more than just that.
Hence, in our effort to show you our sincere appreciation for this significant contribution from you, we are introducing our Referral Programand provide you with more rewards as a token of our gratitude.
Under the new Referral Program, every client who makes a successful recommendation of Cekindo's services to other companies that eventually engage in a formal cooperation with Cekindo will get a one-time discount of 8% for the value of services that the referred entity procures.
Furthermore, in addition to clients, individuals or corporate are also welcome to participate in our Referral Program. If the transaction is successful, you can enjoy 8% out of the total value of the service you recommend. The 8% commission fee will be paid to you in cash.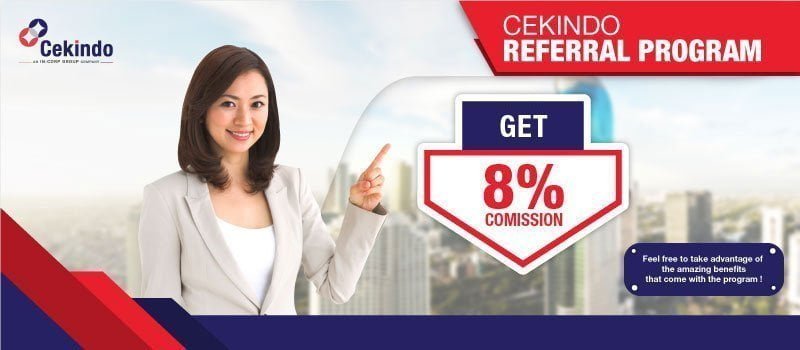 Nurturing Cooperation with Our Clients
At Cekindo, we always aim to put our clients on first priority above all else. That said, we hope that you will benefit from this program and that we continue to nurture our cooperation and good relationship right from the start of every collaboration up until its successful realization.
For questions and more details regarding the program, don't hesitate to contact us through our number or email us at:
Jakarta
Pandu Biasramadhan – Business Development Manager
+6221 30061585
jakarta@cekindo.com
Bali
David Susandi – Bali Branch Manager
+62361 2090200
bali@cekindo.com
Semarang
Teddy Willy – Semarang Branch Manager
+6224 8600 1600
semarang@cekindo.com
---
Our friendly consultants will be happy to discuss these amazing options we have in store for you and your business.