In order to strengthen our business network, Cekindo Business International (previously 'Cekindo Bisnis Grup') as a leading consulting firm of business services in Indonesia congratulates and welcomes new partner 3E Accounting Pte Ltd.
3E Accounting Pte Ltd is a leading company headquartered in Singapore, one of the few first-world countries in Asia, with a highly efficient infrastructure, free market economy, a stable socio-political environment, an attractive tax regime and per capita income among the top five nations in the world.
The company is dedicated to creating a strong network of independent accounting and consulting firms across the globe, facilitating clients who wish to venture into new markets and territories smoothly. 3E Accounting also assist in setting up businesses in Singapore for foreigners. They help in registering a new company in Singapore as well as taking over companies that wish to change Corporate Service Provider.
Established in 2011, 3E Accounting is immensely grateful and humbled to get listed as One of the Top 30 Accounting Firms in Singapore. They commit to build a strong network of independent accounting and consulting firms worldwide.
New Partnership
They also becoming the first accounting firm Among the top 30 companies in Singapore that does not focus purely on typical accounting, tax and auditing work, they look beyond what an accountant should do and provide clients with one-stop-solution services to help them grow Reviews their business.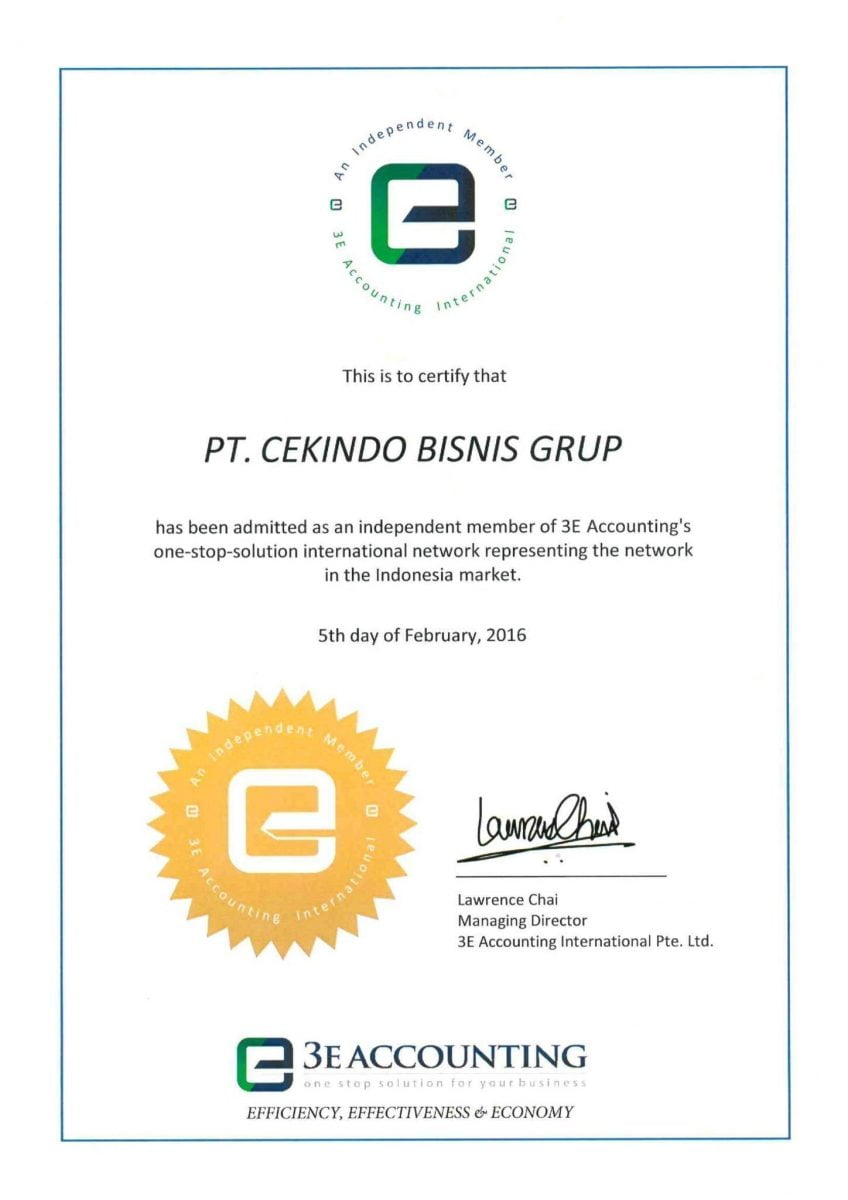 This new partnership provides a sense of optimism for both parties, to establish business relations towards better, particularly in providing services to clients who want to develop business in the local market.
Continue reading about Global Partners of Cekindo
"Long-term cooperation will bring both parties to grow together and the make stronger position on the local market in our service area," said our President Director, Michal Wasserbauer in his statement.
Cekindo Business International has served hundreds of clients from multinational companies, large to small and medium enterprises include Fortune Global 500, as well as private entrepreneurs. With the new partnership 3E Accounting Pte Ltd, the company has the confidence to jointly realize the mission and vision that have brought the two parties, namely to become a leading company in each service area.
Find out more about the Selected Clients of Cekindo
Contact us