Cekindo holds seminars, training, and events on corporate compliance regularly.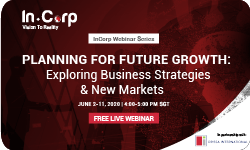 PLANNING FOR FUTURE GROWTH:
EXPLORING BUSINESS STRATEGIES & NEW MARKETS
2 – 11 June 2020 | 3:00 – 4:00 PM (GMT+7)
The COVID-19 pandemic is not only a health crisis, it is also a corporate crisis posing heightened uncertainties on the future of many businesses around the world. And as it develops, many companies are reviewing their business strategies and looking for new market opportunities to battle its negative effects on their business.
To help businesses navigate the crippling effects of the crisis, we are organizing a series of live webinars entitled: "Strategies For Future Growth: Fixing Your Business Strategy and Finding New Markets".
---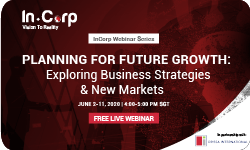 INDONESIAN MARKET ENTRY WEBINAR
5 June 2020 | 3:00 – 4:00 PM (GMT+7)
Establishing a company in Indonesia is getting much easier and more convenient due to the Positive Investment List and other recently implemented policies. The government is continuously committed to realising an investment-friendly climate to boost foreign investment. Why should you penetrate Indonesian market and what to know about the process?
---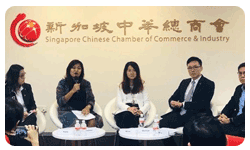 Singapore Chinese Chamber of Commerce & Industry | Singapore
January 2020
We are glad to be invited by SCCI Singapore alongside OCBC NISP to present on the opportunities and considerations for Singapore companies to expand into Indonesia. On behalf of Cekindo and In.Corp Global, our director Mya Agustina, covered various topics on regulations, taxation regime and banking in Indonesia for the strong turnout of SCCCI members.
---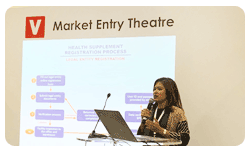 Vitafoods Asia 2019 | Singapore
25 – 26 September 2019
On 25 and 26 September 2019, we participated in Asia's No.1 Nutraceutical Event, Vitafoods Asia 2019, in Singapore. Over 350 international suppliers and 6000 business leaders attended the event to discover or showcase their most innovative and highest quality of nutraceutical ingredients, dietary supplements, and services.
Our director, Nurmia Agustina, felt honoured to be a representative from Indonesia to deliver a presentation regarding Indonesian Market Overview and Facts, How to Start a Business in Indonesia, and Regulations on Product Registration in Indonesia.
Also, we would like to express our gratitude to the event organiser, Informa, and big thanks to the other participants and distinguished guests who visited our booth. See you in Vitafoods Asia 2020!
---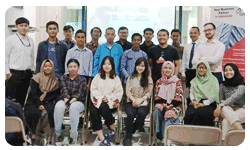 Find Your Co-Founder Seminar | Semarang
Thursday, 12 September 2019
Another insightful seminar by Cekindo Semarang was successfully held. Entitled "Find Your Co-Founder," this seminar was conducted to empower aspiring entrepreneurs and business owners in kickstarting their business and help them in finding a suitable co-founder to realise the business vision together.
---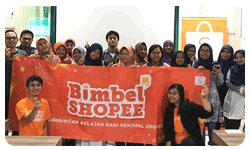 Bimbel Shopee Workshop | Semarang
23 – 30 July 2019
Cekindo Semarang, in collaboration with Shopee Seller Community, held the second Bimbel Shoppe Workshop. This event is aimed at giving the participants some insights pertaining to increasing sales by conducting a creative and innovative strategy. The participants are budding entrepreneur and aspiring small-sized enterprise owners who are interested in growing their business through the utilisation of digital commerce, especially Shopee, one of the biggest and fastest-growing marketplaces in the world.