Cekindo holds seminars, training, and events on corporate compliance regularly.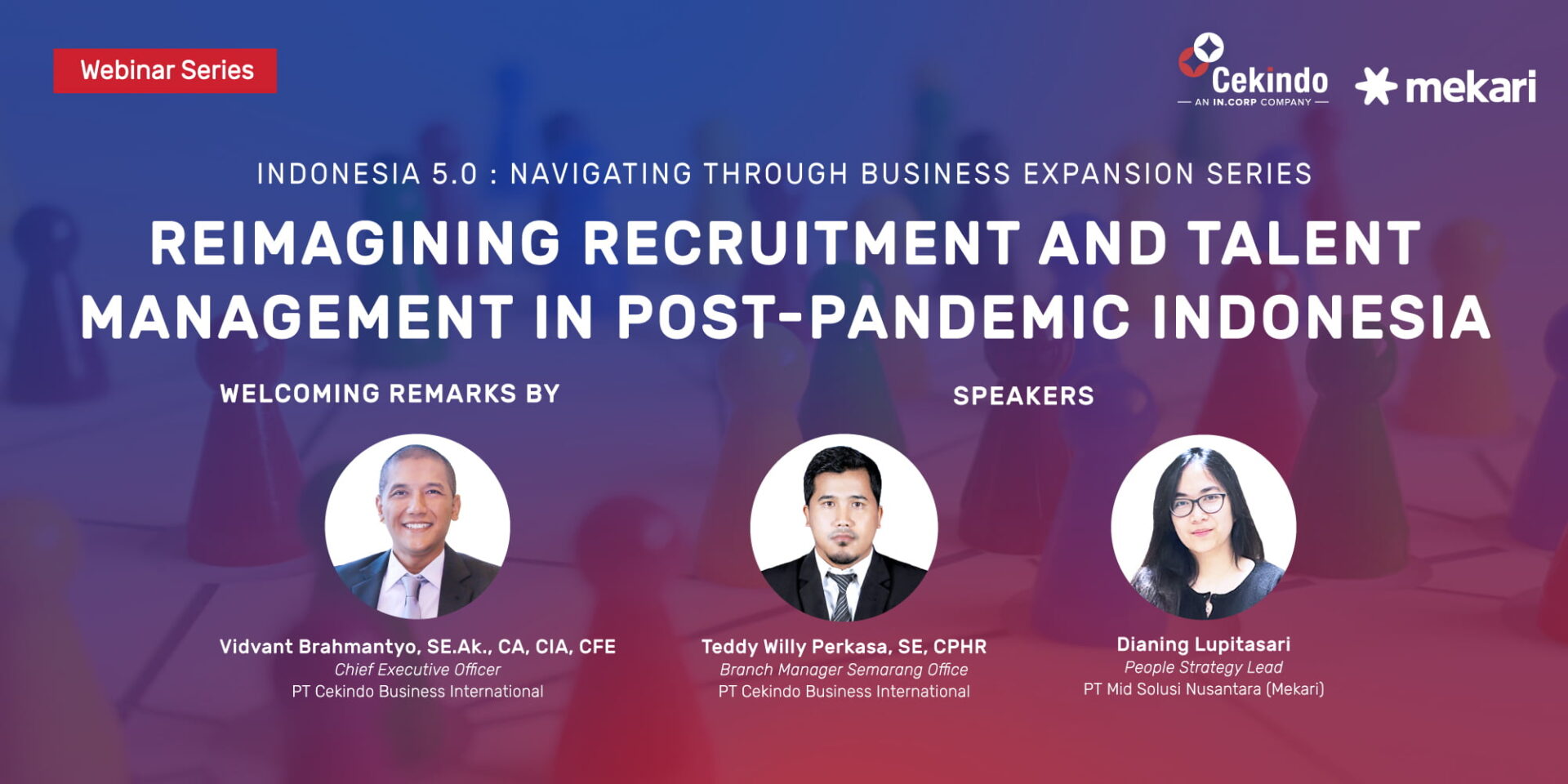 Reimagining Recruitment and Talent Management in Post-Pandemic Indonesia
24 March 2022 | 10:00 – 12:00 AM (GMT+7)
This webinar will focus on the direct and implied effects of the pandemic on recruitment and talent management, how those practices will evolve, and what business leaders need to anticipate when building their own team in the post-pandemic era.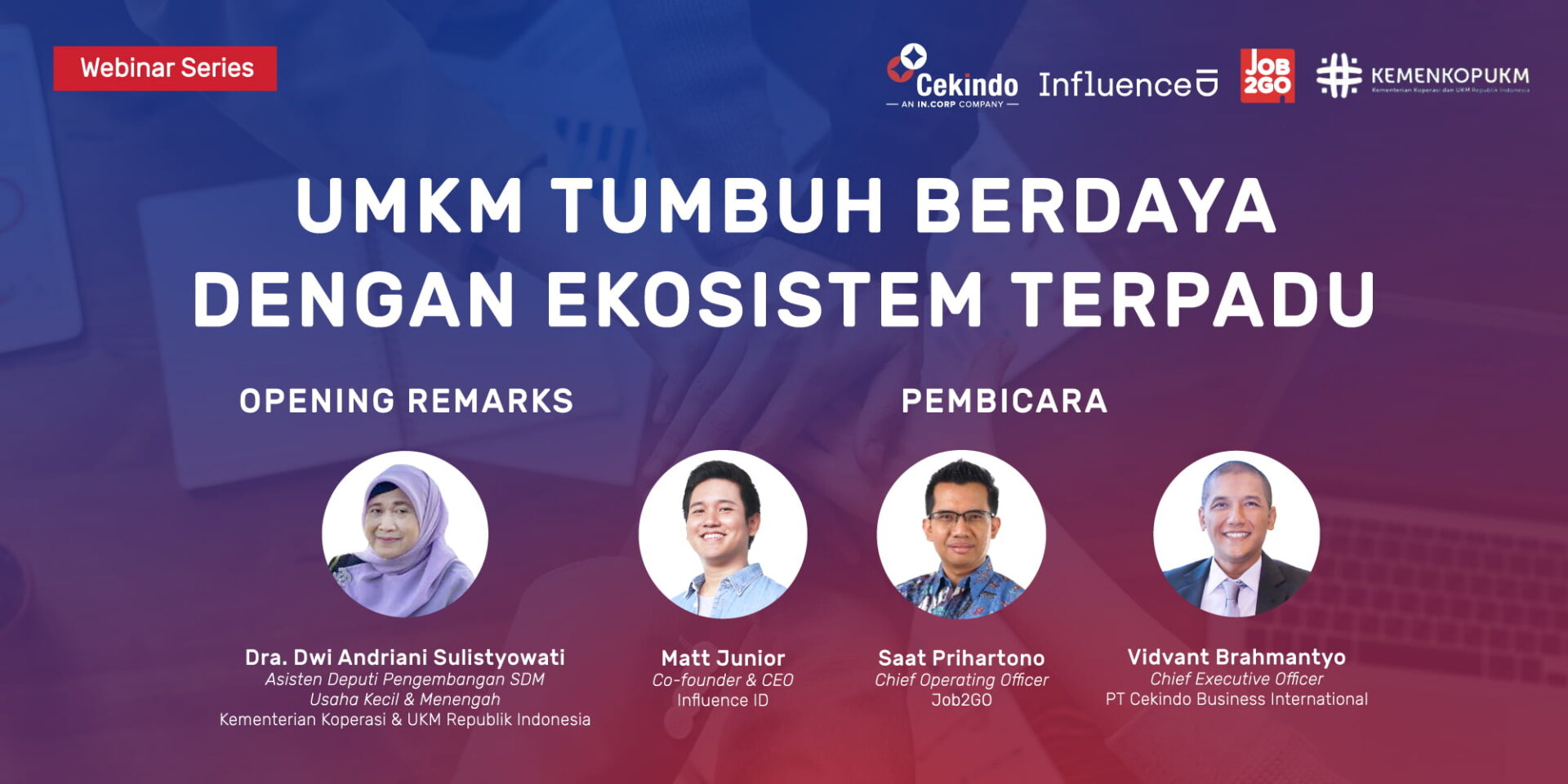 UMKM Tumbuh Berdaya dengan Ekosistem Terpadu
24 February 2022 | 14:00 – 16:00 AM (GMT+7)
Usaha Mikro, Kecil, dan Menengah (UMKM) adalah tulang punggung perekonomian Indonesia, namun sayangnya pandemi menghalangi mereka untuk terus berkembang.
Sebagai bentuk dukungan terhadap UMKM, Cekindo, bekerja sama dengan Influence ID dan Job2GO, ingin berbagi wawasan tentang bagaimana UMKM Indonesia dapat tumbuh dan berdaya dalam situasi ekonomi saat ini.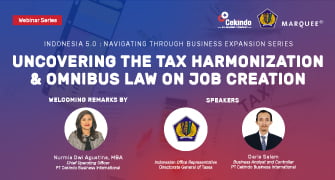 Uncovering the Tax Harmonization & Omnibus Law on Job Creation
24 November 2021 | 10:00 – 12:00 AM (GMT+7)
The 2020 UU Cipta Kerja or Omnibus Law on Job Creation and this year's UU HPP or Tax Harmonization has had an impact on foreign and domestic businesses alike. This webinar will focus on the direct and implied effects of these regulations discussed by our Business Analyst & Controller, Daris Salam, and a guest speaker from the Indonesian Tax Office.
'
Detail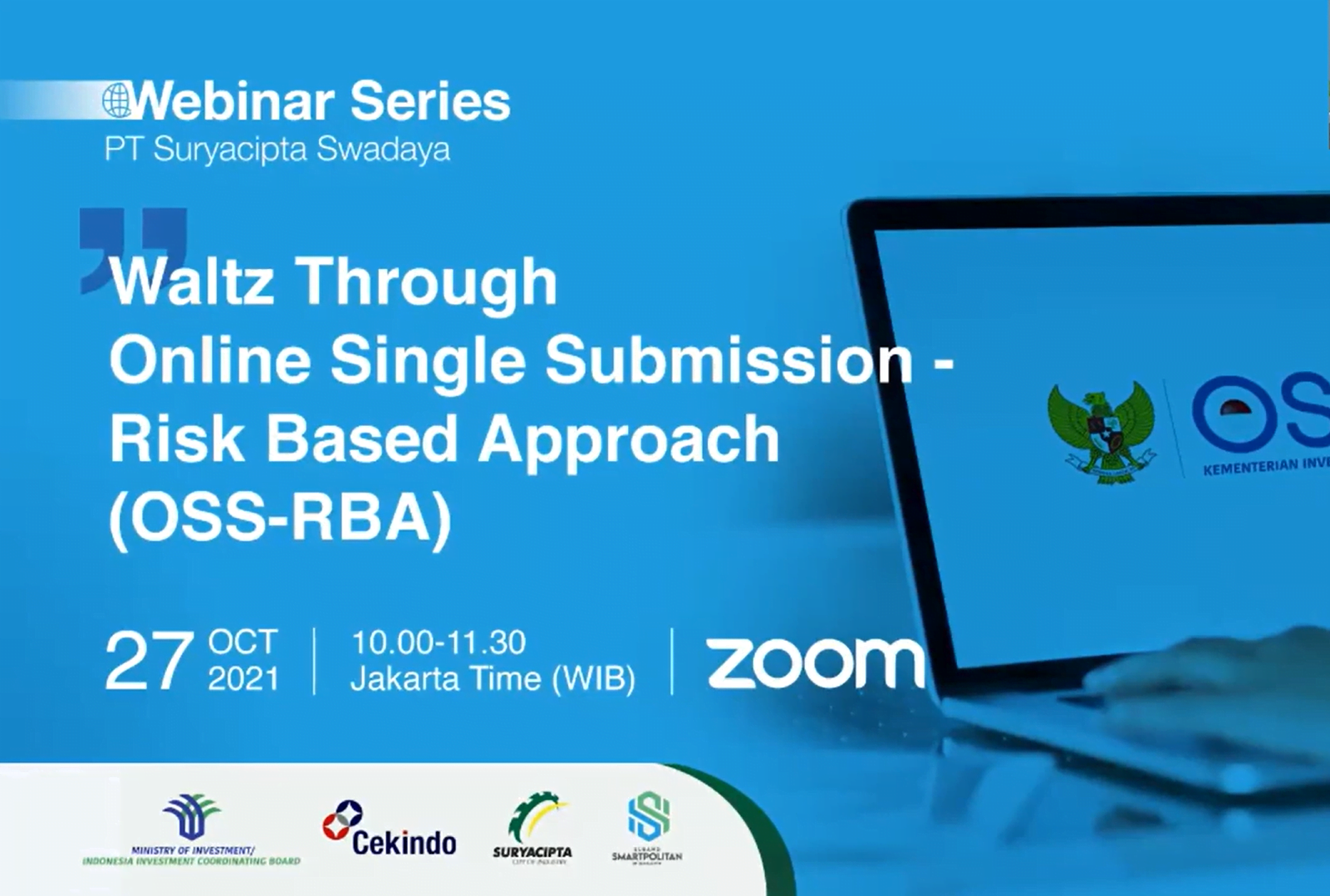 Waltz Through Online Single Submission – Risk Based Approach (OSS-RBA)
27 October 2021 | 10.00 – 11.30 AM (GMT+7)
As a manifestation to simplify the business licenses and processes, the Government launched the OSS-RBA system. Suryacipta Center of Information (SCI) dicussed its implications on Indonesia in this webinar with our Head of Consulting, Pandu Biasramadhan.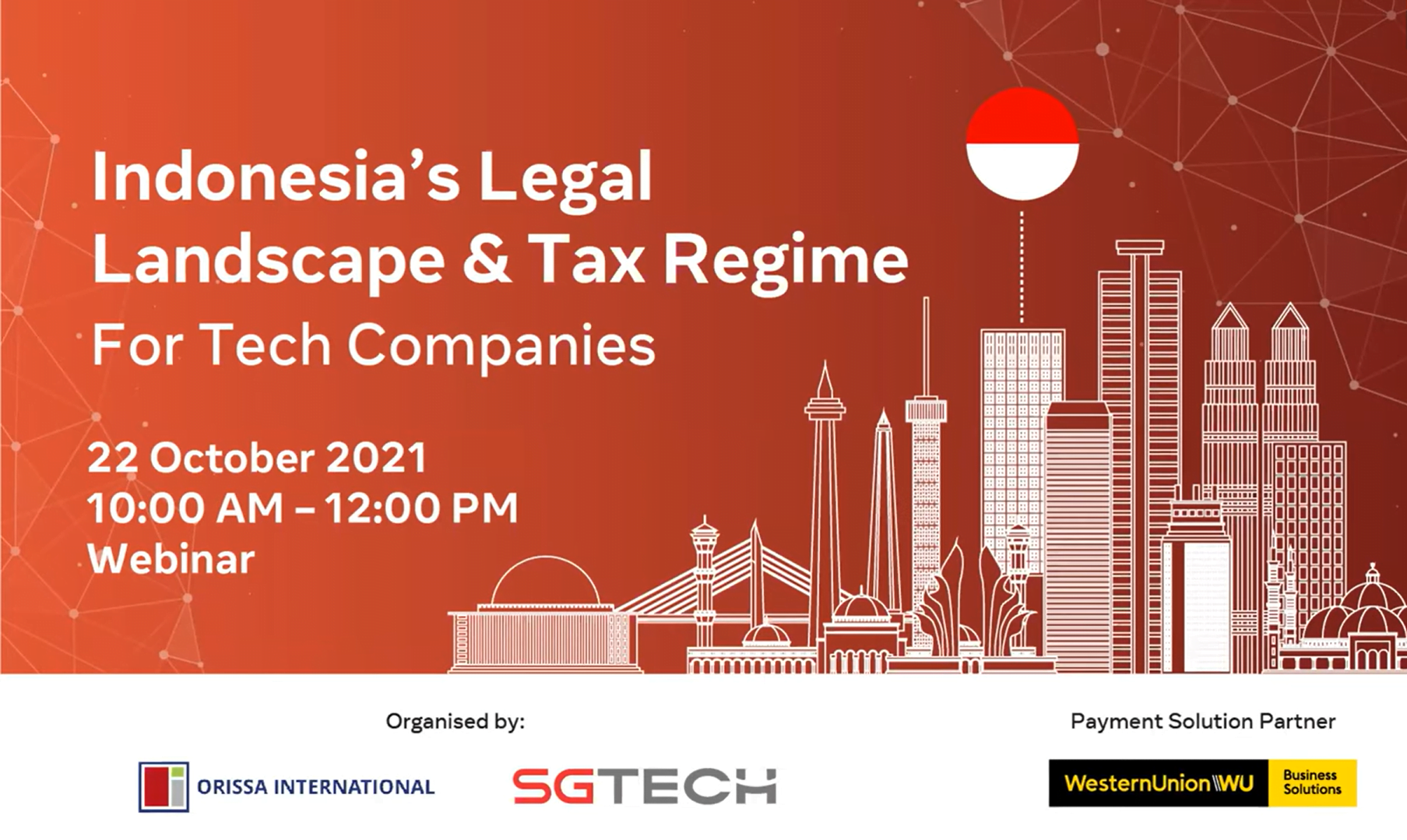 Indonesia's Legal Landscape & Tax Regime for Tech Companies
22 October 2021 | 11:00AM – 1:00PM (GMT+7)
Organized by SGTech, our COO, Nurmia Agustina, shared an overview of Indonesia's Tax Regime and Tech Companies. Nurmia highlighted income tax & VAT, tax exemptions, tax compliance, and tax policies for tech companies.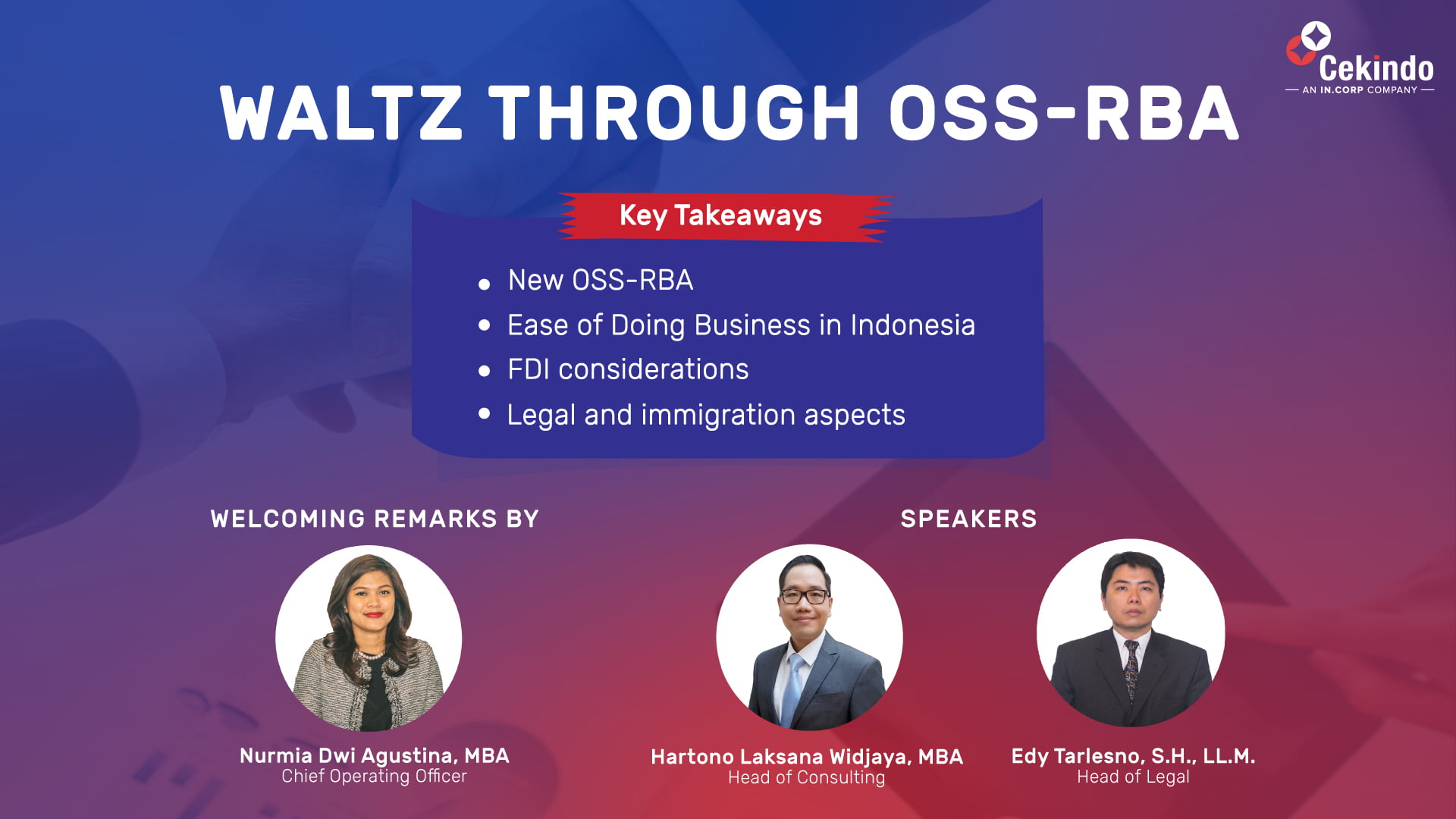 Waltz Through OSS – RBA
16 September 2021 | 9:00AM – 11:30AM (GMT+7)
With Indonesia's new regulation regarding Risk-based Business Licensing, the Online Single Submission (OSS) is now updated to OSS Risk-Based Approach (RBA). Our COO, Head of Legal & Delivery, Consulting Manager, and guest speaker from the BKPM discussed the legal implications of this new update.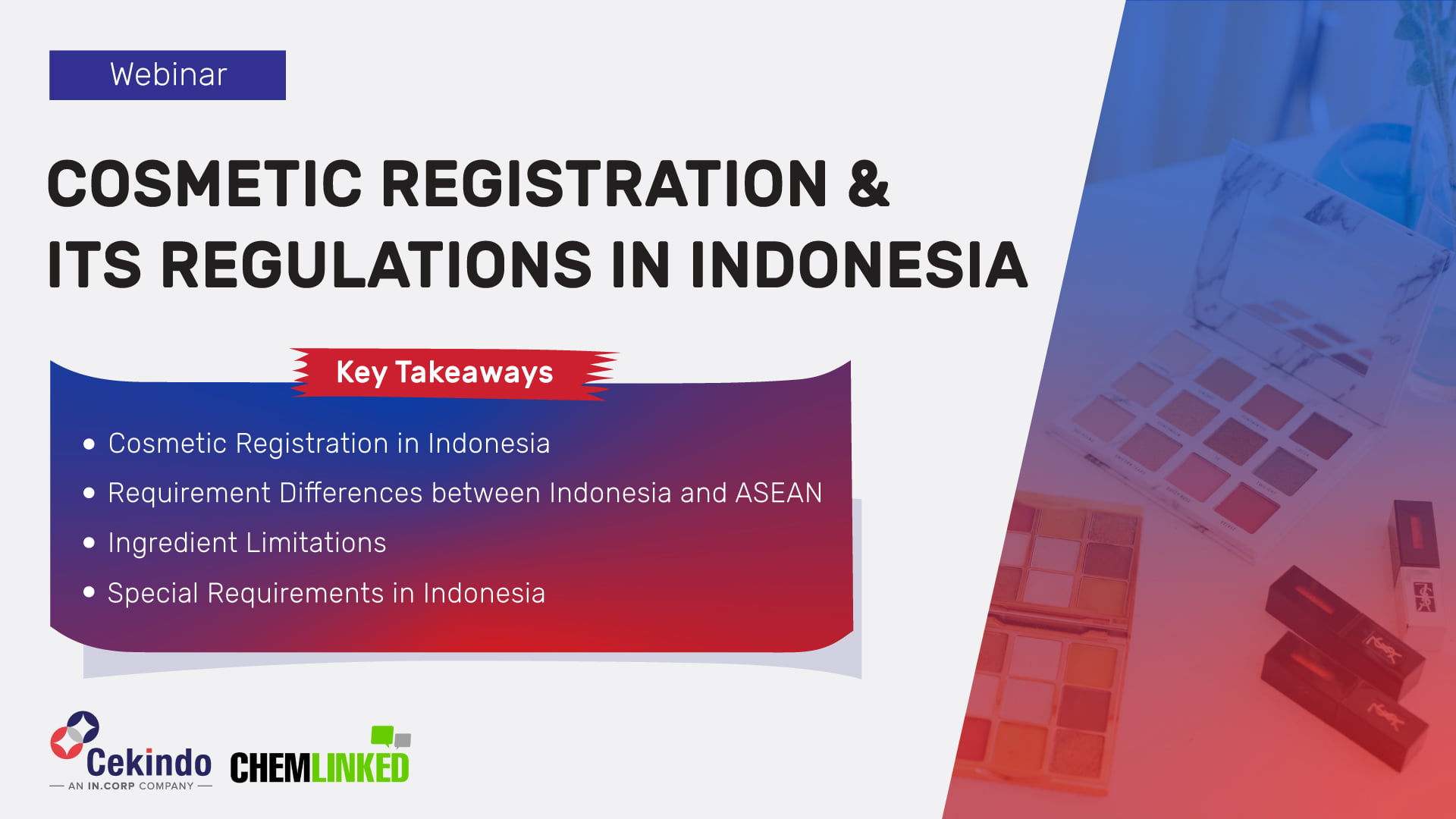 Cosmetic Registration & Its Regulations In Indonesia
15 July 2021
In this webinar in collaboration with ChemLinked, regulatory experts from Singapore, Indonesia, and Thailand will introduce an overview of ASEAN cosmetic regulations. One of our consultants, Agatha Christy Della Pratiwi, compared these regulations in the aforementioned countries.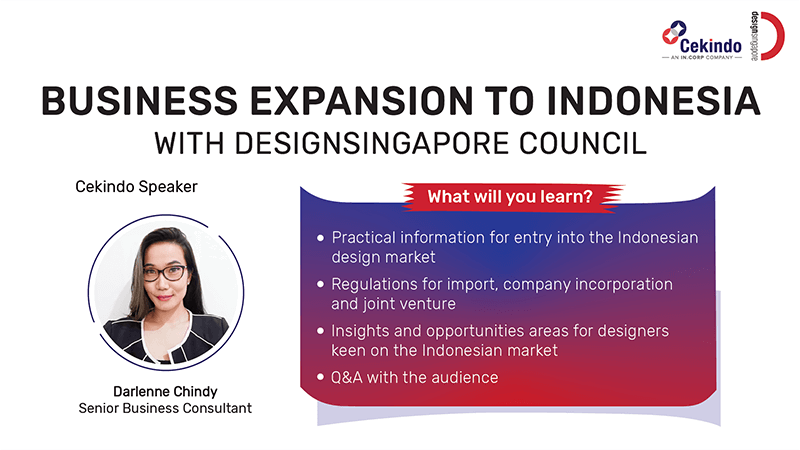 Business Expansion to Indonesia
1 July 2021
Our Senior Business Consultant, Darlenne Cindy, and DesignSingapore find out practical information for entry into the Indonesian design market, including regulations for import, company incorporation and joint venture as well as insights and opportunities for designers keen on the Indonesian market.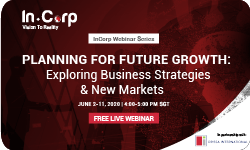 PLANNING FOR FUTURE GROWTH:
EXPLORING BUSINESS STRATEGIES & NEW MARKETS
2 – 11 June 2020 | 3:00 – 4:00 PM (GMT+7)
The COVID-19 pandemic is not only a health crisis, it is also a corporate crisis posing heightened uncertainties on the future of many businesses around the world. And as it develops, many companies
are reviewing their business strategies and looking for new market opportunities to battle its negative effects on their business.
To help businesses navigate the crippling effects of the crisis, we are organizing a series of live webinars entitled: "Strategies For Future Growth: Fixing Your Business Strategy and Finding New Markets".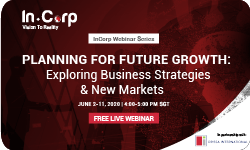 INDONESIAN MARKET ENTRY WEBINAR
5 June 2020 | 3:00 – 4:00 PM (GMT+7)
Establishing a company in Indonesia is getting much easier and more convenient due to the Positive Investment List and other recently implemented policies. The government is continuously committed to realising an investment-friendly climate to boost foreign investment. Why should you penetrate Indonesian market and what to know about the process?
---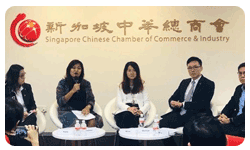 Singapore Chinese Chamber of Commerce & Industry | Singapore
January 2020
We are glad to be invited by SCCI Singapore alongside OCBC NISP to present on the opportunities and considerations for Singapore companies to expand into Indonesia. On behalf of Cekindo and In.Corp Global, our director Mya Agustina, covered various topics on regulations, taxation regime and banking in Indonesia for the strong turnout of SCCCI members.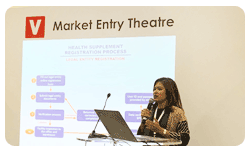 Vitafoods Asia 2019 | Singapore
25 – 26 September 2019
On 25 and 26 September 2019, we participated in Asia's No.1 Nutraceutical Event, Vitafoods Asia 2019, in Singapore. Over 350 international suppliers and 6000 business leaders attended the event to discover or showcase their most innovative and highest quality of nutraceutical ingredients, dietary supplements, and services.
Our director, Nurmia Agustina, felt honoured to be a representative from Indonesia to deliver a presentation regarding Indonesian Market Overview and Facts, How to Start a Business in Indonesia, and Regulations on Product Registration in Indonesia.
Also, we would like to express our gratitude to the event organiser, Informa, and big thanks to the other participants and distinguished guests who visited our booth. See you in Vitafoods Asia 2020!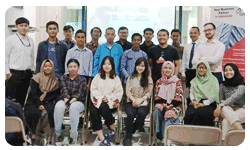 Find Your Co-Founder Seminar | Semarang
Thursday, 12 September 2019
Another insightful seminar by Cekindo Semarang was successfully held. Entitled "Find Your Co-Founder," this seminar was conducted to empower aspiring entrepreneurs and business owners in kickstarting their business and help them in finding a suitable co-founder to realise the business vision together.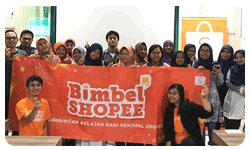 Bimbel Shopee Workshop | Semarang
23 – 30 July 2019
Cekindo Semarang, in collaboration with Shopee Seller Community, held the second Bimbel Shoppe Workshop. This event is aimed at giving the participants some insights pertaining to increasing sales by conducting a creative and innovative strategy. The participants are budding entrepreneur and aspiring small-sized enterprise owners who are interested in growing their business through the utilisation of digital commerce, especially Shopee, one of the biggest and fastest-growing marketplaces in the world.