Being a developing country, Indonesia lacks domestic medical devices of high quality, and foreign equipment is needed – meaning medical device registration in Indonesia is common. Even though 95% of the registered medical supplies in Indonesia come from overseas, the market remains underserved, and it is expected that stable market growth of 15% will continue during the upcoming years. Check the Import-Export statistic of Medical Devices in Indonesia, below:
Medical Device in Indonesia

The medical industry in Indonesia ranks as one of the most profitable and attractive fields for foreign entrepreneurs. The government imposes several regulations that should prevent the market entry of potentially dangerous substances and devices, and other non-registered medical products from being imported and sold in Indonesia.
The main control bodies that ensure safety and compliance are the Directorate General of Pharmaceutical Services & Medical Devices, Ministry of Health of the Republic of Indonesia, and Directorate of Medical Device Production and Distribution Development, with the primary agency called National Agency of Drug and Food Control (NA-DFC) also known as Badan Pengawas Obat dan Makanan (BPOM).
Medical Device Registration in Indonesia with Cekindo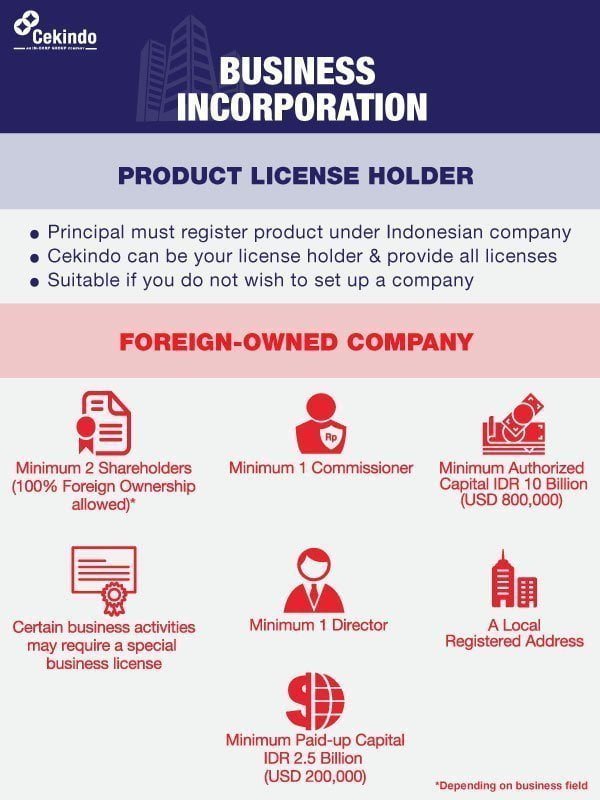 Start a Company
By law, international companies are not entitled to register and distribute medical instruments in Indonesia. Only legal companies registered in Indonesia and classified under distributor can be used for these purposes. Notably, according to the Positive Investment List, the maximum foreign ownership of 49% is allowed.
Cekindo provides Special Purpose Vehicle services and helps incorporate a fully-owned foreign company as your maximum foreign share will be complemented with shares held by Cekindo.
But if you are an investor who do not intend to form a new company from scratch, Cekindo offers you a ready-made shelf company with a clear and a good business history.
Product License Holder Service
By registering medical products under Cekindo, foreign investors do not need to incorporate their own legal entity in Indonesia. Based on the Special Purpose Agreement, your products will be registered under an independent third party that holds a Medical Distribution Licence in Indonesia (IPAK) such as Cekindo.
Medical Device Registration: The Procedures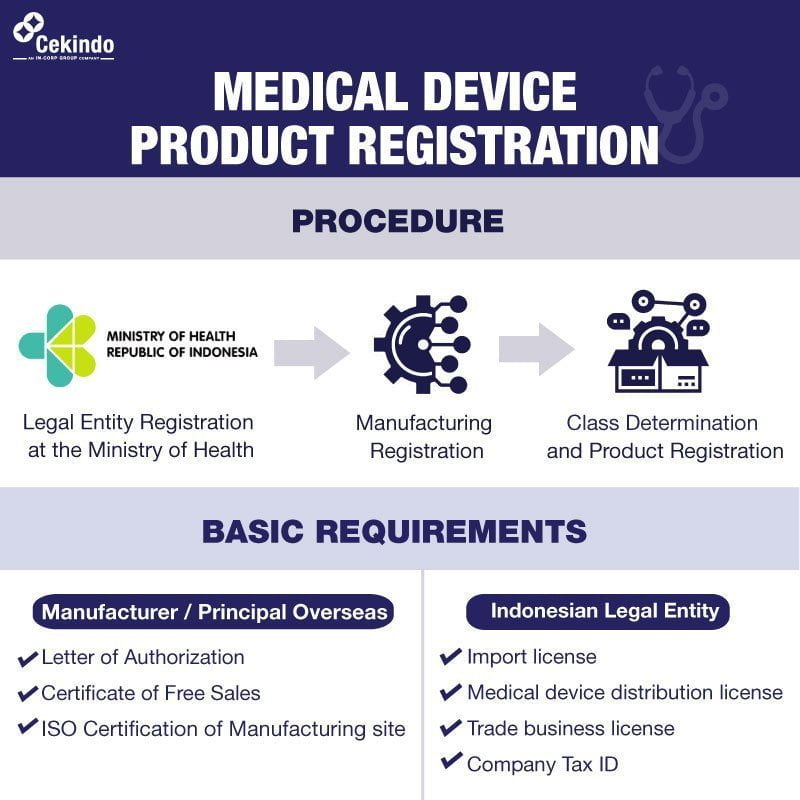 Due to the harmonization of the Indonesian grade-evaluation system with the rest of ASEAN, the classification of the medical product in Indonesian is now divided into four categories, and the registration process becomes more complicated with each class.
For example, class D medical equipment has to go through a long process of evaluation with clinical tests, articles in published journals, and risk analysis.
However, even registered products are not entitled to enter the Indonesian market unless they are granted the Distribution License for Medical Devices.
The paperwork related to the registration of medical goods in Indonesia is challenging, and both licenses require in-depth knowledge of processes. Cekindo can submit the application dossier on your behalf to avoid delays in the procedures.
Extension of the Distribution Medical Equipment Licence
The validity of the distribution license is five years. In case, foreign manufacturers and distributors decide to extend the license, it should be done at least nine months before it expires. Contact Cekindo to extend your license before its validity expires and avoid re-registration of your medical equipment.
Fill in the form below and get the updated information on medical devices registration in Indonesia.
Our legal teams are available offline as well. Visit us in our offices located in Jakarta, Semarang, Bali, and we will be happy to answer your questions.