Medical Device License: How to Obtain One
The Indonesian government requires every medical device to be registered before entering the local market. The main government body that ensures the safety and compliance of these products is the Ministry of Health of the Republic of Indonesia (MOH).
Before issuing a medical device license, the MOH will evaluate and classify every product based on risk level by referring to Indonesian Ministry of Health regulations and guidances, ranging from class A (the lowest) to class D (the highest). In general, the higher the risk, the more complicated the document registration process. In this case, seeking assistance from experts will save time.
Requirements for Medical Device Registration in Indonesia
The registration of medical devices in Indonesia starts with the eligible party applying through the MOH's online system. The applicant must also submit several documents such as administration and technical quality documents, an executive summary of the product, a device description, risk analysis, and manufacturer information.
Providing these documents and aligning with the regulation and MOH requests can be challenging for foreign investors as they require an in-depth knowledge of processes. Even registered products are not entitled to enter the Indonesian market unless they are granted the Distribution License for Medical Devices. Contact our consultants for seamless medical device registration.
Medical Device Registration Services in Indonesia With Cekindo
Medical Device Registration Services in Indonesia: The Workflow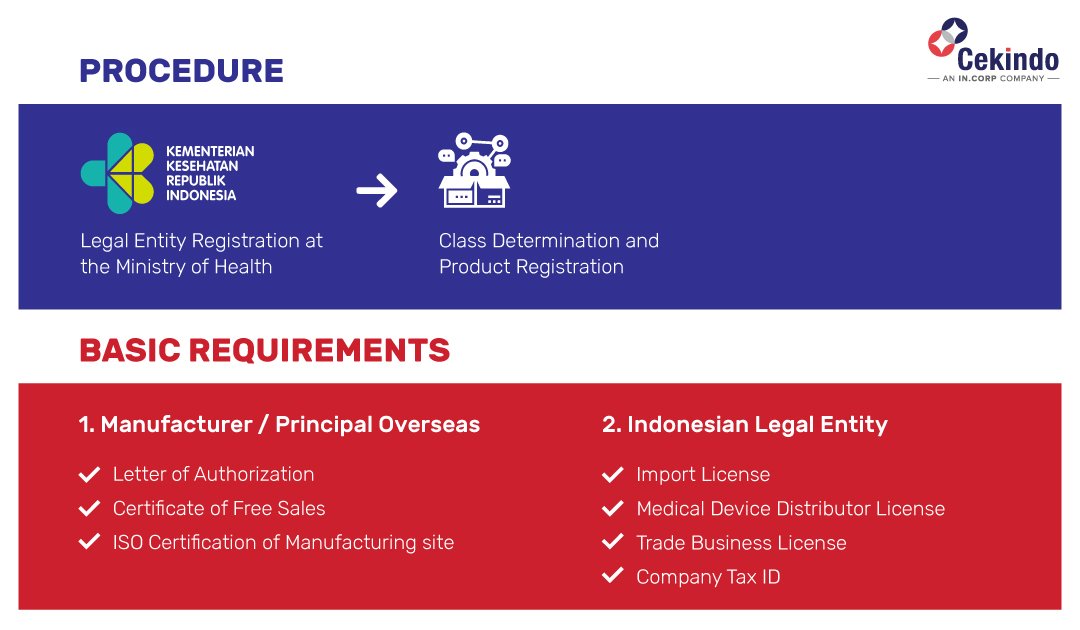 Why Choose Cekindo for Medical Device Registration in Indonesia?
1
SEAMLESS PRODUCT REGISTRATION
With our expertise in Indonesia's regulations, we handle the registration of your medical device with minimum obstacles.
2
WE ALWAYS HAVE SOLUTIONS
With or without establishing a company, we can get your medical devices registered securely and seamlessly.
3
ONE-STOP SERVICES
In addition to medical device registration, our consultants can get your medical products Halal certified in a seamless way.
4
TIME AND COST SAVING
Cekindo handles your hefty paperwork requirements for product registration and rules out delays..