Why Establish A Business in Surabaya and East Java?
East Java regions, including Surabaya, have been known to be one of the business hubs in Indonesia. The region also provides steady economic growth which is promising for business development. Expedite your business establishment in Surabaya and East Java with Cekindo.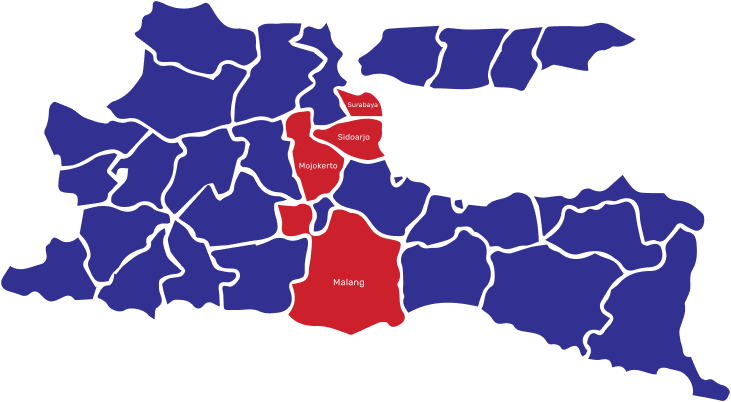 How To Start A Business in Surabaya and East Java
Download our eBook, "Guide to Doing Business in Surabaya"
Surabaya, the capital of East Java, also plays a central role in the region's economic development. Surabaya offers high economic growth, which is promising for business development. Find out more about business opportunities in Surabaya by downloading our eBook.
Find business opportunities in Surabaya with InCorp Indonesia
Watch our video and find out what Surabaya offers for your business expansion plans.
Why You Should Start Your Business in Surabaya
1
PRESTIGIOUS LOCATION
Known as the capital city of the East Java province, establishing a business in Surabaya and East Java will help drive your company's reputation in Indonesia.
2
COMPETITIVE ENVIRONMENT
Surabaya has a competitive business environment while also being a cost-friendly location to establish your business.
3
GOVERNMENT SUPPORT
Surabaya offers government support that facilitates the process of establishing businesses and making investments.
4
OPENNESS OF DIVERSITY
As one of the most diverse cities in Indonesia, setting up a business based on your national identity will be highly appreciated by the locals.
5
GREAT CONSUMER SENTIMENT
Surabaya's GDP consistently surpasses 7% in annual growth, with a population of more than 2.85 million.
6
STRATEGIC AREA
Surabaya is served by Juanda Airport and Tanjung Perak Port, one of the largest and busiest ports in Southeast Asia).