With the improving infrastructure in Indonesia, the country is now presenting many opportunities for information technology, especially e-commerce and fintech, among other emerging economies in the regions of Asia.
Research by Google Temasek has shown that in 2017, the e-commerce sales of first-hand goods in Indonesia peaked at IDR 151.4 trillion (USD 10.9 billion) in gross merchandise value, growing 41% CAGR from 2015.
Information Technology in Indonesia: The Highlights
Indonesia has become the largest spender on Information Technology (IT) in Southeast Asia.
The internet in Indonesia contributed to 2.5% of the national GDP in 2016.
Indonesia will gain 125 million internet users by 2025.
Indonesia has 112% mobile penetration with a total of 266 million mobile subscribers and is the world's 4th largest mobile market.
Revenue in the e-commerce market in Indonesia amounts to IDR 81.8 trillion (USD 8,591 million) in 2018.
An annual growth rate of revenue (CAGR 2018-2022) of 17.7% in e-commerce will result in a market volume of IDR 228.9 trillion (USD 16.5 billion) in 2022.
User penetration in e-commerce is at 11.8% in 2018 and is estimated to achieve 15.7% in 2022.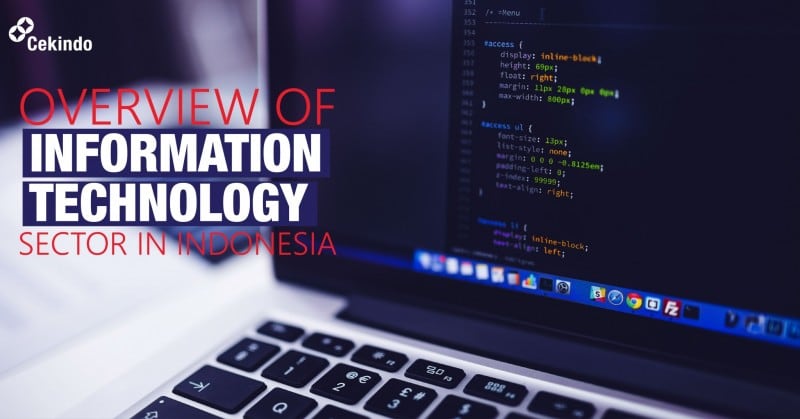 Economic Growth through Information Technology
The rapid development in the information technology sector, combined with drivers like mass consumption of products, urbanization, a surge in mobile usage, and a tech-hungry young population, makes a positive impact on the economic growth in Indonesia.
Ranking third behind China and India, current projections show that the nation's e-market will reach IDR 151.4 trillion (USD 130 billion) by 2020.
With a predicted annual growth of 50% and robust mobile-first initiatives—strategy facilitating smartphones, tablets, and task-specific apps to get the work done—retailers now have an exclusive opportunity in Indonesia to develop mobile platforms to boost e-market growth, especially in the consumer packaged goods.
According to International Data Corporation, Indonesia has become the largest spender on IT in Southeast Asia. The public sectors invest heavily in upgrading its internal infrastructure, and the private sectors do so as well to enhance customer service in order to gain a competitive edge in the marketplace.
It is critical for both types of sectors because in 2025 Indonesia will have a massive 125 million internet users.
On top of that, a study by Deloitte claimed that the internet in Indonesia in 2016 contributed to 2.5 % of the country's GDP, up from the mere 1.6% in 2011.
The growth of internet usage has further encouraged Indonesians to purchase smartphones, subscribe to monthly data packages, and make online purchases. Leveraging these trends in Indonesia, there is a disruptive force of information technology in the next few decades to come.
Major Markets in IT in Indonesia
A large number of companies are experiencing digital transformation all over the world. According to NetApp Indonesia, three information technology (IT) trends are currently on the rise in Indonesia.
First of all, data are becoming the new currency; secondly, more and more new platform models will take over the traditional channels; and lastly, corporate growth is now depending significantly on cloud computing. Presently, e-commerce and fintech are the two big and flourishing markets in Indonesia.
E-commerce
Indonesia's current e-commerce market is similar to China's online marketplace at its infant stage, with a colossal of different sellers providing goods for purchase via social media recommendations.
On the same note, Indonesia's e-commerce also represents the initial U.S. e-market, flooded with buyers cautious of retailers and online payments. As a result, with the potential to create a hybrid of the greatest opportunities based on America and China's e-market economies, Indonesia is now catapulting itself to the global online marketplace.
Research conducted by Indonesia's E-Commerce Association and Google found that the e-commerce market has grown to IDR 81.8 trillion (USD 8,591 million) in 2018.
The ease of finding information from home and making convenient electronic payments, as Indonesia's e-commerce markets leverage, are two of the main reasons for the huge growth in e-commerce. According to iPrice.com, Lazada and Tokopedia are the first and second most searched e-commerce sites with the highest revenue in 2017.
Fintech
In 2016, fintech investments in Indonesia started to overtake e-commerce by storm. Investments into Indonesian fintech startups hit a record high in 2017—more than IDR 5.85 trillion (USD 421 million).
This trend is continuing up until now in 2018. Thanks to the huge e-commerce boom in Indonesia, leading to a gold mine for digital payment startups in fintech.
Now, there are more than 150 fintech startups in Indonesia—almost 78% more as compared with 2015. A survey by AT Kearney and Google also identified that fintech is one of the most alluring sectors for investors in the information technology start-up's ecosystem.
Continue Reading
Fill in the contact form and we will get back to you with a quote and an overview of the information technology sector in Indonesia.