How to Obtain an Indonesian Business License
To engage in general trading, goods, or other services as a business in Indonesia you'll need to do two things: set up a business and acquire an Indonesian business license. Aside from a general business license, some businesses may need more specific licenses to legally operate, such as a commercial alcohol license.
For example, a company in the manufacturing industry outside of oil, gas, and geothermal energy should have an industrial business license, and a construction company should have a construction business license.
To register your business, you will have to use the Online Single Submission System (OSS). The OSS is a one-stop-shop for business licenses. Here you can apply for a business identification number (Nomor Iduk Berusaha, or NIB), business license, as well as other commercial and operational licenses.

Commercial and Operational Licenses
The Investment Coordinating Board (Badan Koordinasi Penanaman Modal, or BKPM) is still responsible for processing licenses for several sectors in Indonesia. These licenses cannot be obtained via OSS, so to acquire these licenses, you must apply directly to the BKPM.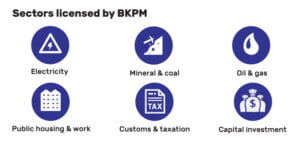 How Cekindo Can Help
If you're looking to expand your business to one of the fastest-growing economies in the world, Cekindo can assist you in:
Creating a personalized business registration plan that fits your needs
Applying for special licenses through OSS and BKPM to simplify your experience
With years of experience and business consultants of a high caliber, Cekindo is here to find solutions for your global business.