The future of the healthcare industry in Indonesia is getting better. Due to Indonesia's inadequate healthcare infrastructure, The government is getting ready to construct the new Sanur SEZ in Bali as Indonesia's first Health SEZ.
The Indonesian government continues constructing Special Economic Zones (SEZs) based on technological and economic trends. The Digital, Maintenance and Repair and Overhaul (MRO), and Education Special Economic Zones have previously been built.
A large number of the population prefer to receive their medical care overseas. The Sanur SEZ will provide a solution and bring financial benefits to the local economy. It is anticipated that Indonesia's economy and healthcare infrastructure will improve by approving the Sanur SEZ project.
Between 4% and 8% of Indonesians who previously sought treatment abroad will do it at the Sanur SEZ by 2030, making up between 123,000 to 240,000 patients. The entire foreign exchange savings are anticipated to amount to IDR 86 trillion by 2045, while the total additional foreign exchange is expected to amount to IDR 19.6 trillion.
The Future of The Healthcare Industry in Indonesia
Pharmacy is a promising industry in Indonesia. The pandemic has made us more aware of the value of medical professionals, equipment, and medications. There has been a rapid increase in medical device manufacturers in Indonesia over the last few years, from 193 in 2015 to 891 entities in 2021.
To implement the Making Indonesia 4.0 program, the government has added the pharmaceutical and medical device industries as priority sectors due to rising demands.
The Indonesian government encourages the adoption of technology-based digital transformation to boost the competitiveness of the pharmaceutical and medical device industries.
State-owned pharmaceutical holding corporations, for instance, have used digital technology and the Internet of Things (IoT) throughout the entire production and distribution process.
The organization uses related technologies to expand its network, carry out digital administrative tasks, and promote more effective and efficient performance implementation.
Vaccine Manufacturing
Numerous vaccine manufacturing platforms, such as mRNA, viral vector, adjuvanted protein subunit, and inactivated vaccine, have been developed, owing to their high effectiveness.
The majority of mRNA vaccines, however, have been developed and manufactured by pharmaceutical companies in high-income countries. The challenge is to create and implement safe and effective diagnostics, therapies, and vaccines on a global scale in at least 100 days.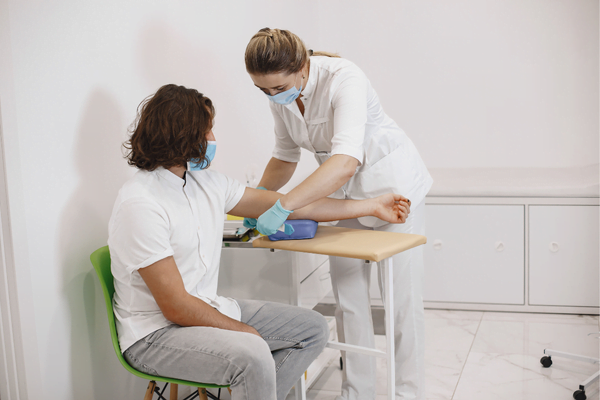 Pharmacy manufacturers in all countries can only accomplish this if they have equal access to vaccines, therapeutics, and diagnostics.
As a result, interdisciplinary and international collaboration is required for pandemic prevention, preparedness, and response. Such collaboration necessitates capacity building, scientific collaboration, and knowledge sharing.
Building Medical Research Centers
Research centers can be an excellent framework for encouraging the emergence of joint research in pandemic prevention, preparedness, and response, integrating various existing ecosystems.
Indonesia plans to expand industrial facilities and create joint research centers with many other G20 nations, including Argentina, Brazil, India, and South Africa.
All G20 members and foreign organizations were involved, according to health minister Budi Gunadi Sadikin. This project aims to increase the capacity for research and production in middle-income G20 member nations.
Pushing Local Medical Devices Production
The health minister also urges local materials to comprise at least 60% of the medical devices manufactured in Indonesia. The minister set the aim because imports still account for most medical device sales in Indonesia, both for finished goods and raw materials.
According to the minister, local products only made up about 12% of medical equipment transactions between 2019 and 2020, compared to 88% for imported products. In actuality, 152 of the 496 pieces of medical equipment sold during the 2019–2020 period could be made independently using locally sourced raw materials.
Technological limitations and the application of rules for the use of domestic products point to the low use of medical devices made locally.
Through this shift, Indonesia can supply domestic demand for medical equipment. The Indonesian health industry is currently only able to make low-tech medical equipment, but it is expected to improve with time.
InCorp Indonesian (previously Cekindo) provides medical devices registration services in Indonesia to help you navigate the rigorous process. Another service extended by us pertains to business registration.
Digital Healthcare Realization in Indonesia
According to Setiaji, ST., Chief Digital Transformation Officer of the Indonesian Ministry of Health, cross-sectoral digitalization in the health sector is essential to make it simpler for the general population to receive health services.
The Health Digital Transformation Strategy Blueprint 2024, published by the Indonesian Ministry of Health at the end of 2021, outlines the country's plans for digitalizing its healthcare system. The objective is to make it easier for the general population to acquire healthcare services without sacrificing quality or effectiveness.
Trends in digital hospitals and utilizing artificial intelligence (AI), machine learning (ML), and cloud-based services will improve current workflow and patient experience.