When starting a new business in Indonesia, the most common and popular option is to set up an entirely new entity. Although setting a new entity in Indonesia is not as difficult as you imagine, there will definitely be times you face certain issues as foreigners, especially when it comes to the processing time as well as the right permits and licenses. But, there is another option like shelf company.
Shelf company in Indonesia feels like the right solution for some foreigners to do business in the country. Foreigners with needs and goals to set up a company in a shorter period of time with a more simplified process in Indonesia, may find that the ultimate answer is a readily available shelf company.
Now, let us share some insights with you by covering the basics of why a shelf company may be a better choice than a new company, so that you can make a wiser decision.
What Is a Shelf Company?
A shelf company, or an aged company known by some, is a ready-made company that is already formed but not in use. It can be a newly established entity with clean records, or an entity that has been incorporated for some time and left to age on purpose. A shelf company is ready for purchase by a new owner.
For foreigners doing business in Indonesia, a shelf company is a quicker option to choose because the only major process foreigners have to deal with is the changing of ownership, which can be done fairly quickly for a shelf company.
Advantages of a Shelf Company
There are many reasons foreigners or even the locals purchase shelf companies in Indonesia, one of them is because a shelf company offers the following advantages that will catapult your entrepreneurial success.
Lower Expenses and Shorter Time
Purchasing a shelf company can cut down significant time and expense, as compared to establishing a brand new company. Thus, foreigners can enter the Indonesian market rather quickly. A brand new company in Indonesia takes 5 – 10 weeks to establish but a shelf company can be acquired in several days.
To get a better understanding we have prepared you an infographic the comparison of purchasing a shelf company and establishing a brand new local company in Indonesia, below: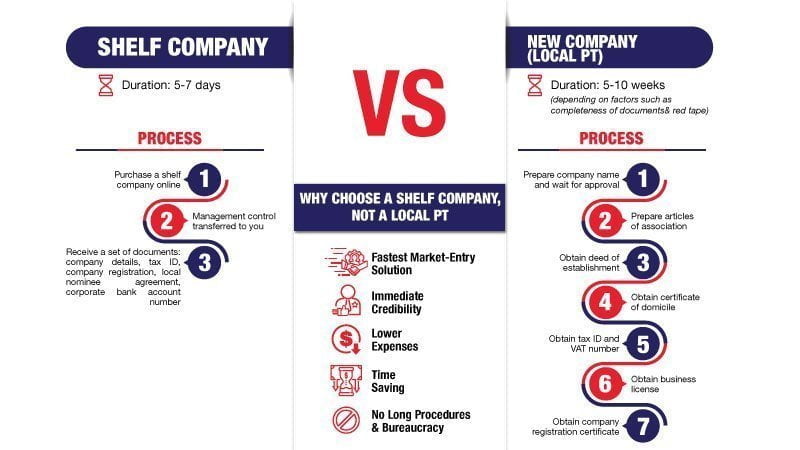 Instant Access
With the instant option to change the name of business, shareholders and directors right away, you will have instant access to both government and private contracts.
Instant Credibility and Reputation
An appearance of company history and instant credibility are also the benefits that a shelf company that has aged for a period of time can offer. The credibility of a shelf company will attract more potential investors. In addition, some companies might need your company to be in business for a certain minimum length of time before they would become your business partners.
Forging Quick Relationship with Financial Institutions
As the new owner of a shelf company, your company will be able to open a bank account and forge necessary banking relationships with banks in Indonesia for business lines of credit and future loans almost immediately.
Peace of Mind
You will not need to go through all the hassle of setting up a new company by purchasing a shelf company from a provider like Cekindo.


You will also get an
easy bank approval
by purchasing a shelf company as the banks in Indonesia prefer to do business with an aged company. Check
How Can A Shelf Company Help Your Business?
Shelf Company in Indonesia
Shelf companies in Indonesia offered by Cekindo are in the form of local PT (local company) instead of PT PMA (foreign-owned company). A list of our available shelf companies is updated regularly and you will be able to choose one that satisfies your business requirements.
Buying a Shelf Company in Indonesia Online
The entire process of buying a shelf company from Cekindo can be completed online. You can choose the companies directly from our updated database quickly just by clicking the button below.
A public notary will sign and notarise the contract and then the ownership of the shelf company will be transferred to you.
The whole process generally takes less than a week, and you will also be provided with the following details of your company:
The company name, office address and phone number
The company's incorporation number
The company tax identification number
All company registration documents
All Special Purpose Agreements
A company bank account number with internet banking (upon request)
Get in touch with us today should you require further information by filling in the form below.
Or visit our offices in Jakarta, Bali and Semarang.