The coffee shop market in Vietnam is booming, especially in the larger cities such as Hanoi, Ho Chi Minh City, Danang, Hue, Hoi An and others. Thus, for many entrepreneurs, there's never been a better time to start their own coffee shops, one of the best business ideas in Vietnam.
It's no surprise that the café culture is mushrooming in Vietnam. First of all, Vietnam has its own coffee that is so popular around the world; and second of all, the coffee culture is the country's delightful tradition.
Everywhere you go in big cities in Vietnam, you can see a lot of Vietnamese chilling at the coffee shops or holding a cup of joy on the bus, on their way to work and even jogging in the park.
Aside from the tradition and culture, the new entry of shopping malls, hotels, and recreation venues also boosts the growth of coffee shops.
Of course, just like any other businesses, you need to pay attention to the country's laws and regulations and make sure that you will be able to comply with them before you start a coffee shop business.
Cekindo will provide you with some important steps to set up a coffee shop in Vietnam in this article.
Small Business Idea in Vietnam: Opening a Coffee Shop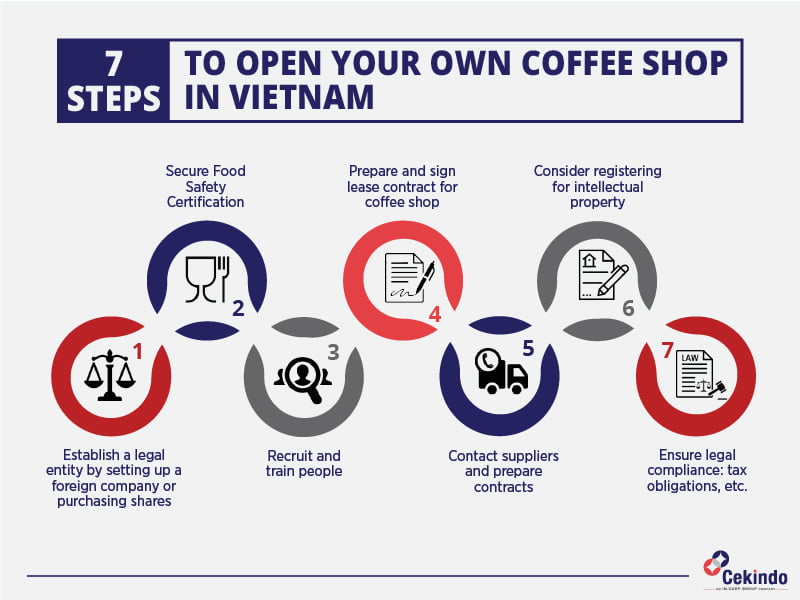 1. Establish a Legal Entity for Your Coffee Shop
The process of starting a coffee shop is a little more difficult for foreigners compared to the locals. You have two options as a foreigner: you can either set up a foreign company or purchase shares in a Vietnamese company.
If you want to set up your own foreign company, you are required to submit an application for Investment Registration Certificate and Business Registration Certificate.
The Investment Registration Certificate is not required if you purchase shares from a local company, upon the approval of the Vietnamese Department of Planning and Investment.
2. Obtain the Food Safety Certification
Coffee shops are treated as catering companies in Vietnam, which is under the conditional sectors according to the Vietnamese Law.
Therefore, you need to apply for the food safety certificate in order to establish your coffee shop. In order to successfully get the food safety certificate, you will have to submit the following documents:
A copy of business registration certificate
A written request for food safety certification
Relevant health certificates (owner and employees who are in direct contact with food)
Detailed descriptions of equipment, facilities and devices complying with the food safety requirements
Food safety training certificates
All documents must be submitted to the Department of Health in Vietnam.
Upon the complete submission of your application, the department will release the results within 15 working days. The certificate of food safety will be issued if the application is approved; and a written statement with explanation will be released if the application is rejected.
3. Take Care of Other Legal Details
In addition to the coffee shop setup and food safety certificate requirements, you as a foreign investor in Vietnam must also pay attention to the following details:
Recruitment and training
Lease contract of your coffee shop
Tax declaration, reporting and payment
Rights of intellectual property
Commercial franchise
Contracts with suppliers
How Cekindo can Assist
Opening a coffee shop in Vietnam is a challenging venture for many locals and foreigners due to the increasing competition.
However, with the right dose of detailed planning and meticulous execution, starting and running a coffee shop in Vietnam can be a remarkably profitable business.
Currently, many investors have been sending in enquiries to Cekindo, looking to invest in the lucrative café business in Vietnam.
Thus, if you are interested in starting a coffee shop just like other aspiring entrepreneurs, this may be the right time for you to do so.
Contact Cekindo now through the form below for any professional help or advice you may need and we'd be happy to assist you.