At the moment, across Indonesia, companies are saving a substantial amount of money each year by having virtual offices in numerous Indonesian cities. A virtual office in Indonesia is an excellent way to cut down sizable costs while keeping a professionally high profile of establishing fully functional offices all over the country.
The rise of the virtual office in Indonesia can be seen in many major cities such as Jakarta, Bali, Surabaya, and Semarang. As of 2018, 200,000 virtual office tenants were recorded in Indonesia and the market opportunities of virtual offices are expected to reach two million users.
However, despite the soaring virtual office demand in Indonesia, there are still a lot of misconceptions about virtual offices that have been continuously proven to be entirely false over the years. Here are the 7 most popular virtual office myths in Indonesia that you should not believe.
Do Not Believe These 7 Myths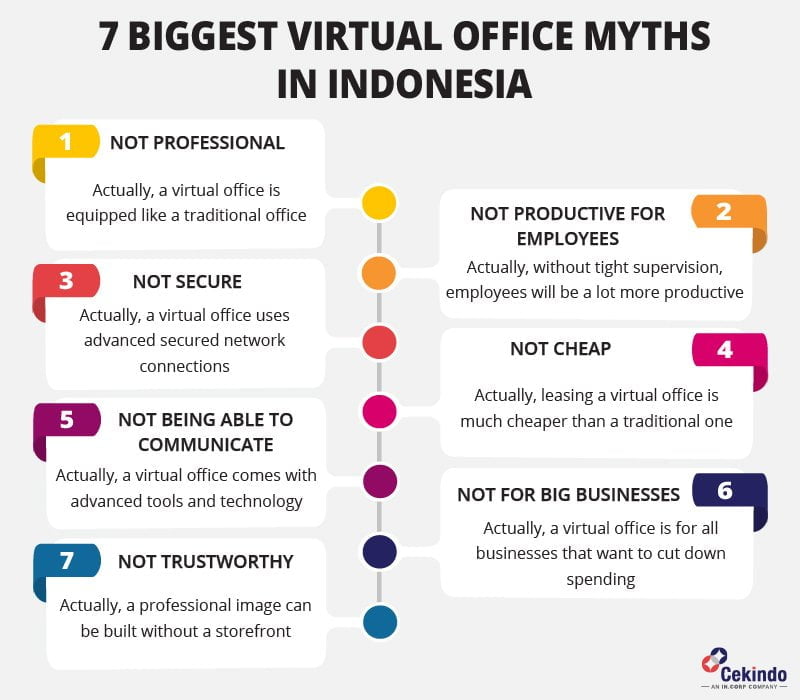 1. Virtual Offices Aren't Professional
This myth is groundless. People saying virtual offices aren't professional because they have never used one or seen one themselves.
A virtual office not only allows you to have access to all facilities and amenities like you would get in a traditional office, but there are also fully-equipped meeting rooms and conference rooms for you to hold training, seminars and important meetups.
The only difference is that you don't have to pay a massive amount of money as you would have to in a long-term conventional office.
2. Employees Are Less Productive in Virtual Offices
The fact is: the opposite of employees being less productive working in virtual offices. Understandably, employers think their workers are not productive while employees aren't under their supervision in an enclosed space.
Studies have shown that with fewer distractions and the lack of constant stress of employers watching over them by using a virtual office, employees perform much more effectively and productively.
3. Virtual Offices Are Not Secure
Businesses may worry that their confidential information and sensitive data are not safe with virtual offices. It might be the case 10 years ago but not anymore because reputable virtual offices in Indonesia use advanced secured network connections. Therefore, the leak of sensitive information is highly unlikely.
4. Virtual Offices Are Pricey
The reality is: virtual offices are much cheaper than leasing an expensive traditional office space, starting at as low as USD 30 per month if you book a virtual office with us.
Also, if you want to make a switch due to the upsize or downsize of your business, you can do it anytime without having to get stuck in a long-term lease.
With a virtual office in Indonesia, you can also save on commute expenses, internet, utilities, office furniture, technology, etc.
5. Virtual Offices Lack of Communications
Businesses fear the lack of communications with their clients and employees if they utilize a virtual office in Indonesia.
The truth is, their communications don't have to suffer because modern digital creation and advanced online conferencing that virtual offices offer have made communications possible. Clients and workers can now communicate in real-time and more conveniently no matter where they are.
6. Only Small Businesses Need Virtual Offices
This is incorrect. All businesses want to cut down their spending, regardless of their sizes. Therefore, small and medium enterprises, large corporations, solopreneurs, micro-businesses can all benefit from virtual offices.
7. Virtual Offices Aren't Trustworthy without A Physical Location
Due to global digitalisation, a business can easily build its reputation and credibility without having a storefront. Plus, a virtual office provides a prestigious business address and dedicated phone number to endorse your business' trustworthiness.
Why Choose Cekindo's Virtual Offices in Indonesia
Cekindo provides virtual offices in Indonesia in the heart of the country's central business districts and the most prestigious locations in Jakarta, Bali and Semarang.
These locations have convenient access to all forms of financial institutions, public transportation, restaurants and cafeterias, and recreational destinations.
Our virtual office solutions come with flexible terms and complete services that cater to businesses of all types and sizes.
Cekindo's virtual offices in Indonesia gives you total freedom and flexibility while eliminating the obstacles regarding conventional office leasing. Time and money saved by utilising a virtual office means you will also increase productivity and accelerate your business growth.
We make it easier for aspiring entrepreneurs and organisations to start or expand their business in Indonesia.
Book your virtual office now or get in touch via the form below to know more.