Food and Beverage Registration Services in Indonesia: BPOM Certification
Before entering the local market, all food and beverage products must be passed through a certification conducted by the Indonesian National Agency for Drug and Food Control (Badan Pengawas Obat dan Makanan, or BPOM). BPOM is a government agency responsible for protecting the public through the control and supervision of drugs and food. BPOM will issue the market authorization permit if your product passes the certification process. To obtain it, importers must register their product's manufacturer before registering the product itself. BPOM will categorize imported goods into several categories based on their risk approach.
Another important point to consider is that BPOM will first ask for a Food Safety Management Certificate to ensure that your products comply with all safety and standard distribution requirements.
Requirements for Food and Beverage Product Registration in Indonesia
The BPOM certification process comprises of several stages; the registration of a legal entity, of the manufacturer, and of the product itself. To complete these processes, applicants must provide several detailed documents, such as a Business License Number (NIB), Food Safety Management Certificate (Sertifikat Manajemen Keamanan Pangan Olahan, or SMKPO), GMP Certificate, or an equivalent certificate issued by the competent authority in the country of origin and others. Reach out to our consultants for more details.
Food and Beverage Registration Services in Indonesia: Is a Halal Certification Required?
Indonesia has the world's largest market for Islamic consumption; thus, halal certification for food and beverage products is quite important. Contact Cekindo to certify your halal products as soon as your products are registered.
Food and Beverage Registration Services in Indonesia With Cekindo
Food and Beverage Registration Services in Indonesia: The Workflow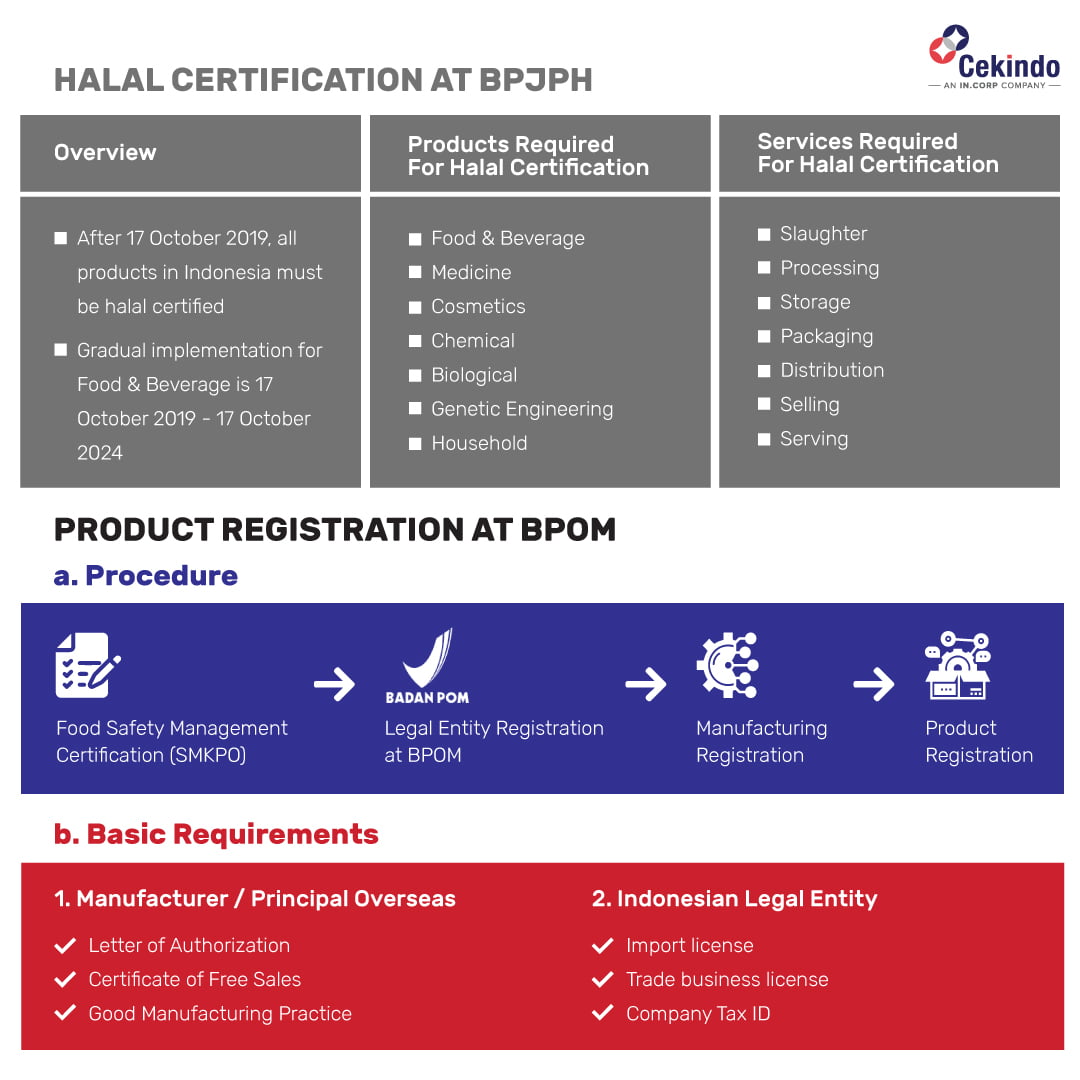 Why Choose Cekindo for Food and Beverage Registration in Indonesia?
1
SEAMLESS PRODUCT REGISTRATION
With our expertise in Indonesian regulations, we handle the registration of your food and beverage as seamlessly as possible.
2
WE ALWAYS HAVE SOLUTIONS
Tell us what you need. We can get your food and beverage product registered securely and, with or without incorporating a company.
3
ONE-STOP SERVICES
In addition to food and beverage registration services, our consultants can get your product halal certified.
4
TIME AND COST SAVING
Cekindo reviews the documents for product registration to prevent any rejected applications.