After cosmetics, food and beverage products are imported items with the highest share of foreign registered products in Indonesia. The direct investment continues to increase from year to year, as can be seen in the table below: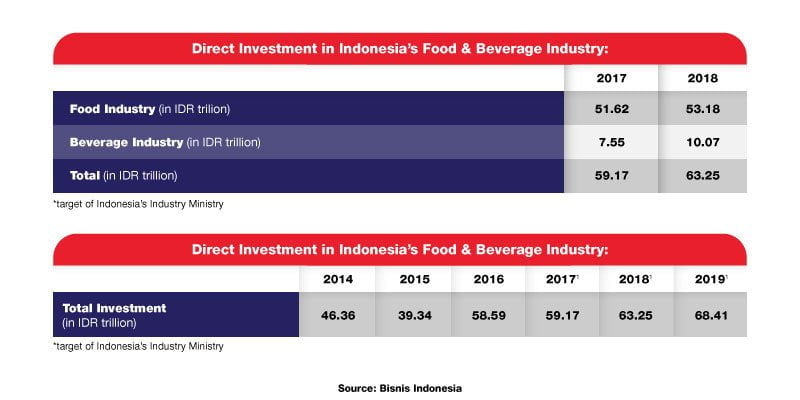 Even though the National Agency of Food and Drug Control, known as Badan Pengawas Obat dan Makanan (BPOM) exempt some food and beverages from their registration, most imported products have to go through the process.
The BPOM exempts products that are:
Used for personal consumption.
Not sold as end products.
Short-lasting (their life cycle does not last more than seven days).
Ingredients of an end product sold in Indonesia.
Food and drinks that are not exempt have to be registered, but BPOM only accepts applications submitted by limited liability companies established in Indonesia. Furthermore, the foreign-owned distribution companies are limited by a maximum foreign share of 67%.
Food and Beverage Registration with Cekindo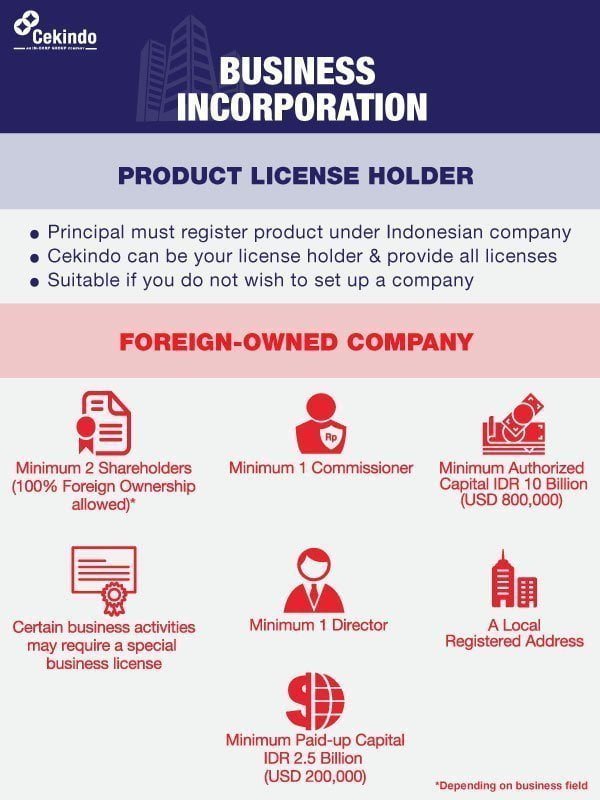 Company Incorporation
By law, foreign entrepreneurs in Indonesia can only incorporate a 100% foreign-owned company. However, with Cekindo as your partner or special purpose vehicle (SPV), there are several other options on how to start a legal entity in Indonesia and thus import food and beverages.
Import and export companies in Indonesia are entitled to be wholly foreign owned, but they cannot distribute products and therefore have to find a local distributor. On the contrary, the limited foreign ownership of distribution companies means that an Indonesian partner is required.
Being your business partner and a local company, Cekindo can hold the required amount of local shares in your distribution company, and assist you during the company registration. Another way how to penetrate the food and beverage market in Indonesia is to start a SPV based on a special purpose agreement. SPV are registered as local companies with Cekindo being a legal owner. In this way, the actual foreign ownership is not limited, and the requirements for the incorporation such as capital remains the same as in the case of a local company. Lastly, Cekindo offers ready-made shelf companies to enables investors to enter the market quickly.
Product License Holder Service
Investors who do not wish to start a company in Indonesia can appoint a product license holder service such as Cekindo. The products will be registered based on a special purpose agreement without the right of exclusivity which means that you are flexible to use several distributors.
Register Food and Beverages
Companies with an import licence are permitted to access BPOM's online registration system. If your products comply with all safety and standard requirements, you can proceed to the application. Cekindo will submit all the required documents on your behalf, and guide you through the process which consists of three steps and results in ML (Makanan Luar) registration number.
As a first step, BPOM will conduct an audit of your facilities. During the second stage of assessment, your products will be divided into categories depending on their risk. Finally, the evaluation stage is the moment when you get to know the results of the registration.
Extension of the Food & Beverage Product Registration
Each registration number lasts five years and can be renewed before it expires. The best time for its extension is 6 months before the end of its validity and maximum 10 days before the expiration date. To prevent delays in the process, it is recommended to contact Cekindo well in advance.
Are Your Products Halal? Do Not Forget about Halal Certification
Valid from October 2019, all imported halal food and beverages that have not been certified in Indonesia yet will be considered as non-halal. In the country with the highest Muslim majority, the late halal certification will significantly influence food and beverage sales in Indonesia.
Contact Cekindo to certify your halal products immediately after their registration process in Indonesia finishes.
---
Fill in the form below and get the updated information on food and beverage product registration in Indonesia.
Our legal teams are available offline as well. Visit us in our offices located in Jakarta, Semarang, Bali, and we will be happy to answer your questions.