The Ministry of Health is the main controlling body of imported household products (HPP) in Indonesia. According to law, household items include equipment, materials, or mixtures of materials intended for maintenance and treatment of human health, pets and houses. Likewise medical devices, household products are divided into several categories based on the risk they pose, and the requirements for registration of products in different classes vary.
How to Register Household Products in Indonesia?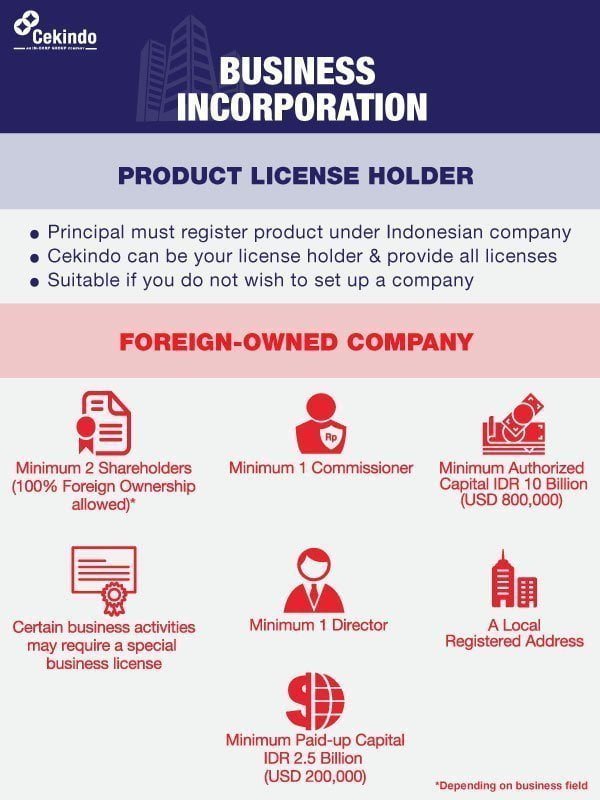 Company Establishment
In Indonesia, the law forbids foreign legal entities to register imported products or distribute them in the country. Therefore, overseas businesses have to incorporate an Indonesian legal entity to be able to register their products.The Negative Investment List states the maximum allowed foreign ownership of foreign-owned companies (PT PMA), and a local business partner (special purpose vehicle, SPV) who holds the required local share of the company is commonly used. Another option of how to avoid restrictions on foreign ownership is to incorporate a SPV. In this case, a locally-owned company (PT) becomes a legal owner of a business, which results in lessened requirements on capital and faster incorporation. Cekindo offers SPV services based on special purpose agreement as well as assistance during the registration process. Contact us to discuss what market entry strategy would fit your business plan better.
However, if you are an investor who do not intend to establish a new company from scratch, you can purchase a ready-made shelf company with a clear and a good business history instead.
Product License Holder Service
Investors who do not have any intention to form a business entity in Indonesia, can use product license holder service. In this case, your household products will be registered under Cekindo with no restrictions on the number of distributors you would like to cooperate with.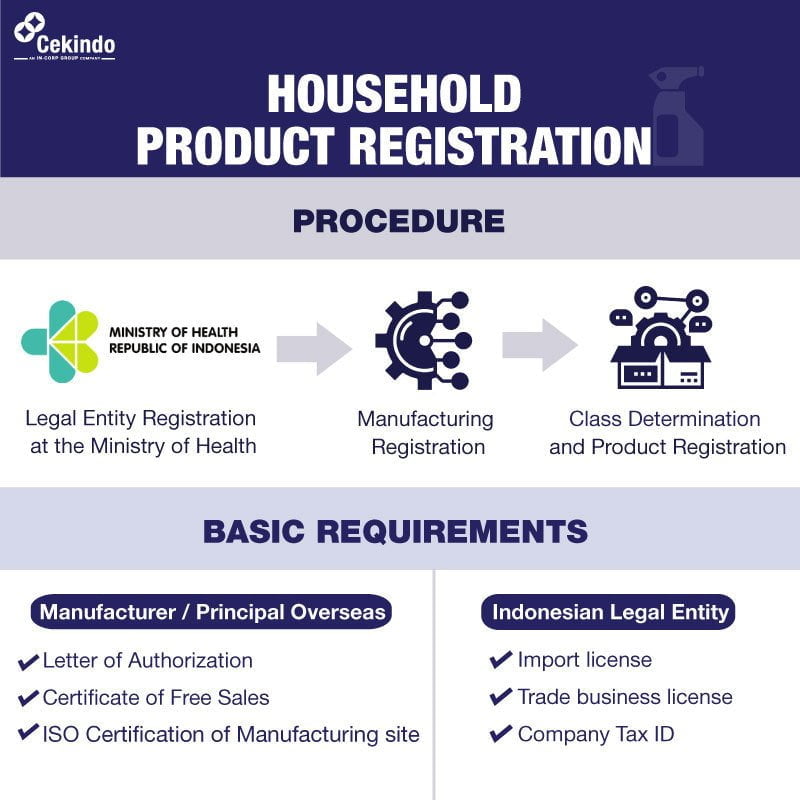 Registration of Household Products in Indonesia
Household products in Indonesia are divided into three classes based on their risk evaluation, and the registration process for each class is different with class III products having to present the result of their laboratory tests.
However, even registered products cannot be distributed on the Indonesian market unless they are granted the HHP Distribution License.
The bureaucracy paperwork related to the registration of household products in Indonesia is demanding, and in-depth knowledge of processes is required. Cekindo will submit documents on behalf of your company to avoid delays and rejections of the application.
Extension of Household Product Registration
The validity of the registration of household products is limited and can be renewed before it expires. It is recommended to contact Cekindo in advance and discuss your further plans and strategies in terms of product certification.
Fill in the form below and get the updated information on household product registration in Indonesia.
Our legal teams are available offline as well. Visit us in our offices located in Jakarta, Semarang, Bali, and we will be happy to answer your questions.