Investor KITAS Indonesia: When Will You Need One?
If you are a foreign investor who plans to hire foreign experts to support your investment, you must consider securing an Indonesian investor KITAS. Once your business is fully set up, an Indonesian investor KITAS is beneficial as you no longer need to pay USD 12,000 in annual work permit fees.
There are two types of investor KITAS or investment visa in Indonesia: Index 313 which allows investors to stay in the country for one year, and Index 314 for two years of validity. Both allow its holder to enter and leave the country multiple times.
What Are The Requirements for an Investor KITAS in Indonesia?
To obtain an investor KITAS in Indonesia, foreigners who are the director or commissioner of a company are required to have invested a minimum of IDR 1.1 billion. If the investors do not hold such titles in the company, they must invest a minimum of IDR 1.125 billion to obtain an investor KITAS Indonesia.
Upon receiving a business registration number (Nomor Induk Berusaha – NIB) and business licenses (Izin Usaha), your newly established company is eligible to support you for an investor KITAS.
To obtain one, you must also provide supporting documentation such as a signed application letter and company registration documents. Please also note that the company is required to hire at least two Indonesian employees for tax and human resources support. For more detailed information on the requirements and application procedure for Indonesian Investor KITAS, contact our experienced visa agents.
Can You Work With an Indonesian Investor KITAS?
According to the Ministry of Investment of Indonesia (BKPM), a company's director with an investor KITAS is eligible to work in the country. Still, they have to meet certain requirements, such as:
All tasks handled by the director shall fulfill the scope of the company's business activities
The company provides equal opportunities to all Indonesians willing to work
However, a different situation may apply to a commissioner of a company. According to the Ministry of Manpower, a commissioner can work with an investor KITAS, but this specific position has a minimal role. If you wish to have a very active role in the company, we highly recommend you take a position as the main director.
Notice | Due to the Indonesian regulations, we are not able to provide visa services to the following nationals: Afghani, Guinean, Israeli, North Korean, Cameroonian, Liberian, Nigerien, Nigerian, Somalian
Understanding The Different Types of Visas in Indonesia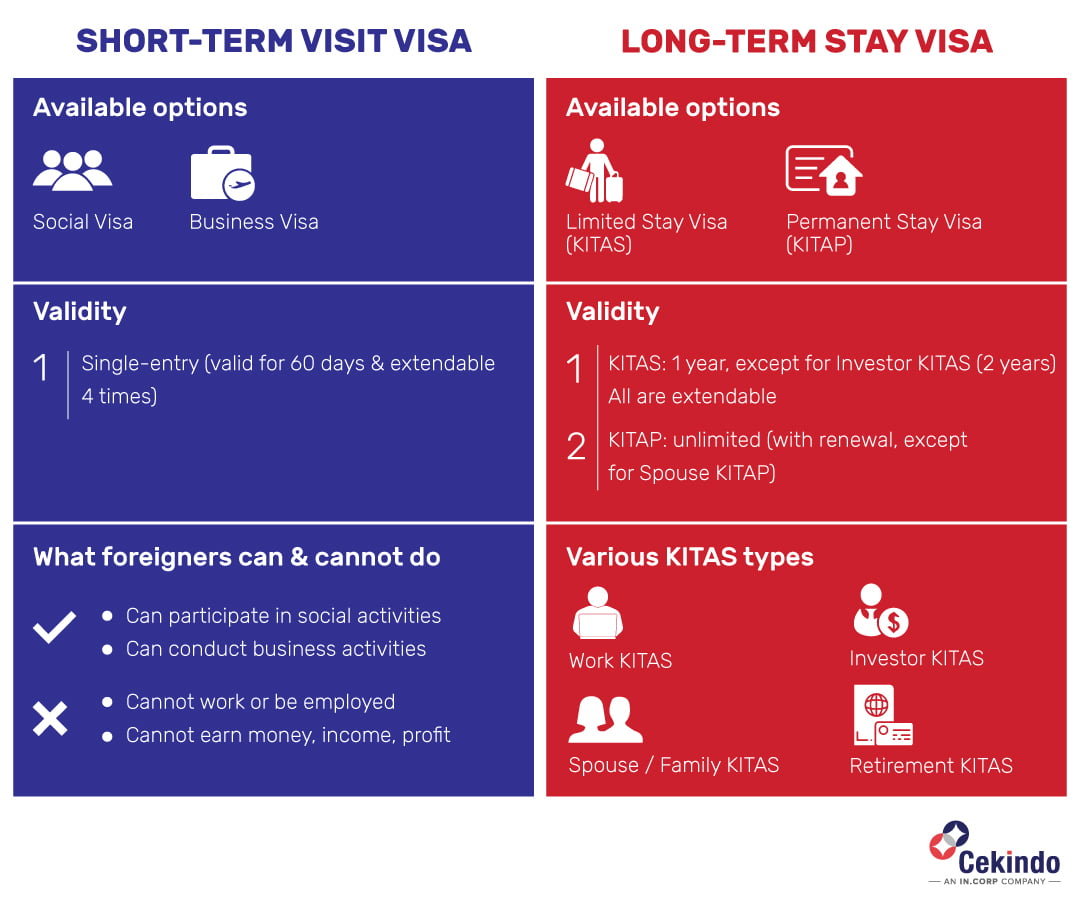 Why Choose Cekindo for an Indonesia Investor KITAS Application
1
SEAMLESS VISA APPLICATION
Having an in-depth knowledge of the Indonesian visa application process, we manage your investor KITAS application most
2
EXPERIENCED VISA AGENT
We do not only know what we do, but we are the best at it thanks to a decade of professional experience in assisting both foreign individuals and
3
CLIENT ORIENTED SERVICES
We offer comprehensive and seamless solutions tailored to your unique needs, and we do not stop until you are satisfied.
4
TIME AND COST SAVING
Hand over the bureaucratic burdens of visa application in Indonesia to us so that you can use your time and money to grow your business.