Visa on Arrival Indonesia: When Will You Need One?
Foreigners from certain countries can minimize hassles when traveling to Indonesia by obtaining a visa on arrival (VoA). However, you must meet a certain set of criteria and requirements to have one. Get assistance from a trusted visa agent in Indonesia such as Cekindo to make your traveling plan to Indonesia even more convenient.
Single and Multiple-Entry Business Visa in Indonesia
As the name suggests, an Indonesian visa on arrival is an entry permit you obtain upon arrival in the country, so you do not need to deal with pre-arrival bureaucratic complexity. Given its efficiency, a visa on arrival in Indonesia is recommended to those who visit the country on a tight schedule.
Specifically, the authority grants* an Indonesian visa on arrival to foreigners who travel for business purposes, vacations, and social visits. A visa on arrival in Indonesia will allow its holders to stay in the country for 30 days, starting from their arrival, and extendable for another 30 days when needed.
* due to the Covid-19 pandemic, multiple-entry business visas in Indonesia are currently unavailable until further notice.
What Are The Requirements for Indonesia Visa on Arrival?
To obtain a visa on arrival in Indonesia, applicants must fulfill several requirements upon arrival in the country, such as passports with validity of at least six months, a ticket to leave Indonesia, and pay a USD 35 fee.
En route to Indonesia, applicants might also need to fill out an immigration card (Arrival and Departure Card) that specifies your passport number, flight, address where you plan to stay, and a customs declaration for you to exit customs.
However, it is important to note that the Indonesian government only issues visas on arrival to foreigners from specific countries and requires them to arrive at certain airports or seaports. Contact our visa specialists for a complete list of countries and airports across Indonesia with VoA facilities.
Notice | Due to the Indonesian regulations, we are not able to provide visa services to the following nationals: Afghani, Guinean, Israeli, North Korean, Cameroonian, Liberian, Nigerien, Nigerian, Somalian
Obtain Your Indonesian Visa on Arrival With Cekindo
Having over a decade of experience in assisting foreigners and international businesses, Cekindo visa agents in Bali, Semarang, and Jakarta are here to assist you in fulfilling every requirement to obtain an Indonesian visa on arrival. We also keep ourselves updated with the most recent regulations to ensure your Indonesian visa applications run smoothly.
Understanding The Different Types of Visas in Indonesia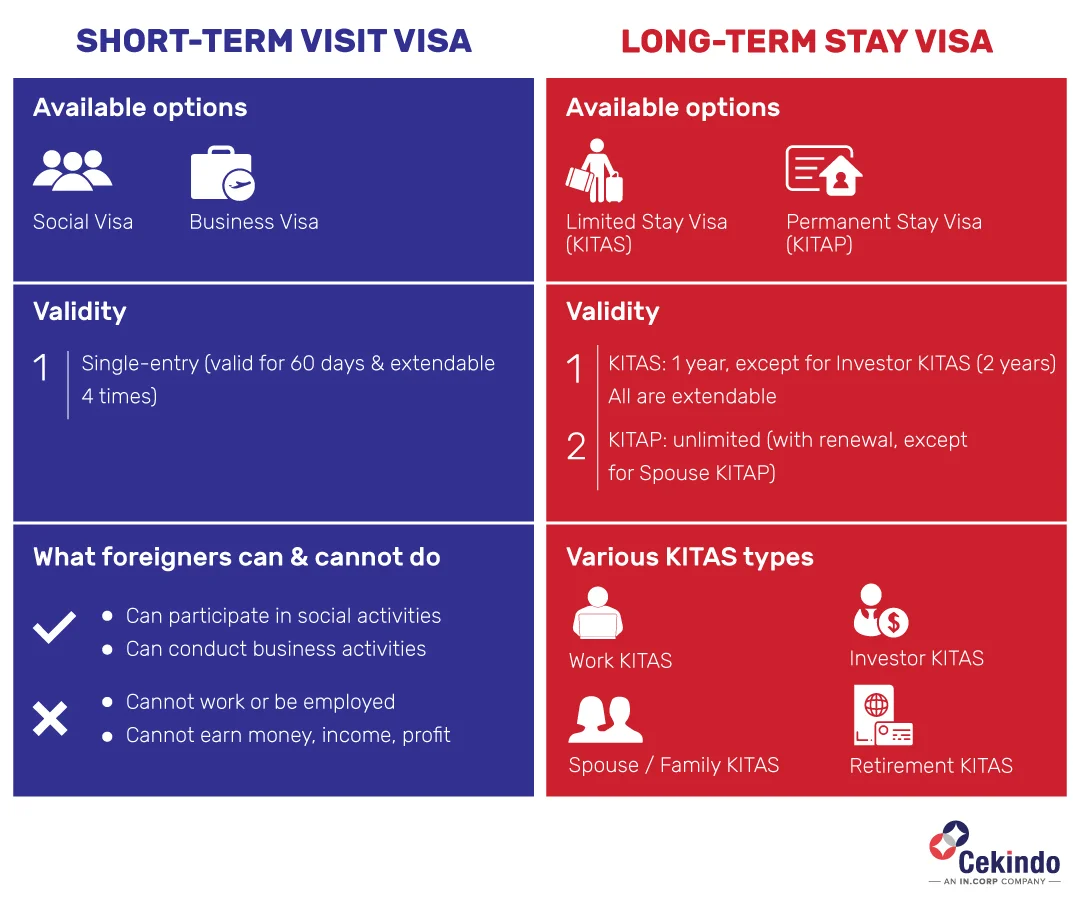 Why Choose Cekindo for an Indonesian Visa on Arrival Application
1
SEAMLESS VISA APPLICATION
Through over a decade of experience, our visa agents handle your visa application as seamless as it can be.
2
EXPERIENCED VISA AGENT's
Having an in-depth knowledge of Indonesian immigration policy, we are the best at what we do, and we missed no details.
3
CLIENT ORIENTED SERVICES
At Cekindo, our client satisfaction is the top priority. And with the right skills, we always do our best to get things done and will not stop until they reach your satisfaction.
4
TIME AND COST SAVING
Dealing with complex Indonesian regulations is a cumbersome process. Avoid any of these hurdles by handing over your visa application to us.