10 Reasons Why to Do Business in Indonesia
The 4th most populous country in the world, with more than 53% of the population living in urban areas
15th-largest economy in the world, 5th-largest economy in Asia, and the largest economy in Southeast Asia
70% of the population is under 39 years of age
57% of the population is from the middle class, with 7 million being added each year
6.4% CAGR expected growth in consumer spending between 2010-2020, faster than Malaysia, Turkey, Brazil and Russia
The Indonesia Investment Coordinating Board launched a One-Stop-Service for investment licenses and non-licensing services
The world's second largest mega centre of biodiversity after Brazil
Labor force of approximately 122 million and a 69.21% labor force participation rate is more than the US (68%) and the global average (63.6%)
Fitch Ratings (November 15, 2013) put Indonesia's sovereign credit rating at BBB- level with a stable outlook
Indonesia's debt to GDP ratio has declined from 83% (2001) to 26% (2013), the lowest among ASEAN countries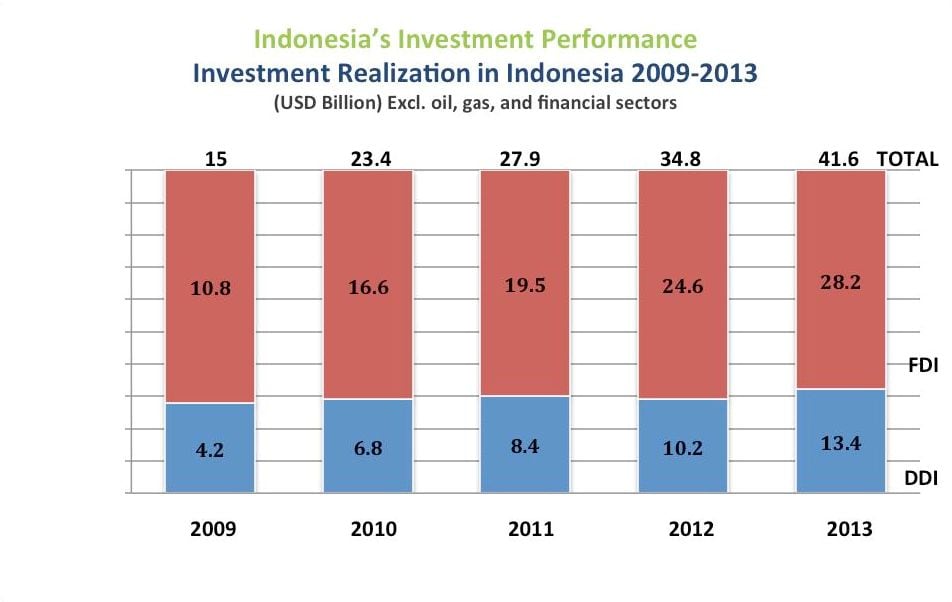 Indonesia is "Asia's next big opportunity," thanks to a fast-growing economy (up 5.8% in 2013) and favorable demographics. Indonesia is among of the fastest growing countries in the G-20 (the industrially driven countries) and currently the 15th biggest economy in the world, the fifth in Asia after China, Japan, India and South Korea, and by far the biggest in Southeast Asia. Indonesia consists of 17,508 islands, with more than 240 million people, giving it the fourth largest population in the world. Over 60% of the population is between the ages of 20 and 65, giving the country a large bank of earners and not too many senior citizens for workers to support. In 2003, the middle class made up only 37.7% but in 2012, the total middle class was 56.5% of the total population.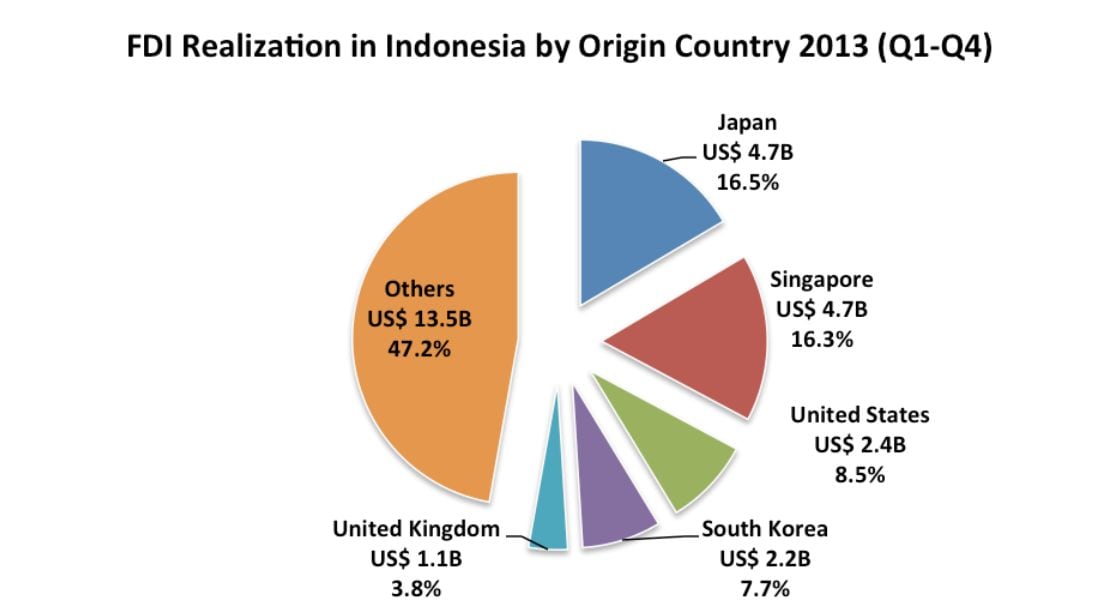 According to Cekindo Business International, an Indonesian market entry consulting company, thanks to the power of these market conditions, the economy did well during the global financial crisis in 2007-2008 because of its heavy reliance on domestic consumption as an economic growth driver.
The current situation also shows that Indonesia is a potential minefield for foreign investors when FDI grew in 2013 by 18.9% to US$6.54 billion in the second quarter. Aside from FDI, domestic investment also increased by 59.1% from US$2.04 billion to US$3.25 billion. In general, total investment in Indonesia during the second quarter of 2013 increased by 29.8% to US$9.78 billion.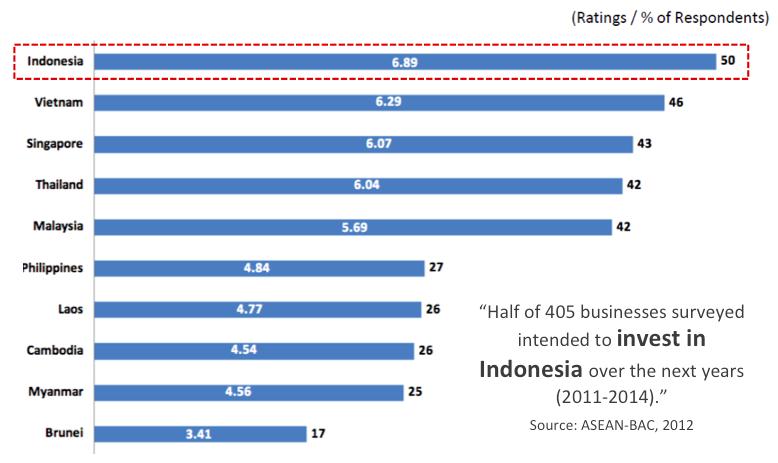 Indonesia is a leading member of  The Association of Southeast Asian Nations (ASEAN) with the largest economy and population, and the only country in the G20. Indonesia ranks 37 on the World Competitiveness Scoreboard, outranking even BRIC countries such as Brazil or Russia. This puts Indonesia on the list of the world's most desirable economies.
The Indonesia Investment Coordinating Board (BKPM) has launched a One-Stop-Service (OSS) for investment licenses and non-licensing services. OSS consolidates complete licensing and non-licensing procedures for investment in single office that has the authority from related technical institutions or ministries to issue licensing and non-licensing documents in particular sectors. OSS was implemented to provide easy, fast, precise, accurate, transparent and accountable services. In addition, it supports BKPM tasks to tailor a competitive investment climate to strengthen the quality of the national economy.
Indonesia has a labor force of approximately 122 million people, which is a 69.21% labor force participation rate. This is more than the US (68%) and higher than the global average (63.6%). The government estimates that Indonesia has about 55 million skilled workers. A study by the British Council finds that in the 2035, Indonesian post-secondary students will be ranked among the top 10 worldwide in terms of numbers. About 2.6 million Indonesian students will enter the higher education system in next decade. This will improve the quality of the Indonesian labor force in the coming years.
Indonesia's debt to GDP ratio has steadily declined from 83% in 2001 to less than 26% by the end of 2013, which is the lowest among ASEAN countries, aside from Singapore, which has no government debt. This is the reason why Indonesia continues to be a good investment destination. Regarding Indonesia's credit rating:
Fitch Rating: BBB- level with stable outlook. (November 15, 2013)
Rating and Investment Information, Inc: BBB- with stable outlook. (October 11, 2013)
Japan Credit Rating Agency, Ltd: BBB- with stable outlook. (July 22, 2013)
Indonesia's Natural Resources
In term of natural resources, Indonesia is the world's second largest mega centre of biodiversity after Brazil and is the natural habitat for about 90% of the medicinal plants species found in Asia. Indonesia also had a total plantation area of about 21.6 million Ha in 2013, with total production from agriculture accounting for 35.6 million tons. The top three in commodities in the agriculture sector are rubber, palm oil, and cacao. Indonesia's income from exports of crude palm oil is predicted to reach US$80.9 billion.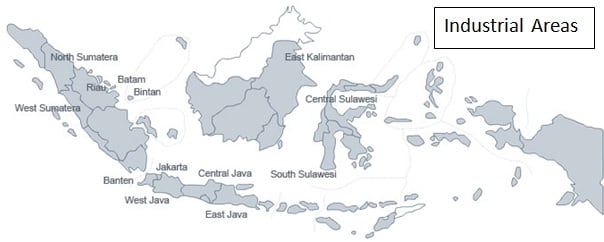 For further info about starting a business in Indonesia, feel free to contact us.
We will help you to set up the most suitable plan based on your purpose.