The US-China trade war is making Indonesia become an important market for U.S. products and investments. A forecast has shown that the economy in Indonesia will grow by approximately 5.4% in 2020.There are some huge advantages of doing business in Indonesia, thanks to the Indonesian policy to provide a business-friendly environment, even better than before.
One of the most significant changes in the process simplification include the investor KITAS in Indonesia.
Today, Cekindo is going to fill you in on the three surprising reasons why it is increasingly attractive for investors to do business in Indonesia.
3 Nice Things about Doing Business in Indonesia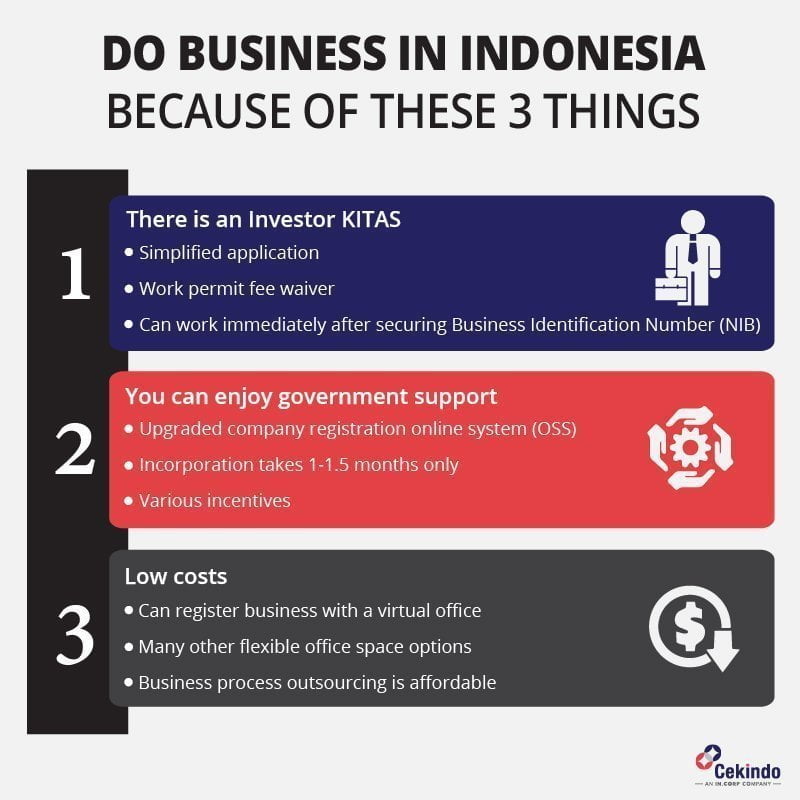 1. You can Work Right Away with an Investor KITAS
Just like anywhere in the world, you need to have a business license or an investor license to be able to invest and work in Indonesia.
Here's the good news: the application for investor KITAS in Indonesia has lowered its barriers. With an investor KITAS, you can now enjoy the simplified application and the work permit fee waiver if you meet the requirements.
Plus, foreign investors can now work immediately if you secure the Business Identification Number (NIB) through the Online Single Submission (OSS) system 1.1. Depending on your business activities, you may not need additional licenses to operate your business.
This saves you months of waiting after you have put in your time and money. However, we highly recommend you to take on the active role as a director when you register for your company.
2. Tremendous Government Support
The Indonesian government has been actively supporting both local and foreign companies in the country.
The government also develops policies that favor emerging industries and startups to encourage more foreign investments. They utilise the majority of foreign investments in Indonesia's economic development and other governmental projects, which will help the country to progress further.
As mentioned earlier, with the upgraded OSS 1.1from the Indonesian government, the process of company registration in Indonesia has never been easier.
The simplified process of doing business in Indonesia allows immediate business operation. Furthermore, there will be no more negative investment and perplexing laws in the future. This gives even more freedom and flexibility for foreign investments.
3. Low Startup Costs
If the above perks are not enough, here's another one of the most attractive benefits that draw so many entrepreneurs and investors for doing business in Indonesia: low startup costs.
Starting a business in many countries will need a lot of money but it is not always the case in Indonesia. The costs of meeting the Indonesian requirements and obtaining necessary licenses for securing a workplace and outsourcing administrative functions are in practice much lower.
This is mainly because many businesses have opted for low-cost flexible solutions such as coworking spaces, virtual offices, and serviced offices.
With these flexible solutions, business owners can cut down the expenses significantly in terms of a long-term lease, initial office setup, administration fees, utilities, and maintenance fees.
Moreover, the exchange rate of Indonesian rupiah is more favorable in doing business in Indonesia, compared to other foreign currencies.
How Cekindo Can Assist You
Indonesia has one of the strongest economies in the world and provides investors, international companies, and exporters with so many advantages. Doing business in Indonesia is now relatively simple with some barriers to entry.
To ensure your Indonesian business is successful, you also need to consider factors like types of legal entities, human resources, taxation, and other local legislations.
At Cekindo, our incorporation specialists can tailor our business setup services to your needs, from company registration to full outsourcing solutions.
If you are thinking about doing business in Indonesia, simply contact us by filling in the form below.