There is no better time than 2021 when it comes to starting a business in Indonesia as a foreigner. The Indonesian government has recently implemented various policies that are more business-friendly to improve the investment climate in the country.
If you are a foreign investor looking to invest and start a business in Indonesia, you can be relieved that today, business incorporation in Indonesia is getting much easier and more convenient.
Starting a Business in Indonesia as a Foreigner in 2021: Know the Latest Changes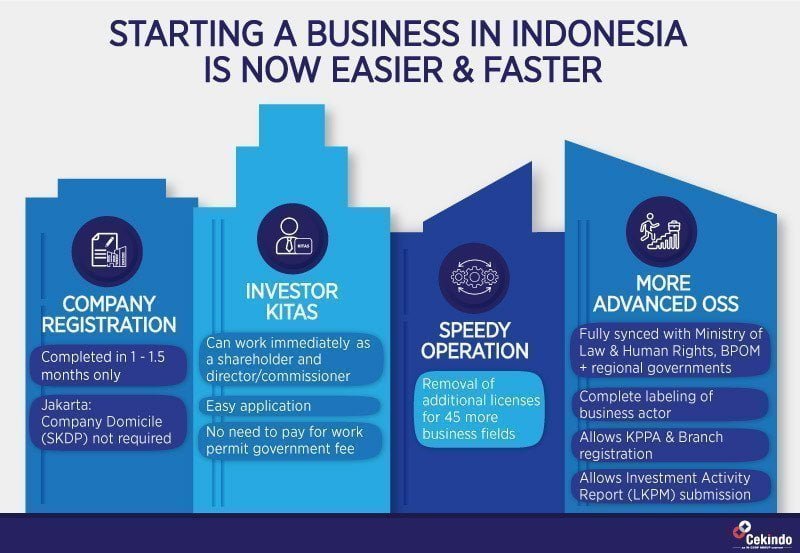 Registering a Company
If previously the company registration process required at least two months to be completed, the case is different in 2021. Now, a foreign investor can have their company registered in between one and 1.5 months.
What is more, if you plan to establish your business in Jakarta, you are not required to submit Company Domicile (SKDP). This regulation has been running effectively since May 2019.
Working Immediately with an Investor KITAS
If you are a foreign investor who is going to fill the positions of a shareholder and a director or a commissioner, an Investor KITAS is available for you and the good news is, this stay permit allows you to work right away.
Furthermore, an Investor KITAS comes with noteworthy benefits that include easy application and waiver of work permit government fee (DPKK).
There are two options available for Investor KITAS. As a foreign investor, you can choose whether to apply for the 1-year KITAS or 2-year KITAS. Both types of KITAS allow you to enter and leave Indonesia multiple times as long as your KITAS remains valid.
In order to be able to enjoy the benefits of an Investor KITAS, you are required to invest a minimum of IDR 1 billion in invested shares. And, the company is required to have an invested capital of more than IDR 10 billion.
Business can Start Operations Right Away
As if the two changes elaborated above were not enough, your business can now start operating right away as long as it has secured a Business Identification Number (NIB) that can be applied through the Online Single Submission (OSS) system, which has been upgraded to OSS 1.1. In other words, no additional licenses are required.
There are 45 business fields that have been added, namely call center, event organiser, travel agency (ticketing) and education and/or training (among others). For more details, please contact our business consultant.
How to Register a Company in Indonesia in 2021?
In order for your business to be able to operate in Indonesia, you will need to register a company. For a seamless start, you need to choose a legal entity.
The most common options of legal entities available for foreign investors in Indonesia are Foreign Limited Liability Company (PT PMA), Local Limited Liability Company (PT) and Representative Office.
More about PT PMA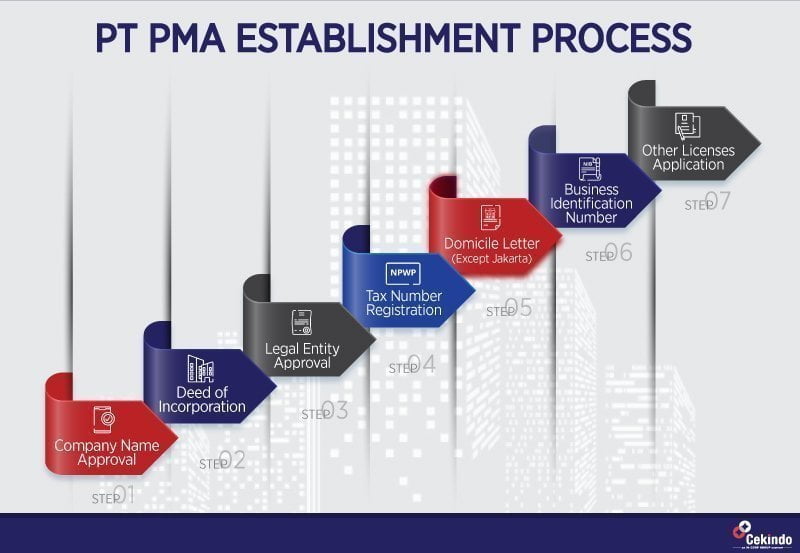 Since the majority of foreign investors would choose to incorporate a PT PMA in Indonesia, we will elaborate more about the nature of PT PMA.
The foreign ownership for a PT PMA ranges from as little as 1% to 100%. To know more about foreign ownership in Indonesia, you should read through the Negative Investment List or consult with our specialist. Moreover, a PT PMA can employ foreign workers.
What are the Requirements for Setting up a PT PMA?
For a PT PMA to operate in Indonesia, it should consist of at least one director and one commissioner (one of which must be an Indonesian), plus two shareholders (can be foreign or local individuals or corporations, or a combination of both).
A PT PMA requires at least IDR 10 billion of capital investment, with the minimum paid-up capital of also IDR 10 billion as well.
Except for Jakarta, a domicile letter is still required for company registration in Indonesia. It is important to know that a residential address is strictly prohibited to carry out a business in Indonesia. If you want to avoid a large cost of building up a new office, you can always opt for a virtual office or a serviced office in Indonesia.
How to Establish a PT PMA via OSS?
As briefly mentioned above, to streamline the establishment process of a business entity, you have to apply via the OSS to obtain the NIB and other relevant licenses.
In short, the process is as follows:
Approval of company name: it should consist of three words that are not vulgar or obscene.
Deed of Incorporation: it should include an Article of Association, and a notary must be present.
Approval of legal entity: After submission of Deed of Incorporation by the notary, the Ministry of Law and Human Rights will give approval.
Registration of Tax ID (NPWP): A valid NPWP is required for securing other company's licenses, banking activities, and fulfilling tax obligations.
Domicile Letter: Required to show the location of your business.
Application of NIB: A unique company profile number that guarantees an immediate operation, provided that no additional licenses are needed. Alongside NIB, Business License(s) and Location Permit will also be granted one day following the registration via OSS. NIB also serves as an import license and customs identification number to be used for the customs clearance process.
Application of other licenses: Depending on the business sector, additional licenses such as commercial license and tourism license may be required before operation.
Taking Care of Permits and Bank Account to Relocate to Indonesia
After your business is successfully incorporated in Indonesia, you are obliged to secure stay and work permits for your foreign employees as well as securing a bank account. If you are not sure about the process of both, you are welcome to discuss with us.
Be Aware of Changes that May Take Place in the Near Future
Implementation of Omnibus Law
Despite the recent business-friendly policies, many complicated regulations hampering foreign investments are still found. Through the implementation of the Omnibus Law, thousands of laws are to be amended, including taxation and labour.
No more Negative Investment List
The Negative Investment List in Indonesia may soon be replaced by a Positive Investment List, which is also known as a Priority List. More business sectors will welcome foreign investments, such as automotive, coal gasification and electronics, as well as export-oriented and import-substitution.
How Cekindo can Assist in Starting a Business in Indonesia
It is important to take note that policies and regulations may change constantly in Indonesia to encourage more foreign direct investments. You can refer to this guide on business incorporation in Indonesia.
However, to get the most updated policies and regulations related to starting a business in Indonesia as a foreigner in 2021, you are recommended to get in touch with our business experts.
In addition to providing fresh guidance, our specialist can also assist you in providing market-entry and corporate secretarial services.
If you require further information and reliable assistance in starting a business in Indonesia, particularly in company registration, business licenses, visas and permits and product registration, among others, reach out to us by filling in the form below.