Indonesia is a country not only with an abundant workforce but also with rich resources for energy production, especially from renewable sources. Therefore, aside from the many business opportunities that the country has to offer, the Indonesia energy sector has also attracted a great number of foreign investors.
Furthermore, with the newly implemented licensing process, the Indonesian government aims to bring in even more foreigners to this sector.
As one of the largest countries in ASEAN, Indonesia consumes at least 40% of the region's energy with its demand possibly to surge by 80% and the use of electricity would increase three times by 2030.
Indonesia has always been dependent on domestic coal and imported petroleum products for its energy production, but now renewable energy solutions have also been realised to cope with the spiking demand. According to the Indonesian government, the country is ready to use approximately 23% to 31% of renewable energy between 2025 and 2050.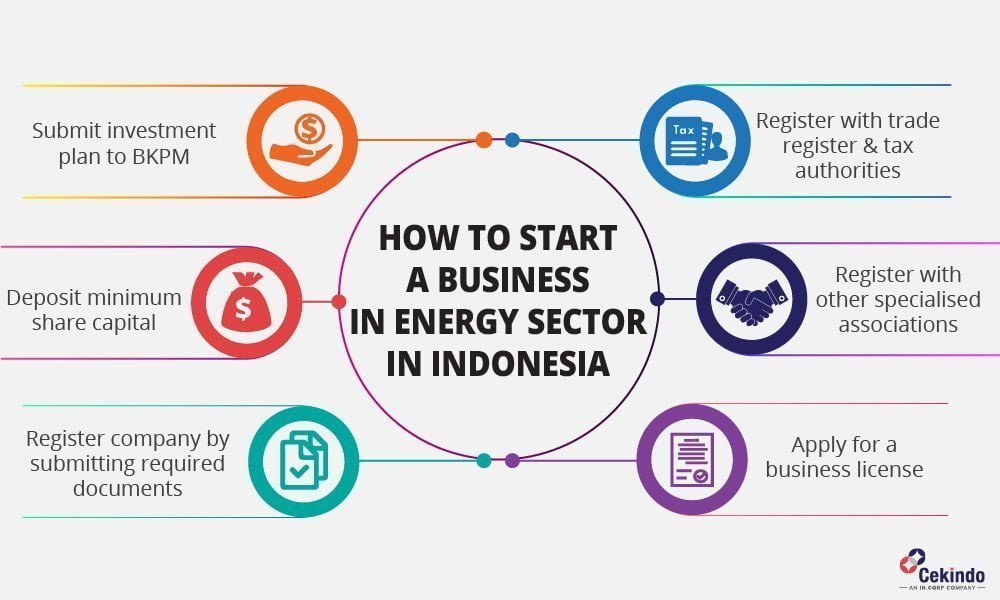 Indonesia has the world's greatest hydropower and geothermal potential, as well as ample resources for the ocean, solar, wind and bio-energy development. The country has abundant sunlight throughout the years and controls approximately 40% of the geothermal reserves in the world.
Thus, it is obvious why investments in energy sectors, especially in renewable energy, have grown rapidly in Indonesia. A study done by Reference Case showed that between 2015 and 2030, annual investment in renewable energy in Indonesia is expected to be about IDR 131.5 trillion (USD 9.4 billion), with the possibility to reach IDR 226.6 trillion (USD 16.2 billion).
This article will guide you on how you can establish an energy business in Indonesia.
Restrictions on Indonesia Energy Market
A foreign investor who starts a foreign-owned company for their energy business can only engage in the following types of business activities:
Energy generation
Energy distribution
Energy sales
Energy equipment installation
Energy sector consulting services provision
Energy equipment construction, operation, and maintenance
Energy research and development
Energy appliances sales
Incorporation Requirements & Procedures for Starting an Energy Business
As previously mentioned, the best form of legal entity for foreigners to start an energy business in Indonesia is a foreign limited liability company.
Since 2017, foreigners have been allowed to obtain the operational license for their energy business via a simplified procedure.
Here is the summary of the requirements and process:
Submit the investment plan to the Investment Coordinating Board in Indonesia
Depending on the type of project, a foreigner must deposit the minimum share capital for their foreign-owned company
Submit Articles of Association and other relevant documents for company registration
Register with trade register and the tax authorities in Indonesia
Register with other specialised associations depending on the business activities
Once the company is incorporated, a foreigner has to apply for a business permit for their company to offer energy supply services
How Cekindo can Assist
Cekindo is a dedicated business incorporation company in Indonesia. Ever since our inception, we have built a professional team of business setup experts all over the country to offer helpful advice and valuable market insights to clients from all over the world in different industries.
Over the years, Cekindo has become one of the leading providers of business services concerning business setup and consulting in Indonesia. We pride ourselves on effective and hassle-free business services across Indonesia.
Consult with Cekindo's team today and we will be more than happy to provide you with some suggestions and walk you through the entire Indonesia energy business setup process.
Fill in the form below.