It is for certain that you cannot run a business in Indonesia without a business name. It is the first step to starting a company in Indonesia, and finding the perfect name for your company can have a compelling effect for your business success.
The process of naming your business can be both complex and daunting at the time. It's important to get this right because a wrong name can do more harm if the names fail to connect with your clients in a positive way.
Therefore, a powerful company name can be immensely advantageous for your brand image and marketing effort.
However, there are certain things you have to pay attention to when choosing a legal company name in Indonesia and registering it to the Indonesian Ministry of Law and Human Rights.
Here are helpful suggestions on how to create a winning company name that meets all the standards as required by Indonesia law.
Starting a Company in Indonesia: Company Name Rules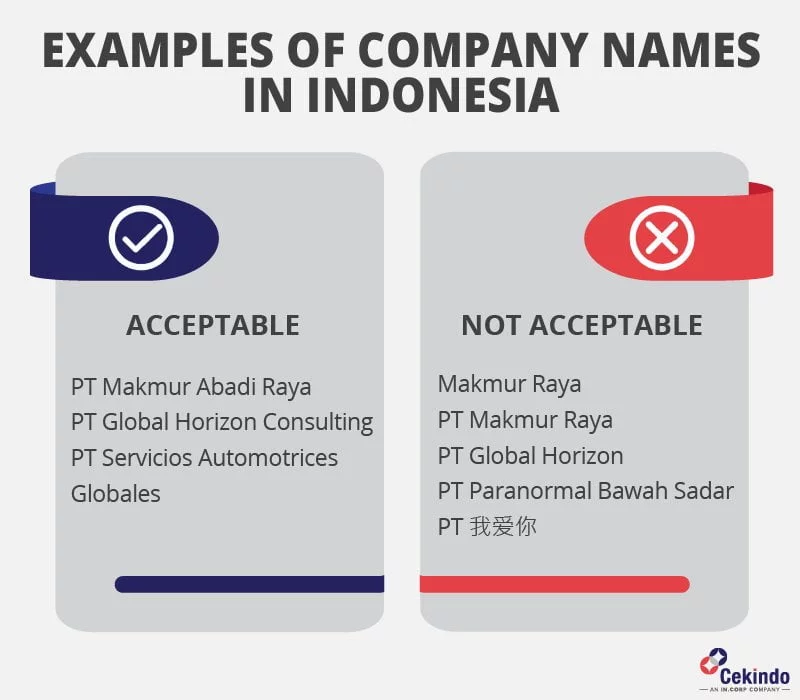 Your Company Name must Have at Least Three Words
To come up with a name for your company and register it in Indonesia, as required by the law, you must first make sure that it comprises of at least three words. You can have a company name with more than three words.
First of all, you will have to send an application to the Legal Entity Information the system will tell you that if your company name has been registered by other entities.
For example, PT Horizon Consulting Services is considered a 3-word company name that meets the set requirements.
A company name does not have to be the same as a brand name. Even when you have a 3-word or more words company name, you can still register a brand name for your PT PMA. The brand name can be fewer than three words.
Your Company Name Should Begin with the word "PT"
In the example shown earlier, PT Horizon Consulting Services, PT is not counted as a word for your company name and must be included. PT stands for Perseroan Terbatas and it means Limited Liability Company in Indonesia.
You can Only Use Roman Alphabets
Only the Roman alphabets are permitted to be used in the names of PT PMA. Other alphabets such as Cyrillic and Greek, or Chinese characters are not allowed in your company name.
Name of Local Company has to be in the Indonesian Language
If your company is a local limited liability company or fully owned by Indonesian citizens, the company name has to be in Indonesian language.
Foreign Company Name can be in Foreign Languages
A foreign-owned company (PT PMA) can have its name in English or other foreign languages apart from Indonesia.
Profanity and Vulgarity Are Prohibited
Indonesia is still considered a conventional and religious country. Therefore, you should avoid using words that can be considered obscene, rude or tasteless when naming your company.
Company Registration in Indonesia with Cekindo
Cekindo is a licensed company registration provider in Indonesia, offering one-stop solution to assist our clients interested in starting a company in the country.
Not only do we help you choose the right entity and incorporate your business, but we also assist you with bank account opening, as well as providing useful consultations – so that you can start your business activities quickly and efficiently.
In addition to that, Cekindo is able to give on-going assistance for all your tax and accounting functions after you have set up a company in Indonesia. This is particularly vital for foreigners who are not familiar with Indonesian laws and legislation.
Contact Cekindo for an appointment now and our international team is ready to provide support as your business grows. Fill in the form below.