Foreign companies or individuals may find that the import regulations in Indonesia are always changing, causing them headaches while importing goods into Indonesia. For instance, delayed shipment, goods being stuck at the customs, and penalty due to non-compliance.
Import compliance is vital when foreigners want to do business in Indonesia and violation may often bring serious consequences to the reputation and finance of companies.
Importing goods into Indonesia will first require foreigners to set up a limited liability company in the country.
Once the import company is established, foreigners will have to obtain an import license through the Online Single Submission (OSS) system, which was recently implemented to streamline the business incorporation process.
The entire process of setting up an import company and securing the relevant license will take approximately 5 months, or even longer, putting many new foreign investors on the fence if they want to do business in Indonesia.
Here's the way that can solve this issue though – engaging with a legal undername importer service in Indonesia. With it, importing goods into Indonesia can be done without registering a company and obtaining an import license on your own.
What are the Steps to Import Goods into Indonesia?
So how to import goods into Indonesia with an undername importer?
Cekindo is a reputable undername importer in Indonesia and below are the simple steps you have to follow and we'll take care of the rest for you.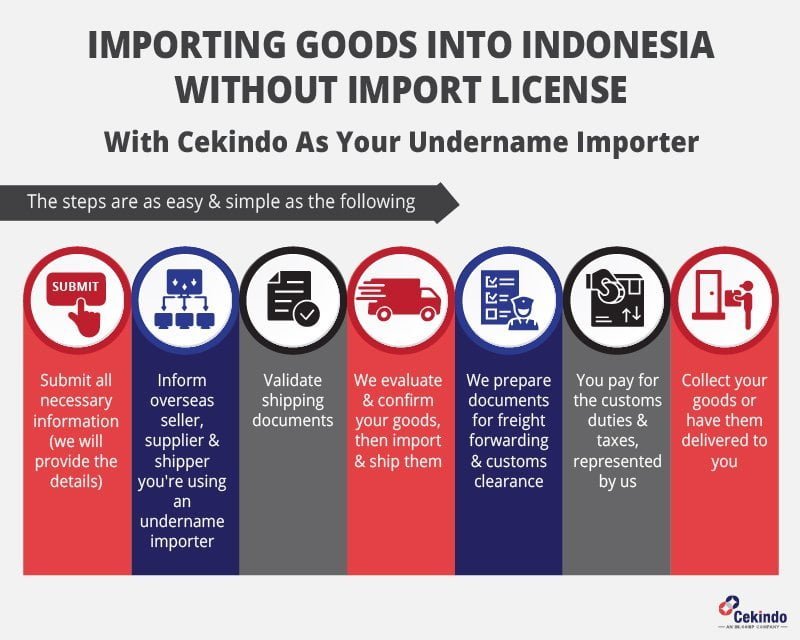 Since Cekindo is your undername importer, you need to submit all necessary information to us. Please contact Cekindo to understand what details you have to provide.
Next, you must inform and confirm with your overseas seller, supplier, and shipper in advance that Cekindo will be your undername importer.
Once the confirmation is done with your overseas exporters, you shall validate your shipping documents.
Cekindo will proceed with the evaluation and confirmation of the goods you want to import. Then, we will go ahead with the import and shipping of the goods when the goods are confirmed to have no issues.
We will prepare all the documents for freight forwarding and customs clearance. So your import goods will be processed for clearance more efficiently once they have arrived at the port in Indonesia.
Cekindo will pay for the customs duties and taxes on your behalf upon the receipt of payment from your company.
Finally, you can have the goods delivered to your designated location or collect them from Cekindo.
Exporting to Indonesia without Import License
Applying an import license for importing goods into Indonesia, or exporting goods to Indonesia, may often seem too much of a hassle for many foreigners who want a convenient and fast method to maximise their business performance.
Therefore, undername importer or importer of record is a wonderful solution – because you don't need an import license for exporting to or importing your goods into Indonesia anymore.
Cekindo is a fully and legally registered undername importer in Indonesia who will be responsible for all the paperwork, required documents, and processes for importing goods into Indonesia.
Engage Cekindo's Undername Importer Service
Cekindo understands the importance of a controlled, simple, and reliable process of importing goods into Indonesia for your business.
We can serve as your undername importer in Indonesia so that you don't have to go through the long and costly process of getting an import license.
Always keeping ourselves with the most updated customs regulations and procedures, our team handles clearance of consignments more efficiently.
We also ensure the end-to-end solution for importing goods into Indonesia in the most cost-effective manner – so that your manufacturing and process lines can run more smoothly.
Work with us today to handle all your import needs in Indonesia. Fill in the form below.