Before and during a merger and acquisition process in Indonesia, it is important to have a lawyer present. This is because lawyers with highly specialised skills can play several vital roles in your M&A transactions that are often complex.
To ensure that your M&A deal runs smoothly without future complications, hiring an experienced M&A lawyer is fundamental and imperative at the same time. An M&A lawyer can serve as your advisor, mediator, drafter, and negotiator before and during your M&A business dealing.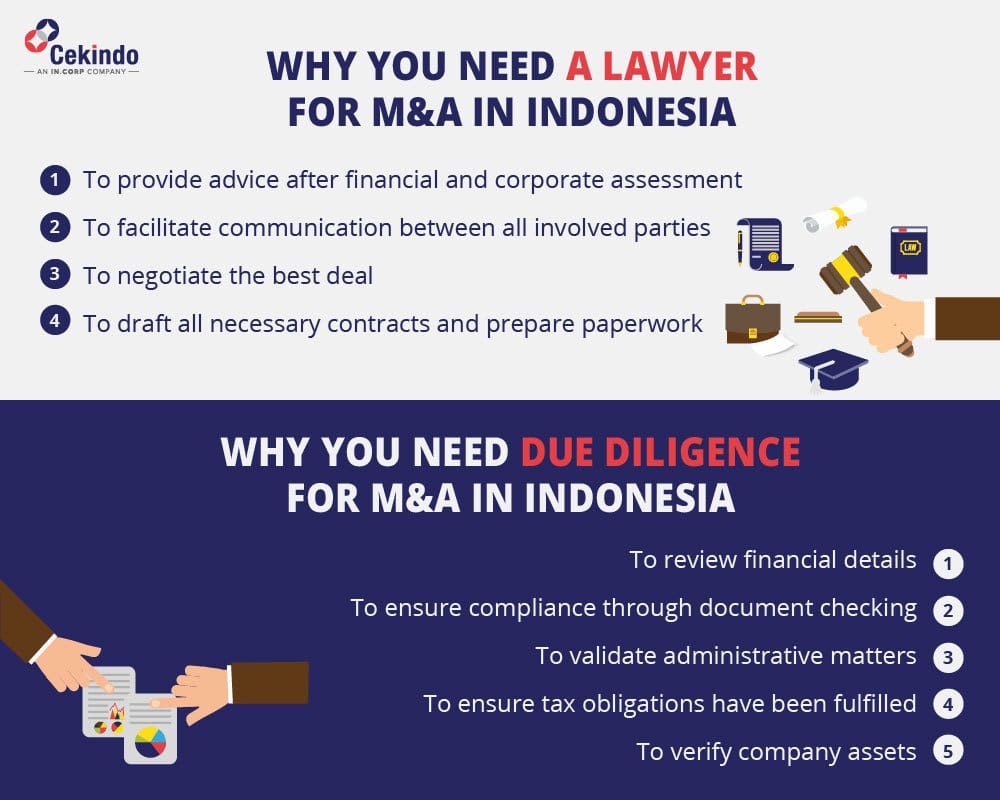 Roles of an M&A Lawyer in Indonesia
1. Advisor
An M&A lawyer gives you advice after assessing the financial standing and corporate records of the target company. They want to make sure that you get the best M&A deal. Also, they help you mitigate risks when they identify certain red flags and suggest viable options.
2. Mediator
A merger and acquisition in Indonesia involves not only the lawyer, but also the banker, the real estate broker, the accountant, and other relevant professionals. Your lawyer will then serve as a mediator to communicate among these people, and review and approve all every aspect of the M&A deal.
3. Negotiator
Your lawyer negotiates with the target company on various terms to strike the best deal for you. They want to make sure that the final M&A outcome is satisfactory for all parties involved.
4. Drafter
An M&A lawyer is also a drafter for all sorts of legal written documentation for your M&A processes such as contracts, letters, term sheets, applications, and registration. You don't have to worry about the grammatical errors and misrepresentation when you have a lawyer draft and review your critical paperwork.
Don't Forget Due Diligence for Your Merger and Acquisition in Indonesia
Due diligence is a very important activity in merger and acquisition in Indonesia as it enables you to review and confirm relevant information about the target company or the seller. The due diligence report will then serve as critical information to help you close a deal with certainty.
There are more than twenty categories of due diligence that a company can engage with. But the main types of due diligence for merger and acquisition in Indonesia are elaborated below:
1. Financial Due Diligence
This type of due diligence focuses on reviewing the following financial details, among many others:
Financial statements and audited financial statements
Financial projections
Debtors and creditors
Capital expenditure plan
Inventory schedule
2. Legal Due Diligence
Legal due diligence is performed through analysing important company's documents and agreements for their compliances:
Shareholders' meeting minutes
Copy of Memorandum and Articles of Association
Board meeting minutes
Licensing and franchise agreements
Contracts related to partnership, joint venture, and operation
Financing agreements, loan agreements, and lines of credit
Guarantees
Key management personnel's share certificates
3. Administrative Due Diligence
Things that administrative due diligence validates are administrative matters to make sure that all operational costs are shown in financial documents.
4. Tax Due Diligence
Tax due diligence is one of the most important due diligence that a company can perform. It identifies all tax matters such as tax liability and ensures that all taxes are accurately calculated with no tax non-compliance.
5. Asset Due Diligence
Asset due diligence deals with the analysis and verification of the following key items:
Detailed schedule of fixed assets
Locations of assets
Schedule of sales and purchases
Mortgages
Deeds of real estate
Lease agreements
How Cekindo can Assist
Our due diligence service for merger and acquisition in Indonesia reviews the attractiveness of the investment you want to put your time, money and resources in – so that you can make a more informed decision. Our due diligence experts help you draw light on elements that contribute to a successful transaction.
Without a thorough investigation of a target company, it can cost you money, time, and even your business. Thus, due diligence in Indonesia is crucial if you want to protect your company from any future legal implications or losses.
Before taking a step towards your merger and acquisition in Indonesia, get in touch with Cekindo to obtain a detailed report about your investment. Fill in the form below.