Establishing a foundation in Indonesia is one of the great ways for a business to establish credibility and to continue the legacy of its founder. This is particularly important for non-profit organisations as credibility can determine their sustainability and ultimate success.
For a foundation that acts in the form of charity or provides non-profit assistance to those in need, it would be hard to gain public trust if it does not have a legal entity, necessary licenses, a solid organisational structure and transparent financial management. Therefore, it is important for a foundation to show the public their legitimacy as an evidence of trustworthiness.
So, how to establish a legal foundation in Indonesia in accordance with Indonesia Foundation Law 28/2004? Cekindo lists the nine important points for you to consider in this guide.
Setting up A Foundation in Indonesia: Points for Consideration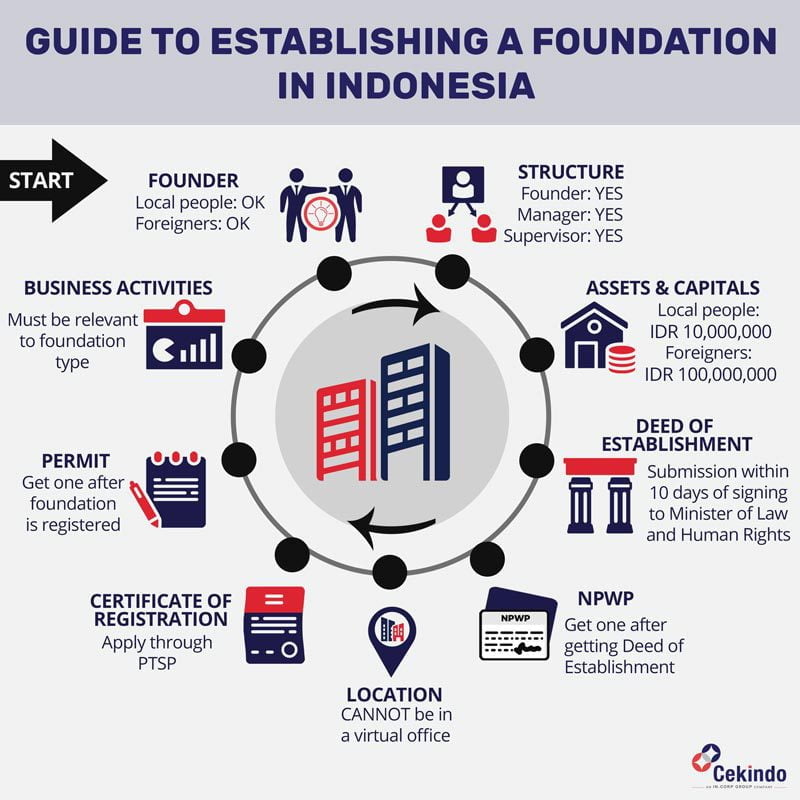 1. The Founder
First of all, you need to know who can legally establish a foundation in Indonesia. In accordance with Foundation Law 28/2004, both Indonesian nationals and foreigners can set up a foundation in the country with certain requirements to be fulfilled.
Furthermore, an organization can establish a foundation in Indonesia as long as it is a legal entity under Indonesia Law.
2. Organisational Structure
One of the goals to establish a foundation is to achieve the social, religious and humanitarian goals in a more professional and legal setting. Therefore, it is vital to establish clear obligations and rights for each role in the organization. In general, a foundation should have a structure with these roles: the founder, managers, and supervisors.
3. Distinct Assets and Capitals
The asset and capital of a foundation must be separated from the personal assets of its founder. The founder will also have to prove the validity of the distinct assets of the foundation.
For foundations established by Indonesian nationals, the foundation's initial assets and capitals have to be IDR 10,000,000; for foundations established by foreigners, the total initial assets and capitals are IDR 100,000,000. The initial assets and capitals can be in monetary forms or other assets such as property and equipment that are used for the foundation's operation.
4. Deed of Establishment
In order to build a legal foundation in Indonesia, you will need the deed of establishment to prove that your foundation has gained its legal status in the country. The Minister of Law and Human Rights in Indonesia is the authority that approves a foundation's deed of establishment.
The request for approval must be submitted to the Minister no later than 10 days starting from the signing date of the deed.
5. Tax Identification Number (NPWP)
Once you have obtained the deed of establishment for your foundation, you can then get your NPWP in order to file and report your taxes.
The process of acquiring a NPWP from the tax office is convenient and speedy with the assistance from Cekindo.
6. Location of the Foundation
It is critical to understand the spatial planning and zoning regulations in Indonesia before establishing your foundation in the country. These regulations can vary in different provinces and states.
Only certain zones and locations are permitted for such establishment. You should also take note that a foundation established with a virtual office is prohibited in Indonesia.
7. Certificate of Registration
Every foundation with activities in the social welfare must get a registration certificate from the Ministry of Social Affairs in Indonesia with a written application to the Ministry's head. The entire process can be done conveniently through the One-Stop Integrated Service Office (PTSP).
8. Permit for Operation
You need an operating permit to run your foundation. This permit can be obtained once the foundation is registered accompanied with relevant legal documents such as deed of establishment, NPWP, technical proposal, etc.
9. Permitted Business Activities
Foundations in Indonesia need to face certain restrictions while carrying out their business activities in accordance with Foundation Law. For instance, an educational foundation is only allowed to conduct business activities through the establishment of an educational institution.
It will also be useful to read: Newest Regulation on Foundation Name in Indonesia
How Cekindo can Assist
Cekindo is well equipped with experts and years of experience in the Indonesian market to assist people to successfully transition business and leadership to making an impact on society and future generations.
If you are considering establishing a foundation in Indonesia, Cekindo can provide catered solutions to help you build your well-structured organisation. Reach out to Cekindo by filling in the form below to discuss further.