Indonesia is an attractive destination for investment because it has a large market, stability, relatively low labor costs, and the availability of raw materials
Opportunities and Challenges of Investing in Indonesia
There are many investors who have invested in Indonesia, just based on the factors of low labor cost and raw materials availability.  They make Indonesia a location for intensive activity by using local distributors and partners, while still making strategic decisions in other countries like Mexico and China.
Indonesia is considered as "Asia's next big opportunity," of its fast-growing economy (up 6.2% last year, forecast to grow 6.8% in 2013) and favorable demographics. Over 60 percent of the population is between 20-65, which gives the country a large bank of earners and not too many old people for workers to support.
Recently, a business model that is growing in Indonesia is not limited to contracts or consignment manufacturing plans. Instead,  development has been focused on a capital-intensive business model that does not rely solely on Indonesian labor in some industries such as consumer goods, cosmetics, automotive, and components. Today many plans involve joint ventures with local representation in Indonesia in making business decisions such as investments, determining target markets, making capital expenditures, financing, and many more.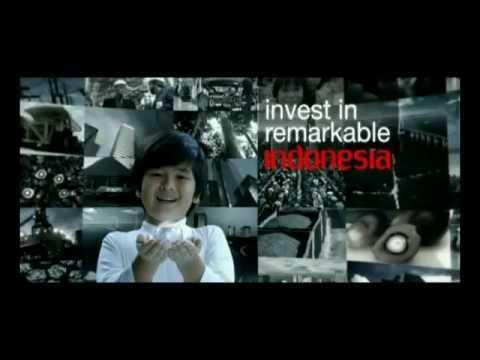 Oil and gas sector
Oil and gas resources are estimated at about 87.22 billion barrels and 594.43 TSCF spread throughout Indonesia, making the country an attractive investment destination in the oil and gas sector. Geologically, Indonesia still has the great potential availability of hydrocarbon resources. The government's plan to maintain oil production at a rate of 1 million barrels per day will certainly provide great investment opportunities in the upstream oil and gas sector.
The success ratio of exploration activities on average reached 38%, while the success of the well bet (wild cat) average was higher than 10%. Among existing locations of exploration, sites are those around the islands of Sulawesi Offshore, Nusa Tenggara Offshore, Halmahera and Maluku, and Papua Offshore.
Non-Oil and Gas Sectors
National investment growth of the non-oil sector is predicted to continue being driven by the manufacturing sector. Manufacturing outperformed the other three sectors, namely plantations, mining, and services. This will encourage more Indonesian suppliers to support the manufacturing sector. Manufacturing investment value is estimated to reach Rp. 225 trillion or 50% of the estimated total investment of Rp 450 trillion. Currently, manufacturing investment is longer centered on labor-intensive industries, but rather on capital-intensive industries. Investments are flowing into the automotive sector, steel, and chemicals. The investment in labor-intensive industries such as textiles and footwear is predicted to below. A ban on the export of raw minerals will continue to fuel the surge in manufacturing investment.
Property
As the 4th most populous country in the world. Indonesia definitely requires rapid development to fulfill the demand for living places, workplaces, and entertainment. These opportunities are bundled into the Property development area. Which has saw rapid development in the past few years and already predicted as one of the promising investment forms in Indonesia. Indonesia's residential property price index (14 major cities) rose by 7.88% during the year to end-Q2 2014. Although foreign property ownership is not allowed in Indonesia, there are several ways which foreigners can consider like buying property through PMA, Local PT, or buy buying shelf companies in Indonesia.
Transportation
The transportation sector in Indonesia is among the promising investment sectors which foreigners. Since Indonesians nowadays are among the most mobile society in the world. However, the high demand for transportation in Indonesia still lacks a proper transportation mode. These transportation opportunities range from Land mode transportation such as Railway Road, Bus mode, MRT. And the most promising of all is the airline business since Indonesia has been the fastest-growing market for airlines and still lacks airline competition inside. Not to mention Indonesia's nature as a vast archipelago country that still has many places to explore.
Internet and Telecommunications
Following the global rapid current of Telecommunication and Internet technology which also made their impact to Indonesia. Indonesian people are now among the most Internet-reliance in the world. They are also among the most connected society. Indonesia has been flooded with the rapid development of IT, Telco, and Internet technologies over the last decade particularly from outside such as the US and China. This circumstance has made Indonesians nowadays are highly dependent on Telecommunication and the Internet in their daily activities. The opportunity lies here is that Indonesia still some steps behind in regards to Internet speeds and Telco infrastructure compared to other neighboring countries like Singapore and Malaysia. Indonesia still needs a big improvement through investment for this sector. Until recently, there weren't any giant internet companies coming out of Indonesia, but that looks to be changing, as Japan's SoftBank and India's Sequoia Capital recently invested a whopping US$100 million in Indonesia's online marketplace website Tokopedia. It's a big bet, to say the least. The announcement came immediately after the inauguration ceremony of the country's new president, Joko "Jokowi" Widodo, who has promised to make his nation friendlier to foreign investors.
Renewable Energy Sector
Indonesia is one of the large energy consumers in the world. And now has become Asia's largest emitter for greenhouse gasses. And given its enormous populations and vast region. Indonesia still facing an energy crisis particularly in remote areas and outside Java. This may be because Indonesia still relied on conventional power plants such as Coal, Diesel, Steam. Some already use Water plants as well but still not maximized. When there's many other environment-friendly and renewable options like Solar panel plant and Windmill which is very suitable considering Indonesian geographic as Tropical country and have long coastlines. Currently, there is no single solar and windmill plant in Indonesia. Hence There's a big opportunity for Investment to bring this technology to be applied by Indonesia. Which will lead to solving the Indonesian energy crisis now and in the future.
Medical sector
Indonesia seeks to continuously improve health sector development by improving the quality of the infrastructure so that the healthcare industry will continue to grow, especially with foreign investment. Indonesia has more than 222 manufacturers of medical equipment and 90% are SMEs, according to the Joint Health Tools and Laboratory Indonesia. To harness the potential of the Indonesian health industry, cooperation must be enhanced at the level of government to government and business to business.  The Ministry of Health invites foreign investors to enter into the health sector in order to support the development of the health sector, especially medical equipment products.
Pharmacy industry
The Indonesian pharmaceutical market growth is higher than other ASEAN countries. The pharmaceutical industry market in Indonesia is driven by the growing population aged 65 years and older and also by Social Security (Social Security System). Currently, there are approximately 208 pharmaceutical companies in Indonesia.
Investments this year are expected to reach around 300 trillion. Investment opportunities in the country are still very promising. Previous data from the Pharmaceutical Association stated that national pharmaceutical industry sales could reach about US$4.9 billion. Based on contributions, multinational companies expected to make up about 23-24% of the US$4.9 billion. The Indonesian pharmaceutical industry market share is estimated at about or 0.4-0.5% of the world market share,  which reached US$800 billion.
The potential market in Indonesia is 243.7 million people with per capita expenditure on health amounting to US$108 per year (2014 figure). Meanwhile, Indonesia imports medical equipment amounting to US$748 million annually and has the potential to import  US$1.7 billion.
Food industry
Prospects for the food and beverage industry, as well as retail trade, seem difficult because trends change lifestyles and the productive age group, as well as the middle class, is increasing as is the average income. Finally, the advertising media industry is still stretched thin, because it is supported by additional ad revenue from the elections.
Taking into account the above overview, investors are expected to be more careful in negotiating the direction of stock market movement. To that end, investors should remain focused on stocks of their prospective industry for long-term investment and not easily be swayed by short-term turmoil.
Investment risks in Indonesia
In addition to holding huge investment potential, Indonesia also has investment risks that need to be calculated for potential investors, including:
1. Demonstration
Demonstrations, which are a hallmark of a democratic society, take place every day in Indonesia, although they are usually on a small scale. Protests focus on a range of political, economic issues and social issues.
2. Corruption
Corruption in Indonesia has not improved impressively on the annual Corruption Perception Index, which shows the level of corruption in the countries of the world. Indonesia number 118 out of a total of 176 countries, however, its performance has shown a steady increase since the beginning of 2004.
3. Government and Bureaucracy
Indonesian Government and Beauraucracy systems are still considered as the most complicated among other countries. It is very likely for investors to face some hurdles and obstacles in doing business and invest in Indonesia. The important investment process like Company registration, Work permit, are still facing many difficulties and far from easy. And since the new government implemented stricter rules of investment this doesn't make the situation any better. However, the government through the investment coordinating board already make commitments to reform their bureaucracy to ease the investment flow and process.
4. Infrastructure
A lack of quality and quantity of infrastructure in Indonesia could hinder economic growth. The government realizes the importance of major investments in this area such as the construction of roads, bridges, ports, etc., but until now it has not been maximized, thereby reducing investment appeal.
5. Natural Disasters
Natural disasters in Indonesia such as earthquakes, tsunamis, volcanic eruptions, and floods often made headlines in the Indonesian media and cause casualties and damage to infrastructure. Indonesia's location is in the Pacific Ring of Fire and its geographic area consists mostly of seawater. Both these reasons make Indonesia prone to natural disasters.
6. The risk of a volatile exchange rate leading to inflation
Inflation in early 2014 soared by 1.07% due to food inflation and a weak exchange rate, which currently has reached more than 12.000/US$. If the value of the rupiah is not stable, then the cost of production will be difficult to predict and the sale price of the product in the market is less competitive. When the dollars are likely to weaken, production costs will be greater and result in losses for investors who invest in the manufacturing industry. We recommend that investors seek Indonesian distributors as partners for foreign companies to establish business cooperation in Indonesia.
7. The risk of changes in global liquidity
We must understand the high risk that the economic situation will face in 2014 and leads to a slowdown in growth. Indonesia's economic indicators still show a good condition, although there is a change in direction of the current global liquidity due to stimulus plan funding restrictions of the Fed.
The Fed's move to tighten stimulus funds totaling the U.S. $ 85 billion for the purchase of bonds each month was considered aiming to reduce the amount of money circulating in the community. The tightening of global liquidity is very different from the situation of 1997/1998 and also 2008. Tapering off when this occurred had not been triggered by the collapse of the financial sector, but because of the recovery. It shows Indonesian economy is ready to face the liquidity posture changes. Global liquidity is one of the four risk factors in the face of 2014. The other three are world oil prices, food prices, and domestic politics.
Conclusion
In the end, the world is watching Indonesia as one of the "fragile five" emerging economies. One of the main reasons investors become attracted to Indonesia in the first place is that there are so many problems that need to be solved, and therein lies a bundle of opportunities to back ventures that will solve these problems.