Indonesia's cosmetic market currently amounts to more than $1.5 billion. While, Indonesian halal cosmetic products gain a steady growth of up to 20% annually. 86% of Indonesia's population is Muslim and the halal certification for imported products will soon be implemented. It is not surprising why halal cosmetic products are continually in demand in the local market.
Because of the increasing consumption of cosmetic products by urban dwellers and recently, by those in the rural areas, the Industry Minister of Indonesia, Mohamad S. Hidayat forecasted for Indonesia to be at the top 3 markets in Asia-Pacific in the next 10 years.
Because the makeup consumption in Indonesia is increasing, the rise of cosmetic product registrationhas also increased exponentially. As a matter of fact, huge and established global companies, such as L'Oréal have already set up their factories in Indonesia and subsequently, opened numerous branches all over the country.
What It Takes to Open a Cosmetic Products Business in Indonesia
BPOM is an Indonesian Agency for Drug and Food Control. BPOM laid out a stringent set of guidelines on cosmetic importation and distribution within the country. This happened to curb illegal importation and hazardous consumption of cosmetic products in Indonesia.
In Indonesia and other countries, imported products have to be registered and approved by BPOM. However, there are things that foreign investor or distributor has to know about BPOM Indonesia registration.
One, register every product and its variation separately at the BPOM. Its also count if you intend to market hundreds to thousands of cosmetic products in Indonesia. You have to come up with the same number of registration to be able to offer the products legally.
Another thing to reckon, you would need a local agent or local business partner in Indonesia. This local partner will help you to obtain a certificate or a distribution permit. The local business partner will become the license holder, importer, as well as distributor.
Related article: The Latest Regulation on Exporting Cosmetics to Indonesia
The BPOM Registration Process
As mentioned earlier, BPOM Indonesia registration process requires you to obtain a local agency to obtain import license. Aside from that, the local agency will also represent the foreign company's presence in Indonesia. Without a local agency, a foreign distributor would not be able to operate legitimately within the country. Finding a local partner, to get your license by the BPOM without strain also needs you to find a well-reputed local agency.
Aside from obtaining due licenses and permits to operate in Indonesia, the ASEAN Harmonized Cosmetic Regulatory Scheme also requires companies to complete an online application. Through this application the company can distribute cosmetic products in South East Asia and obtain the permit; Once again, a foreign company need a local counterpart. Otherwise, it should establish its own company in Indonesia.
What to Expect from a Local Agency
A local agency can do more than assist a foreign company to obtain acosmetic product registration. Some of the services that you can expect from these agencies include the following:
Market research. This includes gathering of information as to the marketability of a certain cosmetic product. For instance, what are the percentage chances for a halal cosmetic to be patronized in Indonesia? Will a new line of organic cosmetic product sell in the rural areas of Indonesia? By having such initial information, company can easily decide whether to push for a BPOM registrationor not.
Distributor selection. There are numerous distributors around Indonesia, it's important for foreign company to partner with a trusted established distributor. This distributor will hold the product license for years. Having the right local partner will ensure the marketability of a product. Also, it is important to avoid penalties and legal sanctions by the Indonesian government.
Licensing. Under the recent Indonesian Law, only registered products from licensed distributors can circulate in the Indonesian market. Purchased products directly from cosmetic companies abroad and sold it locally by Indonesians without due license is illegal. This activity is punishable by imprisonment of up to 15 years jail time and a penalty amounting to IDR 10 million.
Cosmetic registration or company registration. Every cosmetic product and its variation should have its own registration. In addition, the company that aims to distribute these products has to obtain BPOM Indonesia registration as well. The moment the product is registered, BPOM issues a notification and a registration number. The registration number print on the product's packaging and valid for three years. The company can extend the registration upon proper application afterwards. The company should import cosmetic products every six months in order to keep the permit valid for three years.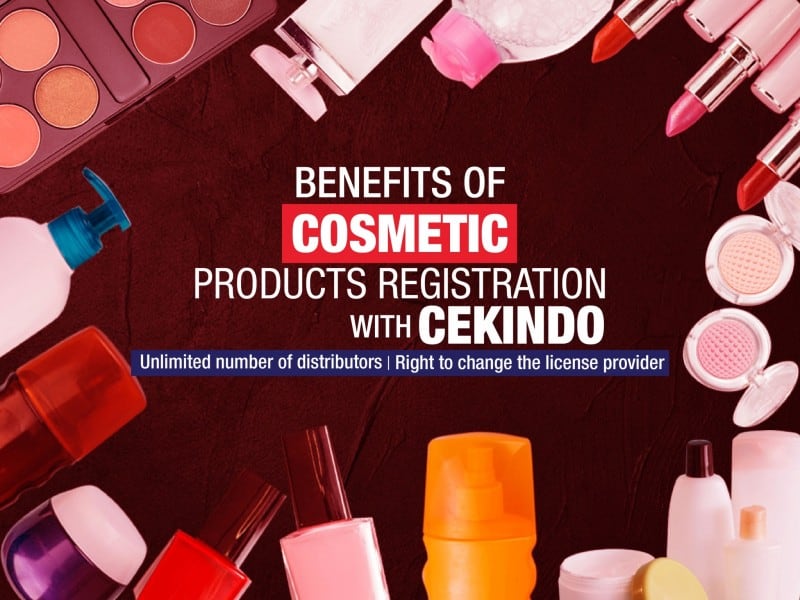 How to Select a Local Agency in Indonesia
There are a lot of local agencies in Indonesia that can help you with your licensing and registration needs. Cekindo is an established and reputable Indonesian consulting firm that specializes in local representation and business set up to efficiently assist you in the process of obtaining registration for your cosmetic products and your company.
Our company has been in the business for several years now and is servicing foreign companies who want to introduce imported cosmetic products to the local markets of Indonesia.  You can visit our website at cekindo.testfor more information on how we can assist you with your registration process and how you can efficiently take your skin care products an inch closer to your target markets.
You can also refer to our client testimonials to find out what our select clients have to say about our service delivery and how we were able to help them obtain cosmetic product registration until they were strengthened and became a viable entrant in the Indonesian market. Click the "Clients" tab on our website to see for yourself the long list of companies we have assisted in Indonesia.