Foreigners expanding business to Indonesia will face an array of challenges. As your business grows in Indonesia, to thrive quickly and successfully, every business needs different support and solutions.
Most entrepreneurs have a set of talents but many times it is impossible to do it all yourself. Recognising the need in seeking necessary support is essential if your business is to continue to expand and prosper.
Today, a lot of outsourcing services on the market are no longer just reserved for big businesses as technology has made outsourcing more affordable and accessible for many small businesses.
Effective services can help you make the most of your business and increase your bottom lines, creating sustainable growth for the future.
Here are the five most useful services to consider when expanding business to Indonesia.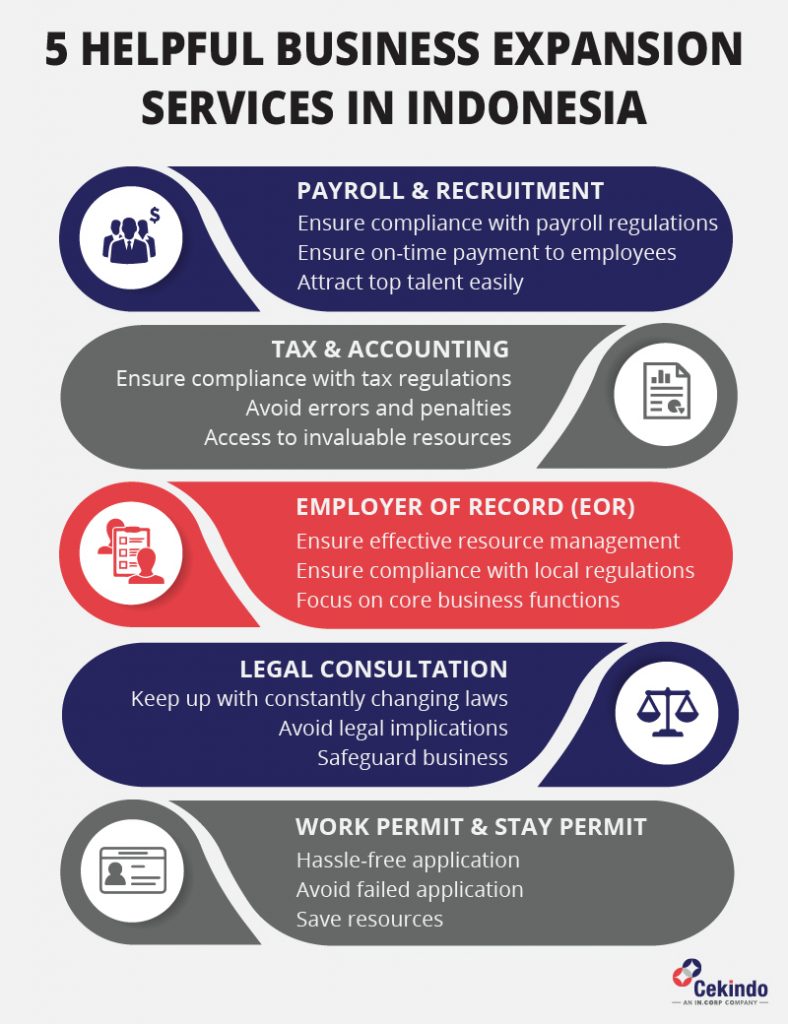 Expanding Business to Indonesia: 5 Useful Services
1. Recruitment and Payroll Services
Hiring staff and managing employee's payroll are considered the two most time-consuming and intensive human resource activities. You are not only responsible for obtaining ideal talent, you will also need to keep track of the employee's payroll and ensure that they get their paycheck on time.
In Indonesia, a recruitment service can help you attract top talent with a shorter recruitment process and higher employee retention. And, a payroll service can help you easily deal with all-time tracking, salary, compensation, benefits, and employee taxes to prevent errors and discrepancies.
2. Tax and Accounting Services
When you have a small business, it is relatively easy to manage your accounting and taxes. However, when your company grows into a larger corporation, accounting and taxes will become more complicated and will be harder to deal with.
It is always smart to hire a company to prepare and file your taxes, especially when you are expanding. You will also get instant access to invaluable resources and advice from experts, saving you the headache of dealing with all tedious tax issues and avoiding errors and penalties.
3. Employer of Record Services
Employer of Record (EOR) services has gained so much popularity in Indonesia as they are effective solutions for many foreign companies. An Employer of Record in Indonesia enables you to comply with local regulations and laws, focus on your core business functions, ensure effective resource management, and avoid penalties.
4. Legal Consultation Services
If you want to have your business go as smoothly as planned, it is important to make use of legal consultation services. The services are even more essential in a place like Indonesia with a dynamic business environment and constantly changing laws, where missteps can happen easily without proper assistance.
Therefore, seeking legal consultation can not only ensure the success of your business incorporation but also safeguard your business against legal implications.
5. Work Permit and Stay Permit Services
Foreigners are only allowed to enter, stay, and work in Indonesia with valid legal visas and permits. Based on the purpose of foreigners' stays in Indonesia, the type of visa and permit required is different.
For foreigners who are unfamiliar with the local regulations, the requirements and procedure for visa and permit application may be confusing. With work permit and stay permit services, you will save more time and energy on navigating the process and avoid failed applications.
Cekindo as Your Business Expansion Partner in Indonesia
Cekindo offers a full corporate service in Indonesia when you are expanding your business to Indonesia. We provide all kinds of legal and business support to corporate clients and private institutions
Our legal consultants in Indonesia act as an integrated team across Indonesia, with experts, spread across all cities and provinces. We have years of in-depth business expansion experience and understand the risks and challenges you encounter.
Cekindo takes a pragmatic approach to work out problems and provides focused solutions to mitigate risks and ensure greater business success. Choose us as your business expansion partner in Indonesia today.
Fill in the form below to further discuss the above services.