The number of companies that cooperate with an employer of record in Indonesia has been increasing greatly. This is because an employer of record can help companies expanding in Indonesia overcome the hurdles concerning legislations and expenses when hiring staff remotely.
One factor particularly stands out. Many foreign companies see complying with the Indonesian laws and regulations as a major barrier that is preventing their global expansion. Of course, each country has its labor and employment requirement but it is especially tricker in Indonesia when the laws involve more red tapes and frequent changes.
This is why the employer of record has growing popularity as one of the most effective solutions for foreign companies—local or international—wanting to expand their business in Indonesia. Companies now see no reason to violate the country's laws and suffer a massive loss.
What is Employer of Record in Indonesia?
The Employer of Record with acronym EOR is a third-party contractor hired by a company to take charge of almost all employment tasks that comply with the law. EOR is also sometimes known as a local partner, local employer of record, local employer, Foreign Enterprise Service Company (FESCO), or back-office staffing.
An employer of record allows local or foreign companies to hire employees indirectly in different provinces in a country or foreign countries.
Why Collaborate with an Employer of Record in Indonesia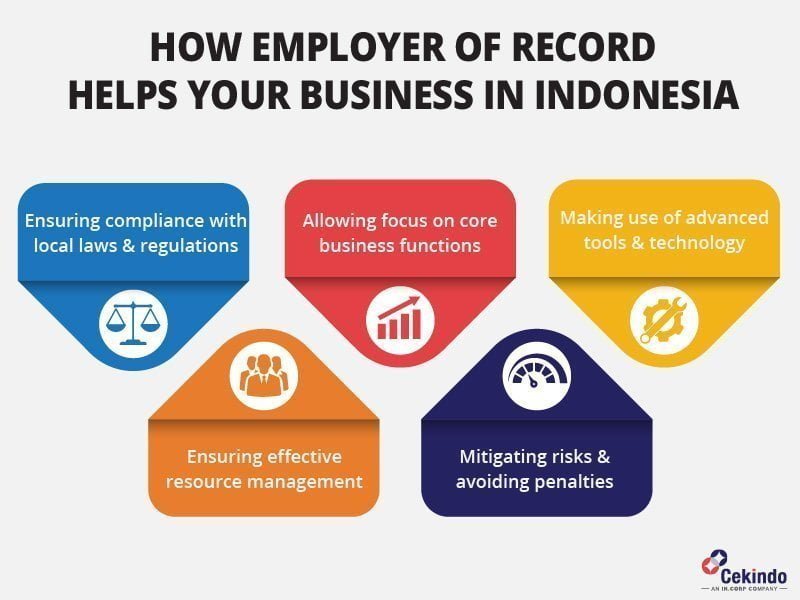 1. Complying with Indonesian Regulations
An employer of record in Indonesia complies with all federal, state and provincial laws in the country. Especially when immigration policies are constantly changing, this makes compliance a huge obstacle when a company is not familiar or updated with the changes.
Therefore, instead of running the risk of legal violations, EOR ensures that all employment tasks are properly performed. These tasks include hiring and recruitment, tax reporting and filing, payroll, employee's insurance and compensation, visa and permit application and others.
2. Managing Resources Effectively
A company can only be sustainable for the long term when they make the best use of their resources. These resources include time and money. If you hire a (or more) full-time employee to deal with all the employment and HR functions, you will have to fork out a significant amount of your money.
However, if you try to do it yourself, you could spend a substantial amount of time navigating, potentially creating more errors and unintentionally leading to legal complications. Engaging an employer of record in Indonesia can help you manage resources better, especially time and money.
3. Concentrating on Core Business Functions
Related to reason #2, when you save time and money by using an EOR, you can then make better use of the time and money saved on core activities that bring in revenues.
4. Utilising Advanced Technology
An EOR makes use of the latest technology and HR professionals, creating the most effective and streamlined employment and payroll processes. This is especially crucial because HR functions and payroll processing have become more complex.
Therefore, without the right technology and experienced personnel, it's difficult to accurately complete the tasks promptly while meeting all the legal requirements.
5. Avoiding Penalties
Staying on the right track of law compliance in Indonesia with an EOR means that you mitigate many legal risks. One of those being avoiding massive penalties that may occur even on the very minor HR no-compliance.
Cekindo as Your Employer of Record Provider in Indonesia
Starting a business in Indonesia can be a challenging undertaking and that's why acquiring the right information about the country, especially the laws and regulations, will be tremendously helpful. Cekindo can support you in your business expansion with our employer of record in Indonesia.
You can now hire talented and experienced staff in your industry without going through the complicated procedure of setting a legal entity. All hiring done through Cekindo's employer of record in Indonesia is under the country's labor laws and legislations.
Up until now, Cekindo's employer of record service in Indonesia has helped hundreds of companies break into markets and establish your business presence in this dynamic country.
If you are looking for a streamlined and effective method to establish your presence while employing top talent to accelerate your expansion in Indonesia, reach out to Cekindo today.
Fill in the form below.