The cosmetics sector in Indonesia has achieved 10% – 15% growth for past years.
This improvement might be happened caused by the increases of purchasing power and the massive marketing campaign.
The biggest consumer of cosmetic products in Indonesia are the people who lives in big cities, but the rural people also has showed higher enthusiasm in cosmetic products. This condition affected to the demand of cosmetics and toiletries which also has increased over the past years.
Badan Pusat Statistik or The Central Bureau of Statistics in Indonesia (BPS) reported imported cosmetics and toiletries for last 3 years, as below:
2013: USD 541.6 million
2014: USD 483.9 million
2015: USD 453.4 million
The import number has decreased in 2014 and 2015 primarily die to the drastic fall in Rupiah/Dollar currency exchange, where Rupiah has lost 10% of its value against the dollar since November 2013. The research from Nielsen showed that Indonesian people's preferences for cosmetics tend to use the global brands instead of local brands. 48% consumers choose global brands, 36% choose local brands, and the other 16% doesn't have any specific preference.
The ASEAN Harmonized Cosmetic Regulatory Scheme states an ASEAN member countries must accept products that have been registered in another ASEAN member country; however, the regulation leaves final approval up to member states so it is still not yet valid and you need to register your cosmetic product in Indonesia.
The Regulations
The process of cosmetic product registration in Indonesia is regulated by Indonesian Agency for Drug and Food Control, also called by BPOM which is under Indonesian Ministry of Health. The regulations for cosmetic products are also issued by BPOM, there are:
Number 18 Year 2015: technical requirements for cosmetic materials.
Number 19 Year 2015: technical requirements for cosmetic.
Number 1 year 2016: technical guidelines for control of cosmetic advertising, and
Number 11 year 2016: application guidelines for hygiene sanitation and documentation in cosmetic industry group.
Related article: The Latest Regulation on Exporting Cosmetics to Indonesia
To be able to proceed product registration in Indonesia you need to have company in Indonesia or distributor/agent which will register your product under own Indonesian company.
This requirements look simple but actually can be very tricky since according to the Indonesian regulation you can register your product in Indonesia just under one company. It means that this company will receive after registration some kind of automatic exclusivity on your products even you did not sign any exclusive agreement since this company holds the product license (usually for 3 years) and without their approval, you can't make any pre-registration on another distributor.
It is why to choose a correct partner in Indonesia can be a key factor for your future success if you don't prefer to register your company in Indonesia.
Foreign investors make many mistakes when registering their cosmetics for distribution in Indonesia. Check it more here.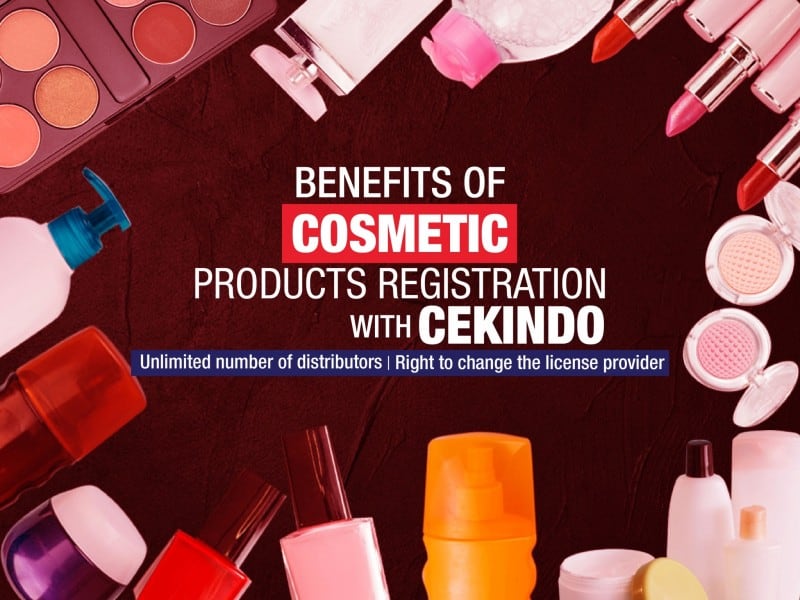 In this case we suggest you to register your products under third party which will provide you flexibility and possibility to cooperate with more local distributors and change them in same time without any complicated procedures.
Once you decided which company you will use for product registration, you need to initially submit online form with requested supporting documents to BPOM E-application to obtain a user ID and password for your company firs.
This user application can be conducted 1 (one) time, as long as there is no change in the applicant data. If data changes occur, your company must submit a data change notification or filed for readmission.
The List of Required Supporting Documents
Original Application Letter signed by the Director or the Proxy of Director and duly stamped.
Duly stamped Original Letter of Statement of the Responsible Person.
Copy of Import Identification Number (API).
Copy of Trading Business Permit (SIUP).
Copy of the Tax Identification Number (NPWP).
Copy of Importation Letter of Authorization in the form of General Certificate by Notary, in the case where the application is a company that has been authorized for import.
Pharmaceutical Industry Permit in case of Drug importation; h. PBF permit, for PBF that has been authorized by the pharmaceutical industry to conduct importation of drugi.
List of HS Code that will be imported.
Process of Cosmetic Product registration:
Once your company is registered at BPOM, you can start the process of product registering in the following steps:
Document Preparation. You will need to prepare a set of documents related to the each of product.
Product Submission. You will need to submit and receive a notification from BPOM for each product you want to register.
Payment to BPOM. BPOM will collect the payment for each of submitted product registration.
BPOM notification. In the regular process, BPOM will issue the notification in 2 weeks after they received your payment. Once it's issued, you can import your product to Indonesia. The notification will be valid for three years and you can extend it.
Registration Process Time

Registration lead time will take around 1,5 until 2 months.
Validity of Product Registration
The Product Registration shall be valid for 3 years subject to renewal. Any change in the formulation which affect the function of the product and any change in the product claims shall require a new product registration.
During your product registration and import process you have to be aware also that:
All cosmetics products must comply with Indonesian National Standards (SNI), of testing. These include testing and limitations on microbial issues, the presence of heavy metals and the prohibited material.
All cosmetic products must meet safety, benefit, labeling, quality and claim requirements. These are spelled out in Indonesia Codex Cosmetics and other official lists of national standards.
All cosmetic products must follow precise rules for the labeling, production, packaging and advertising of cosmetics products in Indonesia.
Translation. Labels on all products have to be translated into Bahasa Indonesia. Proper translation is essential to ensure that all instructions, uses and cautions are accurate.
---
Complying with cosmetics regulations for successful importing does not have to be difficult. Cekindo is ready to assist your company and get your products into the hands of consumers soon. From market research to distributor selection, licensing, cosmetic registration or company registration, Cekindo is able to efficiently assist your company. Contact us through Contact Form below to get further assistance and the free consultation with our experienced consulting team.
Contact Us
Share this article: