Overview of Indonesia Cosmetic and Personal Care Market 
The Beauty and Personal Care industry is thriving. It also happens to be one of the fastest-growing consumer sectors, with sales of US$7,458 million in 2021 and is predicted to grow at 6.46% each year (CAGR 2021-2025).

The Indonesia cosmetic market is showing tremendous potential, encouraging foreign investors to set their footprint into the country. Following are some of the factors that are contributing to its growth: 
Rising demand from Millennials
Making up 33.4% of Indonesia's overall population, millennials spend up to 50% of their disposable income towards beauty products, food and beverages, leisure activities, and Internet. Moreover, their real income has increased to 8.6% CAGR in the past decade, which is way more than the average real income growth of the entire population which stood at 3% to 4%.
Indonesia's Women Becoming Financially Independent
As women remain a primary consumer in the cosmetics sector, their purchasing power remains a key indicator in the sector's success. As of February 2020, Indonesia's gender pay gap has narrowed down to 23%. 
They also happen to be the largest investors of Sovereign Department Instruments and are making contributions to the Indonesian State Budget by purchasing retail government bonds.
These are just one of the many growing signals of Indonesian women's rise to achieving financial independence.
Change in Consumer Behavior Due to Covid-19 Pandemic
The cosmetic sector has responded well to the COVID-19 scenario, with firms adjusting their production to manufacture hand sanitizers and cleaning agents, as well as delivering free beauty treatment to frontline response workers. Since the inception of COVID-19, Google search patterns show that searches for skincare related topics have surged by 230%, while searches for skincare items have spiked by 130%.
The culmination of all these factors acts as a catalyst in encouraging foreign investors to leverage untapped opportunities available in the cosmetics industry.
Understanding Indonesia Cosmetic Trends
Korean Cosmetics
Multinational corporations with a local presence in Indonesia are facing fierce competition from Korean brands, who are aggressively acquiring bigger shares in the Indonesian skincare market. Some e-commerce companies are also capitalizing on this trend, working closely with K-pop bands such as BTS and Blackpink.

Korean beauty products, also known as K-beauty, have gained in popularity and market share over the years. According to a survey conducted by Rakuten Insight, 42% of Indonesians who used Korean beauty products, said that such products made up 25 to 50% of the beauty products that they owned. 
Halal Product
In an effort to boost the presence of halal products in Indonesia, skin care products and cosmetics that are imported, distributed, and traded in the country must now be ratified according to the country's halal product law. For a product to be halal certified, the materials, equipment and processing methods used must be halal. Moreover, companies are required to comply with new laws by 2026.
The growing number of halal-conscious women in the middle and upper classes has hiked the usage of halal cosmetics. After the introduction of the halal product assurance law, 58% of women choose to use halal cosmetics in Indonesia.
Male Grooming and Personal Care
According to a Euromonitor poll (conducted in June 2020), there's a rising number of men who spend on skincare items, especially face wash, moisturizer and after-shave lotion. The market is further expected to grow by 4% as men are working from home during the Covid-19 pandemic and they have more time to look for themselves.
With favorable trends and a promising outlook, companies entering Indonesia's cosmetic market should be aware of the corporate and legal regulations to commence business operations in Indonesia.

How to Register Cosmetic Product in Indonesia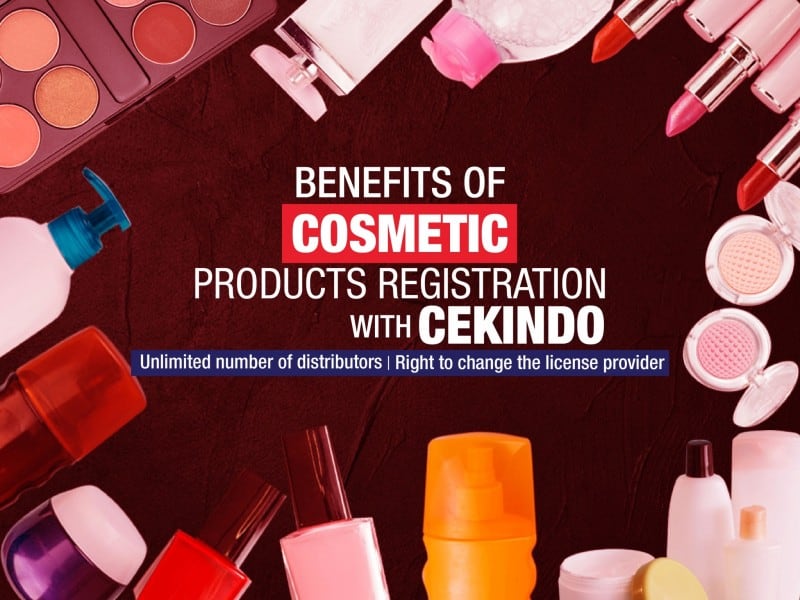 Requirements
To get your product registered, cosmetics in Indonesia must meet the following criteria:
All cosmetics products must comply with Indonesian National Standards (SNI), of testing. These include testing and limitations on microbial issues, the presence of heavy metals and the prohibited material.
All cosmetic products must meet safety, benefit, labeling, quality and claim requirements. These are spelled out in Indonesia Codex Cosmetics and other official lists of national standards.
All cosmetic products must follow precise rules for the labeling, production, packaging and advertising of cosmetics products in Indonesia.
Translation. Labels on all products have to be translated into Bahasa Indonesia. Proper translation is essential to ensure that all instructions, uses and cautions are accurate.
Process of Cosmetic Product Registration:
Cosmetic goods can only be registered by legal companies based in Indonesia. They must either register as a manufacturer or as a distributor and importer.
In this case we suggest you to register your products under third party which will provide you flexibility and possibility to cooperate with more local distributors and change them in same time without any complicated procedures.
Once you decided which company you will use for product registration, you need to initially submit online form with requested supporting documents to Indonesian Food and Drug Authority (Badan Pengawas Obat dan Makanan, BPOM) E-application to obtain a user ID and password for your company firs.
This user application can be conducted 1 (one) time, as long as there is no change in the applicant data. If data changes occur, your company must submit a data change notification or filed for readmission.
List of Required Supporting Documents
The documents that need to be submitted to BPOM must include the following information:
Company name

Detailed address and zip code

Phone number

Type of business and business license number (IU)

Tax

Identification Number (NPWP).

API-U (import identification number)

Warehouse address and warehouse telephone

Statement of Person in Charge

Notary Deed Agreement Letter, and HS Code.
Stages of Product Registration
Once your company is registered at BPOM, you can start the process of product registering in the following steps:
Document Preparation. You will need to prepare a set of documents related to the each of product.
Product Submission. You will need to submit and receive a notification from BPOM for each product you want to register.
Payment to BPOM. BPOM will collect the payment for each of submitted product registration.
BPOM notification. In the regular process, BPOM will issue the notification in 2 weeks after they received your payment. Once it's issued, you can import your product to Indonesia. The notification will be valid for three years and you can extend it.
Registration lead time will take around 1,5 until 2 months.
Validity of Product Registration
The Product Registration shall be valid for 3 years subject to renewal. Any change in the formulation which affect the function of the product and any change in the product claims shall require a new product registration.
How Can Cekindo Help You?

Setting up a cosmetic business in Indonesia could be a tedious task, especially for a foreigner. While you focus on the core business aspect of your company, Cekindo's comprehensive business solutions can help you in setting up your business in Indonesia. Following are the domains we excel in:
Company Registration: Cekindo registers several companies every month, from PT PMA to PT or a Branch Office, saving the clients from the hassle of tedious registration processes.
Product Registration: We can assist you to get through the every step of registration process hassle-free

.
Halal Certification: Cekindo can assist in streamlining all paperwork and approvals required for halal certifications and make the complete process seamless.
Importer of Records: The service allows corporations to import products into the country through an import partner. An IOR is beneficial to companies that want a q

uick market access into Indonesia, l

ocal distribution and retail partners to manage sales in Indonesia, or

import multiple products from different categories.
To know more about how Cekindo's solutions can help you make investments in Indonesia, please fill out the form below or talk to an expert on our chatbot.