Cosmetic Registration Indonesia: How to Obtain a BPOM Market Authorization Permit
To ensure the safety of local consumers, all beauty products, including cosmetics, are required to be registered before entering the local market. The National Agency for Drug and Food Control of Indonesia (Badan Pengawas Obat dan Makanan) or BPOM is a government agency responsible for protecting the public through the control and supervision of cosmetics. If your product is deemed safe and qualified, BPOM will issue a market authorization permit. The cosmetic registration process will take 1 to 2 months to complete. Once the BPOM notification is issued, you should import all registered products within six months to keep the cosmetic product notification valid.
Keep in mind that BPOM will first conduct a building facility inspection to ensure that your products comply with all safety and standard distribution requirements.
Requirements for Cosmetic Products Registration in Indonesia
To complete the cosmetic registration process successfully, you have to meet quality, safety, labeling, and claim requirements. In addition, the applicant must provide supporting documents such as a business license, API-U (import identification number), responsible technical person, and others. For more details regarding cosmetic product registration requirements, contact our experts.
Cosmetic Product Registration Services in Indonesia: Is Halal Certification Required?
As a Muslim majority country, halal certification in Indonesia plays an essential role for cosmetic products entering the local market. Contact Cekindo to certify your halal products as soon as your products are registered.
Cosmetic Product Registration Services in Indonesia With Cekindo
Cosmetic Product Registration Services in Indonesia: The Workflow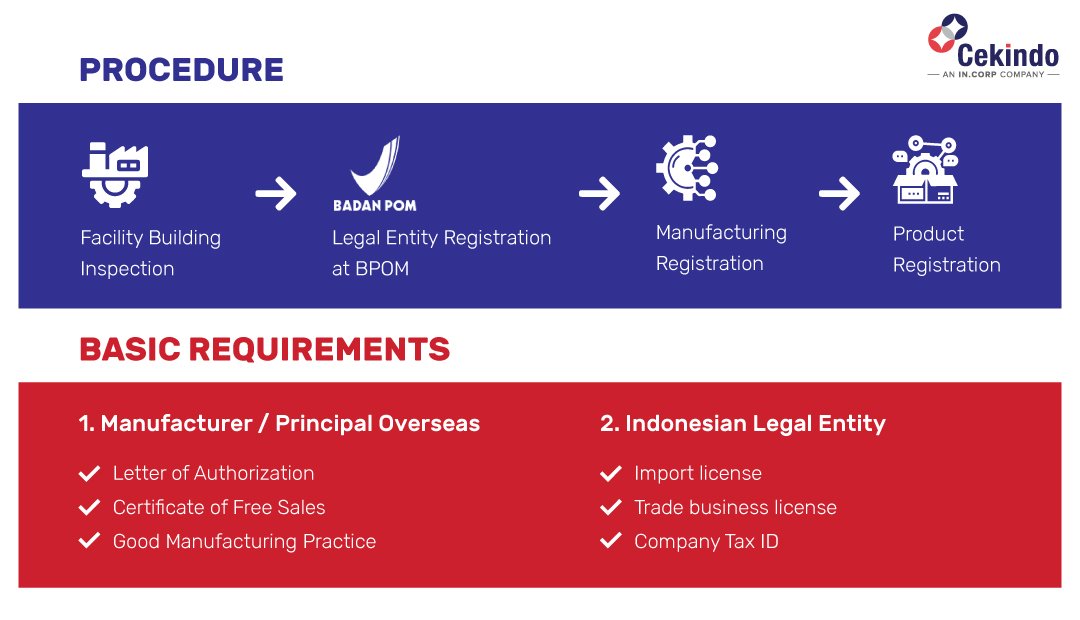 Why Choose Cekindo for Cosmetic Product Registration in Indonesia?
1
SEAMLESS PRODUCT REGISTRATION
With our expertise in Indonesian regulations, we make the cosmetic registration process as seamless as possible.
2
WE ALWAYS HAVE SOLUTIONS
Tell us what you need. We can get your cosmetic product registered, with or without incorporating a company.
3
ONE-STOP SERVICES
In addition to cosmetic product registration, our consultants can also get your cosmetic product Halal certified.
4
TIME AND COST SAVING
Cekindo reviews the documents for product registration to prevent any rejection