Enter Indonesia with valid legal documents such as a visa and work permitIndonesia offers several types of visas which differ based on the purpose of foreigners' stays in the territory. The frequently used ones are a temporary stay permit called KITAS (ITAS) and a work permit known as Foreign Worker Utilization Plan approval (Pengesahan RPTKA).
Effective from November 2018, a work permit (RPTKA Approval) is now combined with TELEX visa in the form of so-called "Notification", and its validity is the same as the employment agreement.
Apply for a Work Visa – KITAS in Indonesia
The number of foreign workers in Indonesia continues to increase each year, check out the data below: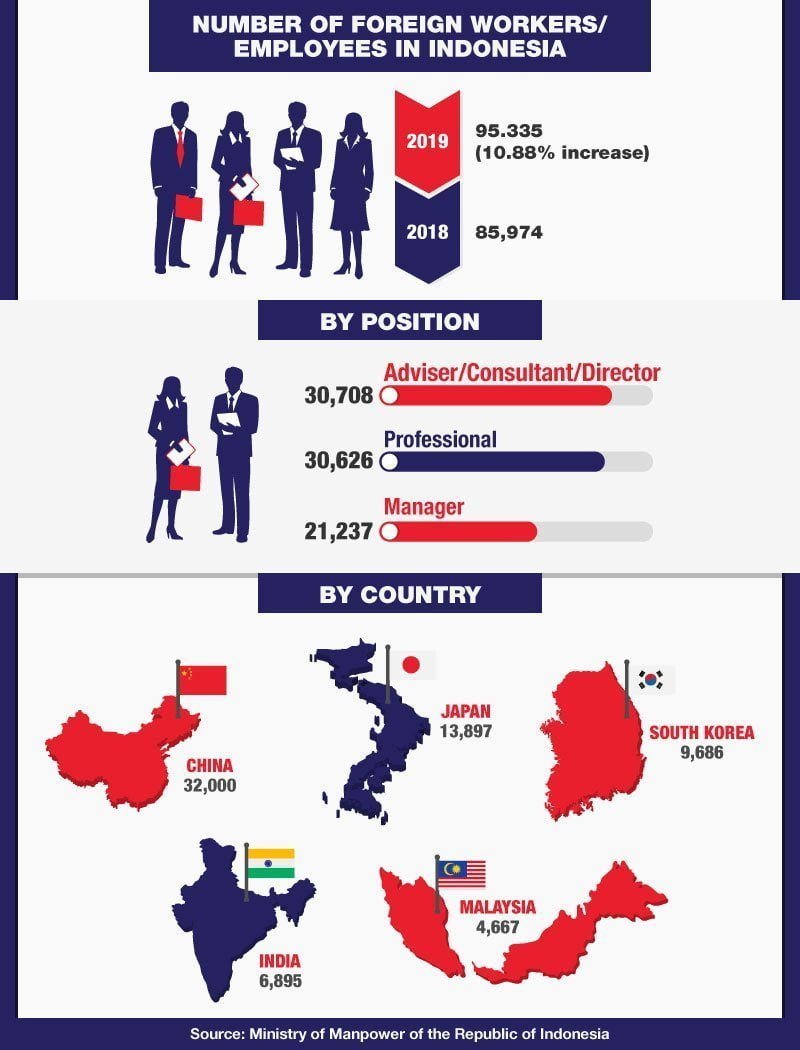 Having a temporary stay permit (KITAS), also known as a working visa or working KITAS, is one of the necessities when working in Indonesia.
On the contrary to a spouse-sponsored KITAS or a retirement KITAS, a work KITAS must be sponsored by an Indonesian company (an individual sponsorship is not allowed).
The length of each working KITAS is based on job positions commonly ranging from one to 12 months, and it goes hand in hand with a Multiple Exit Re-Entry Permit (MERP).
Apply for a Work Permit – RPTKA Approval in Indonesia
Foreigners who plan to work or obtain income in Indonesia have to apply for a work permit prior to their arrival. This is a bureaucratic procedure that involves the Ministry of Manpower as well as several immigration offices.
A work permit is the only document which allows foreigners to work in Indonesia legally. Its requirements are quite strict and many job position, as well as business sectors, are restricted to foreigners.
KITAS and Work Permit
The Indonesian government has recently implemented Government Regulation number 34/2021 and Ministry of Manpower Regulation number 8/2021 concerning foreign workers. Both regulations has simplified the process of securing a work permit. The implementation is, however, expected to happen continuously. As such, a visa agent or consultant with the understanding of current legislation became an essential part of the application process.
Visa Agent
Thanks to being present on the Indonesian market for almost a decade, Cekindo is able to provide consultation to you during the preparation and the application process for both work permit and work visa.
Local Sponsor
Expats who wish to own a work visa (KITAS sponsored by a local company) might struggle to find such a company without employment. Cekindo provides visa consultation as well as local sponsorship.
Investor KITAS
Another type of KITAS that also appeals to foreigners in Investor KITAS. Indonesian Investor KITAS offers major noteworthy benefits, including ease of application and waiver of work permit fee.
With an Investor KITAS, foreign investors will no longer be required to pay a fee of USD 1,200 every year, if they meet all the investment requirements. Furthermore, once the initial investment has been poured, foreign investors can immediately start working in Indonesia.
Indonesian Investor KITAS can be categorised into two types:
Index 313: 1-year KITAS
Index 314: 2-year KITAS
To qualify for an Investor KITAS, foreign investors are required to have a minimum investment of IDR 1 billion in invested shares and the invested capital of the company has to be over IDR 10 billion.
A newly established company will be able to sponsor the investors upon receiving the business registration number (Nomor Induk Berusaha – NIB) and business licenses (Izin Usaha).
For businesses that are already up and running, necessary licenses can be applied directly through the Online Single Submission (OSS) system.
Important – Employment in Bali
The number of foreigners coming to Bali who fail to comply with the Indonesian regulations is increasing. Please note that requirements for a work permit, work visa in Bali, as well as the process of extension of visa, are the same everywhere in Indonesia.
Tourists coming to Bali are not exempt from the legal obligations, and they are not allowed to work without a valid work visa and work permit. Incomers should also pay higher attention when choosing a visa agent in Bali as they frequently become a subject to organised crime.
---
Fill in the form below and consult with our visa specialists and get detailed information about a work permit and work visa KITAS in Indonesia. Lists of restricted countries, sectors and positions are provided upon request or during face-to-face consultancy in one of our offices located in Jakarta, Semarang, and Bali.