If you've ever searched online for information about work permit in Indonesia, chances are you already know that if you wish to work in Indonesia, you will need a work permit. However, it is important for you to know that sometimes online information in regards to visa application in Indonesia might only be accurate at the time of writing. The Immigration Law in Indonesia is prompt to change. So our advice is to make sure the regulations are up-to-date from time to time.
This article will provide a comprehensive overview on the work visa in Indonesia, and help both companies and individuals, such as potential employees and freelancers to understand the requirements and process.
IMTA vs. KITAS
There is a common confusion that a work permit is KITAS (Kartu Izin Tinggal Terbatas). The truth is, the real name for a work permit is IMTA (Izin Mempekerjakan Tenaga Kerja Asing), also known as temporary Expatriate Work Permit. And then with your work permit IMTA, the immigration in Indonesia will proceed with the issuance of a limited stay permit (VITAS) and limited stay permit card (KITAS) for you.
You need to obtain a VITAS before you get a KITAS. So when someone mentions KITAS, they usually talk about a work permit. For the purpose to avoid any confusion, we will use work permit in the entire article.
Learn more in Your Complete Guide to Limited Stay Permit/KITAS in Indonesia.
Work Permit vs. Business Visa
Many people do not know the difference between a work permit and a business visa in Indonesia. Whether you're an aspiring architect, attending a business conference overseas, or a company sending staff abroad for a project, knowing which of the two visas is required can be very tricky.
Two common visas for doing business in Indonesia are the business visa and work permit, and the fundamental differences between the two visas are:
An Indonesian business visa is for business tasks in Indonesia — seminar, conference, unpaid training, etc. — and can't be considered work or gainful employment.
An Indonesian work permit is used for services that are considered a job or in the form of labour, with wages and salaries compensation.
This is a general way to differentiate a business visa and a work permit in Indonesia. If you, however, need more information, we can provide you with a bigger picture. Let us know or refer to Cekindo's business visa and work permit services.
Requirements You Should Know
For Employers in Indonesia
Article 5 and 6 of Minister Regulation 12 of 2013, in regards to the Procedures for the Use of Foreign Manpower, an employer in Indonesia who intends to recruit foreign employees needs to get a Foreign Manpower Utilization Plan (RPTKA). Minister of Manpower in Indonesia is the one who issue the RPTKA.
For Foreign Employees
The general requirements of obtaining a work permit in Indonesia, according to Article 36, Government Regulation No. 35 in 2015, are laid out in the following:
You have qualified education for the position
Have competency certificates or a minimum of five years' work experience related to the position
Showing a statement letter and training reports indicating why the transfer of knowledge and skills of expertise is mandatory, and its influence on the employer in Indonesia
Have proof of insurance from an insurance company in Indonesia (e.g. The Indonesian National Health Insurance administered by BPJS)
Possess a Taxpayer Registration Number (NPWP) and have already registered in the National Social Security System (Jaminan Social Nasional) if you have worked in Indonesia for more than six months
It is vital for you to know that, according to Indonesian Immigration Law Article 4, Regulation No. 31 in 2013, a foreigners are not eligible to work and obtain a work permit for the following categories in Indonesia:
Human Resource
Quality Control and Inspection
Legal Entity
Supply Chain Management
Health, Safety, and Environment Affairs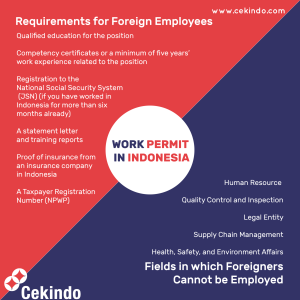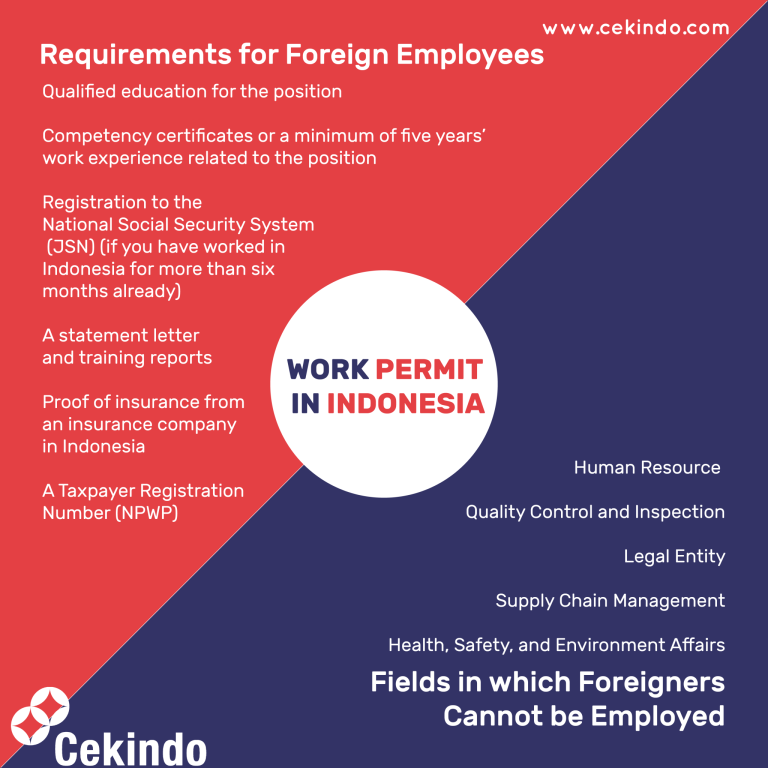 Process of Securing a Work Permit in Indonesia
The processof securing a work permit in Indonesia can be tedious and patience is the key. We will walk you through the general process below:
Your sponsor company receives approval of the RPTKA for its proposal, from the Indonesian Ministry of Manpower.
Your sponsor company needs to go through the Pre-IMTA/Pre-work Permit process, and be notified the duration that you can stay and work in Indonesia
Advanced payment of USD100/month will be paid for DKP-TKA (Development Funds in Exchange of hiring a foreign worker).
With the approval of work permit or IMTA, you can now work legally in Indonesia.
With your work permit, immigration in Indonesia will issue you a VITAS.
You must convert your VITAS into KITAS upon arriving Indonesia.
2021 Update on Indonesia Work Permit
In accordance with Regulation No. 20 of 2018 on Expatriate Placement Plan ("Reg 20/2018") that has become effective since 26 June 2018, there have been important changes related to work permit in Indonesia, as follows:
1. IMTA is no longer required: IMTA is simplified as it is combined with RPTKA (Expatriate Placement Plan).
2. RPTKA is no longer mandatory for directors and commissioners that are also the shareholders
RPTKA is now required only for certain positions. The following positions no longer need to apply for RPTKA:
Shareholders that are also directors or commissioners
Diplomatic and consular officers
Foreign workers that are needed by the Indonesian government
3. Positions for foreign workers
Lifted Restriction on Director and Commissioner positions
Businesses of every classification can now have foreign directors and commissioners. In addition, these foreigners with one of the two titles who are also the company's shareholders can apply for both the investor visa and work permit.
Lifted Restriction on Managers
General Manager positions are all open in all business classifications and can be taken up by foreigners, except for human resources.
Previously Unregulated Positions Are Included
Accountants, legal advisors and legal consultants, which used to be unregulated positions, are now open for foreigners. You can apply for a work visa to secure those positions.
The Validity of Work Permit in Indonesia
The validity of work permit in Indonesia ranges from one month to twelve months. The validation date depends on the type of industry you are working with. Other than that, it also depends on the type of sponsor company's RPTKA. Different work permits with their respective validity are as follows:
Urgent or Emergency Work Permit
This permit has a validity of 1 month. Urgent jobs and jobs that need immediate action usually use this kind of permit. This permit is allowed in order to prevent any detrimental consequences to a sponsor company or society as a whole.
With a validity of 2 to 6 months, a temporary work permit is applicable for foreigners in industries such as trading, services, and consulting. It also applies to foreign workers or labors in sectors such as maintenance and installation of machinery.
Also known as normal work permit, it is valid for 7 to 12 months for expats at higher management level such as managers, directors, and commissioners.
Sanctions for Not Having a Work Permit in Indonesia
With the confusion between a work permit and a work visa, some foreigners or investors might make the wrong call. Specifically for directors or board members of a company in Indonesia, you must get an IMTA to stay for a significant amount of time.
Whether intentionally or unintentionally — not securing your IMTA means you are breaking the Immigration Law in Indonesia. For that, you are looking at a hefty fine of IDR 500 million. In addition to the fine, you will have to face 5 years of imprisonment. Therefore, always consult an agency or specialist for details and the latest version of immigration law.
Work Permit in Bali
Many foreigners try their luck by working as language teachers, chefs, etc. without a proper work permit in Indonesia. Normally, they will just use a business visa or a visit visa; crossing the border to other countries, such as Singapore and Malaysia, to extend the validity several times. This is not only illegal but also extremely dangerous in terms of being found out by the legal force with heavy sanctions.
Indonesian legal parties are doing their best to find these illegal foreign workers who pretend to be tourists across Indonesia; they are especially putting a lot of effort in Bali. The authority set up a special task force in Bali with purpose is to catch all expats without IMTA. As such, many foreigners are alert and this illegal practice is slowly dying down.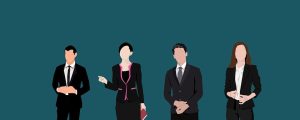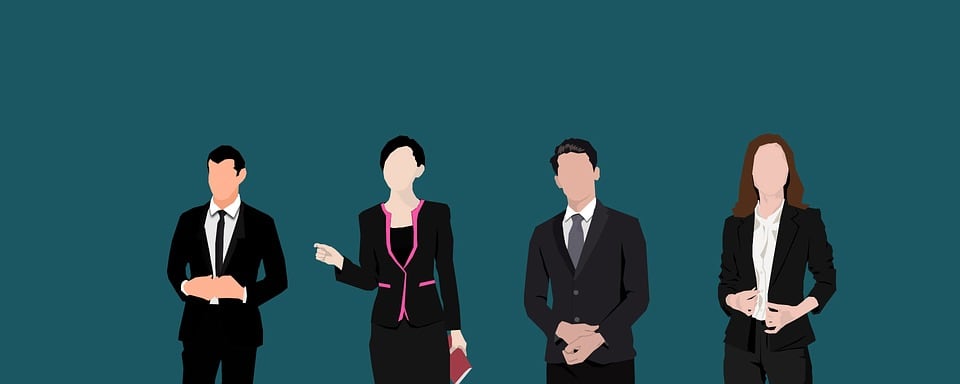 We Are Here to Assist You
The process of work permit application in Indonesia can be complicated by unforeseen issues. Cekindo's team of global specialist can easily review any situation and help make the whole process easier than you thought. Contact us today.