Regulation on Hiring Foreigners in Indonesia
The President of Indonesia, Joko Widodo, has signed Presidential Regulation No. 20/2018 on the Recruitment of Foreign Workers in Indonesia.
This regulation has become fully effective since 26 June 2018, replacing the existing Presidential Regulation No. 72/2014. The enactment of 20/2018 simplifies the foreign workers' permit and licensing, thus ensuring a faster and more efficient process.
One significant change is the compulsory RPTKA (Foreign Worker Recruitment Plans, or Rencana Penempatan Tenaga Kerja Asing) which used to be required for the positions is now treated differently. The new regulation excludes particular positions for which there is no need to submit this recruitment plan.
This new regulation on the recruitment of foreign workers makes it much easier for expats or foreign workers (Tenaga Kerja Asing – TKA) to work in Indonesia.
However, this does not mean that foreigners are allowed to work in Indonesia freely without any legal restrictions.

Having a temporary stay permit (KITAS), also known as a working visa or working KITAS, is one of the necessities when working in Indonesia. Check
Work Permit and KITAS in Indonesia
to learn more.
Key Changes in Recruitment of Foreign Workers in Indonesia
The Regulation NO. 20/2018 was implemented mainly due to the increased complaints from employers hiring foreign human resources. They requested the simplification of the application process for permits and licenses for foreigners as it was not only complicated but also time-consuming.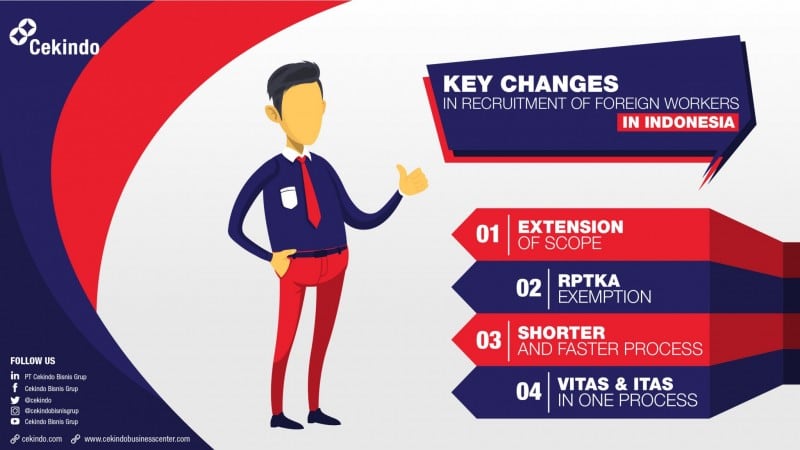 There are several changes employers should take note of:
1. Extension of Scope
The scope of employers of TKA in Indonesia is expanded in Regulation 20/2018 includes "other businesses", therefore the current list of employers are as follows:
Government  and international agencies, foreign representatives
Foreign trade offices, representative offices, foreign news agencies
Foreign-owned private companies
Limited-liability companies or establishments, foreign business entities under Indonesian Law
Educational, cultural, and social organisation
Service business of promotion
Other businesses: provided that businesses are not prohibited from hiring TKA under any current legislation
2. RPTKA Exemption
It is now possible for companies not to obtain RPTKA for the following positions:
Board of Directors listed as shareholders
Board of Commissioners listed as shareholders
Diplomatic officials in foreign representative offices
Government officials or officials required by the Government and determined by the Minister's resolution
3. Shorter and Faster Process
The processing time for the permit of the recruitment of foreign worker is shortened from 2 months to 1.5 months, with IMTA application omitted from the process (since RPTKA has a similar function as IMTA). The change of the process is shown below:
Previous Process in Regulation No. 72/2014:
RPTKA → IMTA → Telex → ITAS / KITAS online → KITAS (duration: 2 months)
For peace of mind, the exact process should be confirmed with specialists.
4. VITAS and ITAS in One Process
VITAS (Limited-Stay Work Visa, or Visa Tinggal Terbatas) and ITAS (Limited-Stay Residency Visa, or Izin Tinggal Terbatas) should be harmonised into one process.

There are different options of stay permit in Indonesia or KITAS that you can choose based on your needs. Check
Complete Guide to Limited Stay Permit/KITAS in Indonesia
to learn more.
Conclusion
Regulations in Indonesia, particularly on foreign employment, change frequently, and it may be challenging to keep up with the latest updates at all times. That is why it is highly recommended to consult with a professional.
Contact Cekindo to find out how the changes will affect your recruitment operations in Indonesia.
If you need assistance in visa and permit applications, we will be happy to provide both guidance and assistance as well.
Simply fill in the form below to contact us. 
Contact Our Consultants