The purpose of conducting corporate due diligence in Indonesia is to give investors as much important information as to make informed and sound decisions. The benefits of due diligence in Indonesia are many folds: making the best decision for your investment, gaining trust from new business partners, and seizing any new business opportunities.
3 Stages Involved in Corporate Due Diligence in Indonesia
Stage 1: Prepare
Preparation is the first stage in a due diligence process. At this phase, the due diligence team must know what the investor's goals are in completing the transaction.
Once the legal experts have identified the investor's objectives, they will then define what is the important information to acquire in this due diligence according to the investor's timeline and budget.
Stage 2: Investigate
Moving on is the investigation stage. This is the most time-consuming step as the legal team has to collect a great number of documents from the target company.
Due to the diversity of the documents, variation of local laws or regulations, acquiring each type of document may require the due diligence team to take part in different processes.
Stage 3: Present Results
In the final stage of the process, the legal consultant will then review all the collected documents and evaluate their completeness, accuracy, and validity.
They may have to obtain supplementary documents or conduct further document analysis to provide clients or investors with a more detailed finding and recommendation.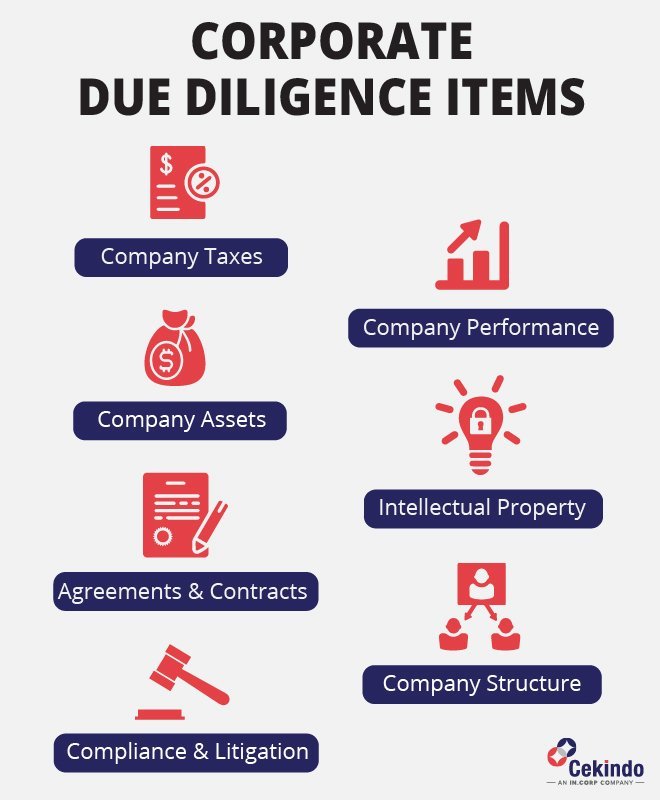 Items to Cover during the Process
1. Taxes
Due diligence shall cover all tax liabilities that are important for a company's tax analysis and tax benefits.
The due diligence expert must determine if all taxes are in compliance with the most updated legislation and there will be no current and future potential tax issues to tackle.
2. Strategic Fit and Future Performance
Whether a target company is a strategic fit is also important in determining the future performance and possibility of a merger and acquisition.
Thus, a comprehensive due diligence process will look into the target company to identify if it fits strategically with your existing business operations.
Elements to explore if a target company is an ideal fit include human resources, technology, integration and transition, work culture, and marginal costs.
3. Intellectual Property
Intellectual property such as patents, trademarks, copyrights, trade secrets, and licensing are all essential parts of a due diligence process. Delving into this area can help you extend intellectual property and increase its quality.
4. Assets
In cases of mergers and acquisitions, the target company's assets are critical to the transaction. Most of the time, the review of this area will focus on real estate, technology, equipment, inventory stock, and research and development.
5. Agreements and Contracts
This is one of the most important parts of due diligence but also the most time-consuming and challenging part. The due diligence professional will help you review all the target company's agreements, contracts, and commitments.
To know what is the full list of documents to review, you should always engage a qualified and reputable legal expert to assist you.
6. Organisational Structure
Of course, the corporate structure of the target company should always be on the list of things to cover for due diligence.
In addition to the corporate structure, a due diligence consultation team will evaluate the organizational documents, capitalization, security holders, organizational charts, incorporation documents, and other general company records.
7. Compliance and Litigation
A legal consultant of due diligence will always review the regulatory and compliance issues, as well as other settled or pending litigation that the target company is involved in.
Cekindo as Your Corporate Due Diligence Partner
Are you looking at investing in a project or an organization? If you would like to evaluate businesses and know beyond what the numbers state, Cekindo's due diligence team can help you assess your potential investments.
Our due diligence experts in Indonesia can provide you with information that are key factors for making decisions: establish the true value of your investment and negotiate the best terms for your transaction.
Cekindo's team of due diligence experts has assisted businesses of various sectors consisting of financial services, manufacturing, oil and gas, trading and distribution, healthcare, technology, tourism and hospitality, and e-commerce, among many others.
Fill in the form below now.