It is a good time for mergers and acquisitions (M&A) in Indonesia as M&A has seen a positive growth trend over the years. In 2019, there were more than 90 deals closed. However, with the exciting record in the M&A landscape, it is still undeniable that merger and acquisition in Indonesia is a challenging process that requires a lot of time, effort, resources, and specialties.
This is why failed mergers and acquisitions are common in the M&A market in Indonesia when companies are not vigilant of the obvious risks. However, investors can avoid these risks and mistakes entirely without learning them the hard way – going through a failed merger and acquisition in Indonesia.
Cekindo has compiled the 5 worst M&A mistakes in Indonesia so you can stay away from them.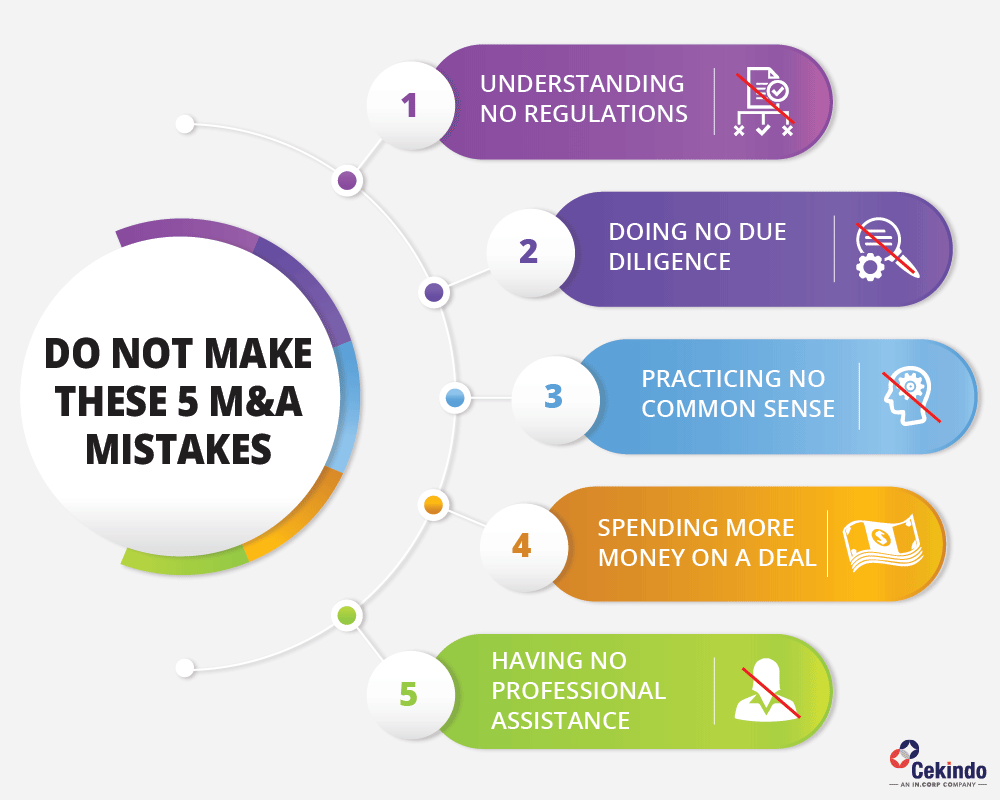 5 Merger and Acquisition Mistakes in Indonesia
1. Not Familiar with Regulations
A merger and acquisition is not possible when the resulting entity does not comply with the local laws and regulations.
Therefore, you must have a solid understanding of your industry's compliance requirements.
For example, the merger and acquisition between the popular need to have a strong grasp of the compliance environment in your industry. A deal can fall flat easily due to your unfamiliarity with M&A legislation.
2. Failed Due Diligence
This is one of the biggest mistakes for mergers and acquisitions in Indonesia and it is totally avoidable. Many companies do not take due diligence seriously and only scrape the surface of their target companies.
Due diligence doesn't just involve the target's financial aspects of the target, it also takes the company's potential and reputation, employee satisfaction and retention, company model, risk adjustments, and future objectives into account. Don't get caught up in just financial statements.
3. Follow Your Heart But Not Common Sense
Investors and business owners sometimes can let their desire trump over their logic when it comes to merger and acquisition in Indonesia.
A smart investor should never let desire or excitement outdo the facts and realism of M&A deals.
No matter how amazing a company may be from the outside if an M&A transaction doesn't make any legal, financial, or any other practical sense, it will come to nothing eventually.
4. Pay More than You Should
Sometimes investors or entrepreneurs could be so eager to wrap up a merger and acquisition deal and end up paying too high a price.
In other words, they probably pay more than the deal worth. To avoid this pitfall, acquirers should put more time and effort in negotiating the transaction with the target company.
Do remember to figure out how and when the resulting company will turn a profit before closing a deal.
5. Not Having a Professional Team
One small mistake can sometimes lead to detrimental outcomes or failure during a merger and acquisition activity.
However, having a qualified professional team and specialists can help prevent this misstep from occurring. Before negotiating an M&A deal with anyone related to your target company, be sure to discuss your M&A plans with a team of experts consisting of a lawyer, an accountant, PR professionals, and specialists.
Merger and Acquisition in Indonesia with Cekindo
Cekindo's specialists for merger and acquisition in Indonesia advise on the full spectrum of M&A deals. We understand the importance of legal issues and major value drivers in M&A transactions – and this is why we focus our resources and time on these areas.
We pride ourselves in our ability to achieve results with an integrated approach in the Indonesian challenging markets. Our capability enables us to assess risks and advise on potential M&A transactional problem areas.
Contact us via the form below to discuss your M&A requirements.