The Indonesia immigration has issued the latest regulation on visa and stay permit in time of COVID-19. Aiming at supporting economic recovery and reunification with family members in Indonesia, among other things, regulation Permenkumham 26/2020 has come into effect starting 1 October 2020. Furthermore, Indonesia and Singapore have their own entry arrangement through what is called the Reciprocal Green Lane or Travel Corridor Arrangement. This article will be particularly useful for those visiting Indonesia from Singapore.
Indonesia Visa and Stay Permit in Time of COVID-19
The immigration authority in Indonesia has opened up more services related to visa and permit issuance. Currently, foreigners with a valid visit visa or a stay permit (KITAS or KITAP) are allowed to enter Indonesia, provided that all immigration as well as health requirements and protocols implemented by the Ministry of Health of Indonesia have been fulfilled.
Upon arrival in Indonesia, all Indonesia visit visa and stay permit holders are required to present the following documents in order to be granted entry to the territory:
A health certificate issued by a relevant authority in the country of origin (must be in English)
A statement letter stating that the foreigner is willing to quarantine or have medical treatment and pay all of the medical expenses incurred on their own, should they be tested positive for COVID-19 (proof of health or travel insurance that covers medical expenses is also accepted)
A statement letter stating that the foreigner is willing to be monitored when being quarantined
An Indonesian sponsor either an individual or a company with funds of at least USD 10,000
As mentioned, valid visit visa and stay permit holders are allowed to enter Indonesia. The categories of the allowed visa types are as follows:
Visit Visa: single-entry visit visa, limited stay visa, diplomatic visa and government official visa. Permitted activities for single-entry visit visa holders include business meetings, purchase of goods and probationary work performance. As for limited stay visa, the permitted activities include family unification and foreign investment.
Stay Permit: limited stay permit (KITAS), permanent stay permit (KITAP), diplomatic stay permit and government official stay permit.
Visiting Indonesia from Singapore through Reciprocal Green Lane
Singapore and Indonesia mutually agreed to implement what is called the Reciprocal Green Lane or Travel Corridor Arrangement in order to ease the trips for official and short business purposes between the two countries. Under the Reciprocal Green Lane, all Singaporean residents who come to Indonesia through either Soekarno-Hatta International Airport or Batam Center Ferry Terminal are eligible.
The requirements and general process of visa and permit applications are the same as above. It is the afterward procedure (inland) that will be different. You can see the image below to understand the process.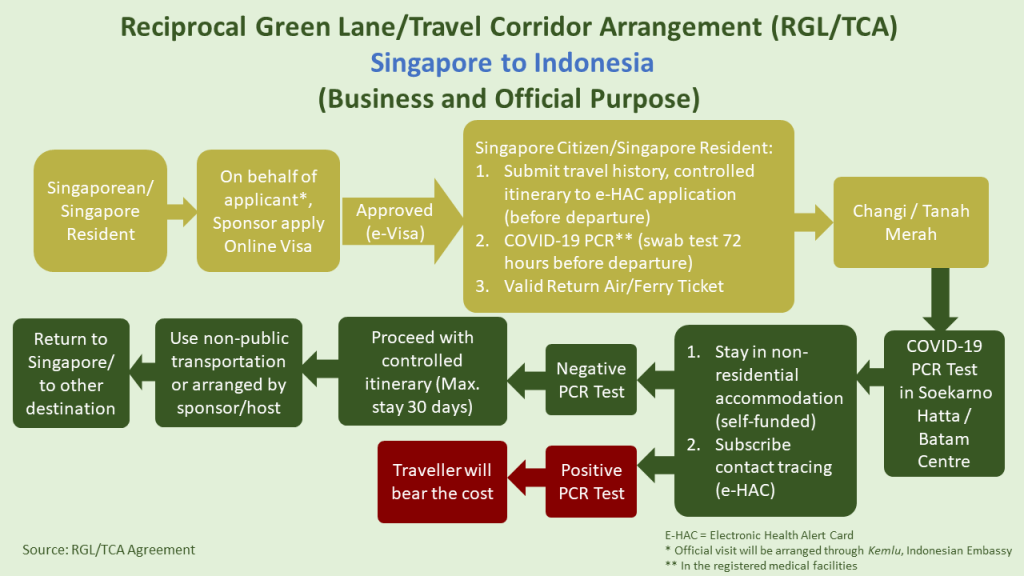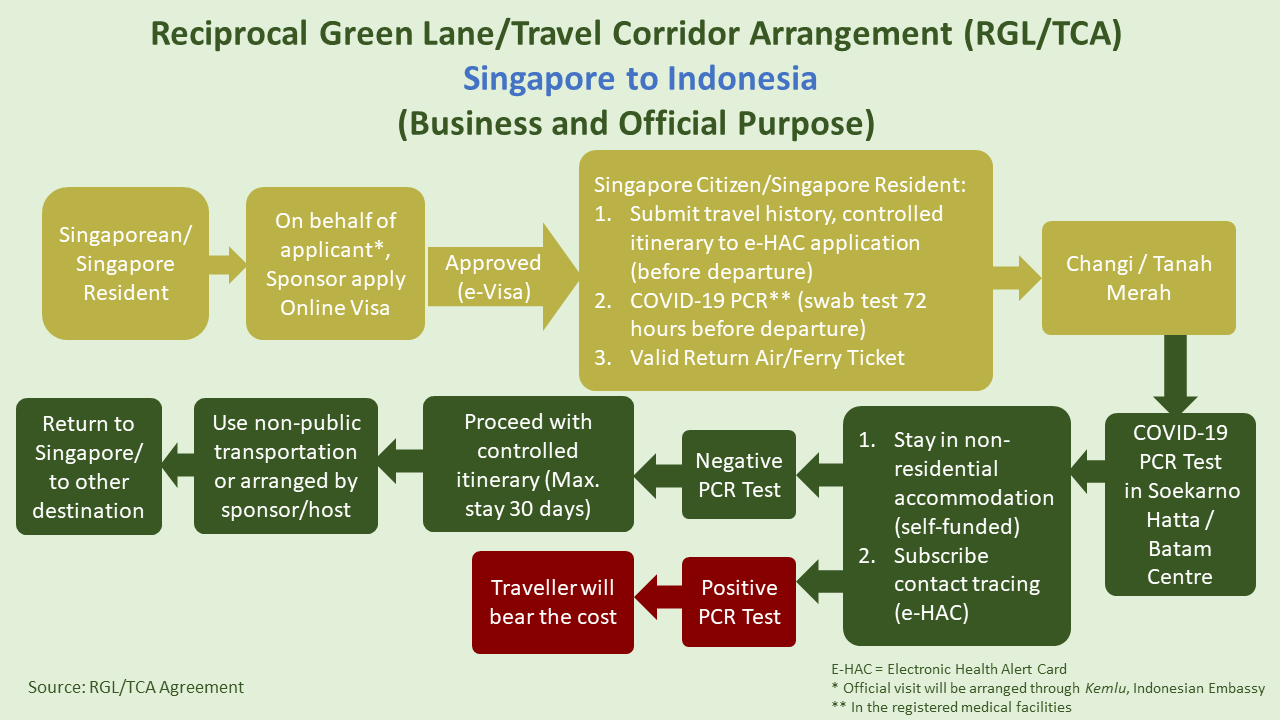 How Cekindo can Assist
Due to COVID-19 situation, a lot of regulations, particularly those related to the immigration services, have changes and will change in the future. Cekindo's team of visa specialists always stays updated with the current regulations.
Consultation with our visa specialists before visiting Indonesia from Singapore ensures a hassle-free visa application process and a smooth entry to Indonesia. Fill in the form below for your Indonesia visa or stay permit application.