Automation Industry Growth
The automation industry grows 10-15% annually in Indonesia. With Indonesia's gradual integration with the world's economy, automation will play an important role in bringing costs down.
The global industrial automation market is expected to hit a valuation of IDR 4,935 trillion (USD 352 billion) by the end of 2024.
The global market is anticipated to grow with a steady CAGR (2016-2024) of 6.6%.
Asia-Pacific region's industrial automation expenditures account for more than IDR 1,074 trillion (USD 76.6 billion)—46% global investments.
The largest buyers of automation equipment in Indonesia are the oil and gas sector and consumer goods sector.
One of the world's largest automation companies, Rockwell, started its business in Indonesia in 1994.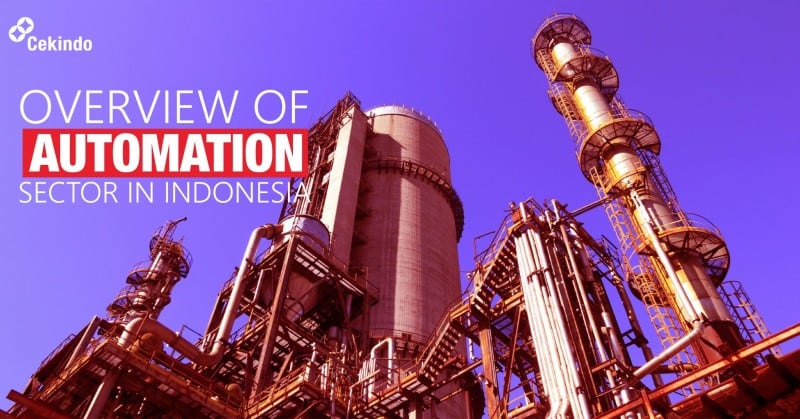 Automation Industry in Indonesia
Industrial automation is a process of applying different and combined control systems to manage and operate machines and equipment in production facilities and factories. In addition to reducing costs, industrial automation is being demanded to help increase productivity, efficiency, aesthetics and delivery systems in the production of automotive assemblies, aircraft, steering and ship stabilisation, heat treating boilers and ovens, and other machinery.
It is necessary for many industries where production standards are increasing, and labour is becoming more expensive. These conditions push many industries to move from manual labour to semi-automation or full-automation. Automation is mostly used in the manufacturing process and industries such as food and chemical industry. Automation can also be used for smart building systems for hotels, office building, and other infrastructures.
Investments in Automation is Necessary
The increase of investments in research and development processes of industrial automation is expected to help in the expansion of the global market. Various industrial segments are adopting these systems to reduce the labour burden on humans, as well as to eliminate human errors. These benefits delivered by automation processes are expected to boost the global market.
The introduction of various industrial automation solutions is fueling the market these solutions allow manufacturing units to employ the most appropriate option for their system for the highest efficacy. The extensive research and development programs carried out by prominent players are most likely to bring innovative solutions into the market, further boosting the automation market.
Even though the industrial automation businesses are more or less restrained due to lack of awareness about the advantages it provides, the emergence of industries such as pharmaceuticals, chemicals, water management, food and beverages, and electrical and electronics, is demanding for automation solutions to escalate their production rates and increase market growth. On top of that, continuing growth in minimum wage and increase in production costs highlight the need for automation in Indonesia.
Global Industrial Automation
The global industrial automation market is expected to hike to a valuation of IDR 4,935 trillion (USD 352 billion) by the end of 2024. Three key factors are expected to transform the face of industrial automation: energy efficiency, advanced technology and emerging economies. Asia, the largest consumer of industrial automation products, accounts for about 46% of the global market — approximately IDR 1,074 trillion (USD 76.6 billion). This is due to manufacturing industry growth that was driven by business expansions, new factories, increased production and new investments.
Automation Technology
As South Korean and Taiwanese firms lead the industry in automation, Indonesia will become the region's production hub and the factory for Southeast Asia. The country's current GDP growth and the influx of investments have made it the epicentre of automation manufacturing, and many existing and new foreign producers plan to establish or expand their manufacturing plants in Indonesia.
These industries include automotive (Toyota, Honda, General Motors, Yamaha, Daihatsu, Suzuki, VW, Tata Motors, Mitsubishi, Kia), consumer goods (Nestle, Unilever, Indofood, Frisian Flag, Santos Jaya Abadi, Heinz ABC, Johnson & Johnson) and automation technology (Omron, Del, Yokogawa, Rockwell, Schneider Electric, Siemens).
The largest buyer of automation equipment is the oil and gas industry because Indonesia has plenty of natural sources of coal and oil. Oil and gas companies have to invest regularly in integrated automation technologies to be more transparent, given the various regulations related to performance, and tighter limitations on carbon emissions. Besides, fast-moving consumer goods manufacturers in Indonesia greatly rely on automation equipment because of their huge production capacities. Rockwell, one of the leading automation manufacturers in Indonesia, started its business in Indonesia in 1994. Rockwell's clients in the country are primarily from the oil and gas sector, as well as consumer goods and industrial goods.
Imports of Automation Technology
Taiwan is one of the major suppliers of automation machines to the Indonesia market. Imports of Taiwanese automation machines to Indonesia in 2016, for instance, reached IDR 7.8 trillion (USD 556 million), which made Taiwan Indonesia's third biggest automation machine supplier, contributing 11% of its total annual imports.
Building Automation in Indonesia
Indonesia is now moving towards smart buildings, as the market for building energy management systems (BEMS) in Southeast Asia is set to grow at a compound annual growth rate of 12.2% to 2020, new research finds. According to Frost & Sullivan's BEMS Market in Southeast Asia, Forecast to 2020, next-generation IT solutions such as cloud computing and the Internet of Things (IoT) are enabling the development of a new class of BEMS that offer both comfort and optimised energy performance. These systems hold great promise for commercial and industrial buildings in particular, as they can facilitate remote monitoring, energy efficiency, and systems optimisation. Most market players, even those from outside the traditional building automation markets, have already begun to introduce cloud-based BEMS platforms and services.
Addressing this growing need in smart industrial, commercial and residential buildings, building and system automation covers everything needed in this fast-evolving space—intelligent ways of using electricity, smart grids and metering, energy efficiency solutions, innovative lighting, building systems and automation, smart sensors and security, HVAC and lifts offerings. There is a particular focus on energy efficiency in buildings as it is responsible for more than 40% of the primary energy consumption in Indonesia—due to Indonesia's hot and humid climate.
Continue Reading
Semarang: The Future of Manufacturing in Indonesia
Boost Your Business: Industrial Parks in Indonesia
Fill in the form below and let us help you with entering the automation sector in Indonesia.