The Overview of Transportation and Logistics Industry in Indonesia
Indonesia is an archipelago with more than 17,500 islands. The country extends as far as 5,120 kilometres from east to west, and 1,760 from north to south.
Prospects of transportation and logistics in Indonesia are showing a very good sign. Recognized as Southeast Asia's biggest economy, the nation's transport and logistics sector are of major significance, making Indonesia one of the powerhouse.
Moreover, transportation and logistics is one of the huge central interests for the Indonesian government. This is because an estimated of 24% of Indonesia's GDP is utilized in transportation and logistics.
As a result, Indonesia's President Joko Widodo has released 13 logistics policies in 2015, including simplification of licensing procedures, cancellation of tedious regional regulations.
With these plans, Indonesia aims to drop transportation and logistics costs, as well as to boost the sector's development. Good transportation and logistics sector performance imply low transportation costs for goods, which in turn enhances the competitiveness of Indonesia's economy.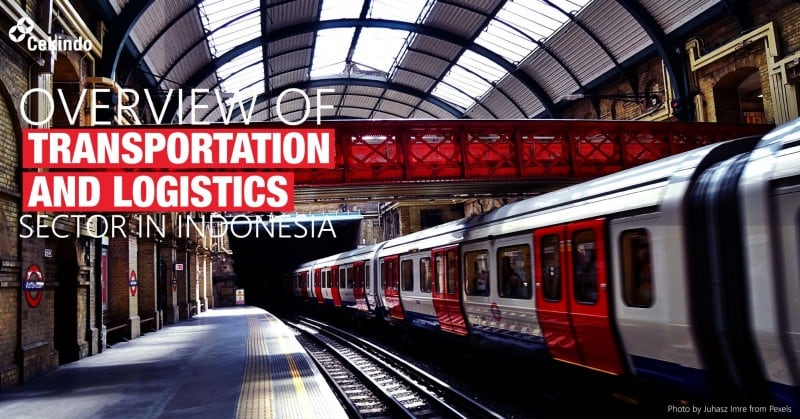 Different Transportations in Indonesia
Road Transport
Road transport is predominant in Indonesia, with about 82% of passengers travel by road. Buses, minibuses and minivans are keys for public transportation in the country. Besides, millions of people use motorbikes and scooters for commuting and transporting goods.
Railway Transport
Transporting bulk commodities and long-distance passenger traffic is one of the primary usages of the railway system in Indonesia. A mass rapid transit system, the North-South line, is under construction in Jakarta and the first phase is scheduled to open to the public in 2018.
Sea Transport
Sea transportation is extremely important for economic integration, as well as for domestic and foreign trades. The system is well-established in Indonesia, with main islands having a minimum of one major port city.
The massive amount of containers from land-to-sea transport, or vice versa, in twenty-foot units, has ranked Indonesia one of the busiest hubs for container port traffic
Air Transport
Air transport is vital for places with limited or no land or water transport. Indonesia has a growing network of domestic airlines and all its major cities are connected. The country's main international hub for air transport is Jakarta's Soekarno-Hatta International Airport.
Other Transport
Indonesia has an extensive network of pipelines transport network as well, transferring crude oil petroleum and natural gas.
Steady Growth of Transportation and Logistics in Indonesia
For more than 10 years, Indonesia's transportation and logistics sector has been seeing double-digit growth. According to Frost & Sullivan, the growth of this sector remains highly positive and will continue until 2020.
It is predicted that there is a compound annual growth rate of 15.4% until 2020.  Funds from the Indonesian government and the growing income, as well as the burgeoning e-commerce sector, are fueling the nation's transportation and logistics industry growth.
E-commerce in Indonesia
E-commerce is on the rise in Indonesia with over 100 million internet users. Online shopping is one of the dominating internet activities in Indonesia. As a result, online sales are catapulting, benefiting from this advancement. In 2016 the people in Indonesia spent USD 25 billion on e-commerce, with this unavoidable digital revolution all over the world.
One thing leads to another, Indonesia's transportation and logistics industry now have to increase the number of the country's courier services. In addition, these courier services have to step up to their performances in terms of quality, timeliness, and frequency.
Therefore, numerous fulfilment centres, distribution depots and transportation networks will need to be built to meet the increasing demand for transporting goods to end consumers.
International companies, especially those equipped with advanced technology for logistics operations, have seen great opportunities in this sector.
Investments in Transportation and Logistics
Since 2016, several bonded logistics centres(PLB) have been assisted for construction by government funds. As of 2017, fifty centres were opened due to its huge economic significance of this sector in Indonesia.
In addition to the massive government spending, multi-billion dollars of foreign investment inflows have been seen pouring into a wealth of ports, airports, roads and rail projects. With these transportation and logistics infrastructure construction efforts through foreign investments, Indonesia is destined to provide a smoother, stronger transportation and logistics convenience to the entire nation.
Continue Reading
Semarang: The Gateway to Central Java and International Markets
Fill in the form below and let us help you with entering the transportation and logistics sector in Indonesia.