Visa Regulations For Indonesians – Overview
Pre-Arrival Visas are generally a requirement for Indonesians who are planning to stay abroad for an extended period of time. The definition of Extended Period changes from country to country. For example, a Visa is not required if an Indonesian citizen stays in Singapore for 30 days and below. However, that number changes to 15 days, if an Indonesian citizen plans to visit Japan. In other words, Pre-arrival Visas are required if you plan to stay in Singapore or Japan for 31 and 16 days respectively.
Find out How Cekindo can help you obtain a Pre-Arrival Visa.
Pre-Arrival Visa Application
In general, Indonesia has secured Visa-free agreements for 71 countries with a length-of-stay varying from 7-120 days. However, 135 countries still require Indonesian passport holders to obtain a permit before arriving in their country.
Countries with this policy mean Visa applications are conducted through its embassy in Indonesia. The visa will later function as a residence permit abroad which is valid for a certain period of time, depending on the purpose of the visit and the policies of the issuing country. The process of obtaining these types of Visas is generally quite time-consuming, therefore, it is common for applicants to start the application process way before the date of departure and to use a Visa agent to provide peace of mind.
Countries That Require Overseas Visas for Indonesian Citizens
Because Indonesian passports are ranked 63 in the Global Passport Index, however, a pre-arrival visa is still needed if the length of visit exceeds the visa-free provision or for certain purposes.
When Do I Need A Pre-Arrival Visa?
The purpose of traveling abroad can span a wide range. And each purpose has a different type of Visa. Here are the most common Visas Indonesians apply for.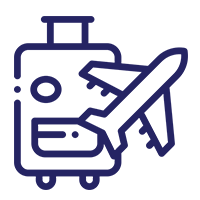 Business Travel Visa
If your purpose of travel is business-related (e.g.: attend exhibitions, meetings with clients, seminars, or visit a head/branch office) and are required to stay over the visa-free period, then you will need to apply for a Travel Business Visa. Most countries will require the applicant to attach documents regarding the business activities to obtain this Visa.
Student Visa
As the name implies, this visa is for those who wish to study abroad. This visa application requires a certificate from the relevant educational agency and the visa is valid for the duration of the education period.
Medical Visit Visa
A Medical Visit Visa is valid for patients and their companions, who are traveling abroad for medical treatments or examinations that take longer than the visa-free period of the destination country. It also applies to those who wish to stay in the country over their recovery period. Medical Visit Visa applications require a Medical Examination Plan Certificate and a Letter of Guarantee.
Documents Required For Pre-Arrival Visa Submission
To ensure that the pre-arrival Visa application process runs smoothly, you must prepare a number of documents such as;
Registration sheet
Passport with a minimum validity period of 6 months and two blank pages for the Visa stamp.
Recent photo
Statement sheet and itinerary
Proof of booking airline tickets and accommodation
Certificate of travel insurance
Proof of finance and recommendation letter of sponsor
Certificate of worker/student statement
Proof of payment of Visa application fees
Keep in mind that the conditions for applying for a Visa may vary depending on the country issuing your Pre-Arrival Visa. Travel regulations are also changing quickly due to the current pandemic. It is important to adhere to the latest Visa regulations.
Process for Submitting a Pre-Arrival Visa?
Submitting a Visa Application
The ideal time to apply for a Visa is at least three weeks before departure. However, as travel bans and restrictions are fast-changing, we encourage all applicants to start the process as soon as they have travel details confirmed.
Travel Document Submission
Ensure that all required documents have been prepared properly to avoid any delays.
Purpose of Travel Interview
An immigration officer at the embassy will check and verify your reasons for visiting the destination country, this includes asking for information about your background.
Visa Retrieval and Collection
At this stage, it is important to monitor your Visa application daily, and respond and adhere to the next steps as advised by the Embassy in relation to your Visa collection.
Visa Consultation with Cekindo
At Cekindo we understand traveling and its Visa process can be both daunting and exciting. As trusted Visa advisors, we are here to provide 1 to 1 guidance on your application process to ensure you adhere to the latest Visa regulations. To find out more, contact our Consultants by filling in the form below.