Spouse Visa Indonesia: When Will You Need One?
Foreign citizens who happen to be married to an Indonesian are eligible to apply for a spouse visa or spouse KITAS. This spouse-sponsored KITAS will grant you one full-year stay in the country and extendable up to five years of stay. After two consecutive years, they can convert their spouse KITAS or spouse visa in Indonesia into a permanent stay permit (KITAP).
Why Choose Cekindo's Company and Financial Audit Services in Indonesia
Once holding an Indonesian spouse visa, foreigners can enjoy some benefits such as:
Eligible to obtain an Indonesian driver's license.
Allowed to open a bank account, credit card, and access to loans in Indonesia.
Can jointly own the properties in Indonesia with their spouse.
Eligible to have an Indonesian ID card with a validity of 5 years (once the spouse KITAS has been converted into a spouse KITAP).
Eligible to become an Indonesian citizen.
Indonesia Spouse Visa Requirements
As the name implies, you have to be married to an Indonesian citizen to obtain an Indonesian spouse visa. This requirement must be proven with the official marriage certificate issued by the Indonesian Government. If you have a marriage certificate from overseas, make sure to translate it into Indonesian and legalize it by a notary. For a complete list of Indonesia spouse visa requirements, contact our English-speaking visa agents in Bali, Semarang, and Jakarta.
Notice | Due to the Indonesian regulations, we are not able to provide visa services to the following nationals: Afghani, Guinean, Israeli, North Korean, Cameroonian, Liberian, Nigerien, Nigerian, Somalian
Understanding The Different Types of Visas in Indonesia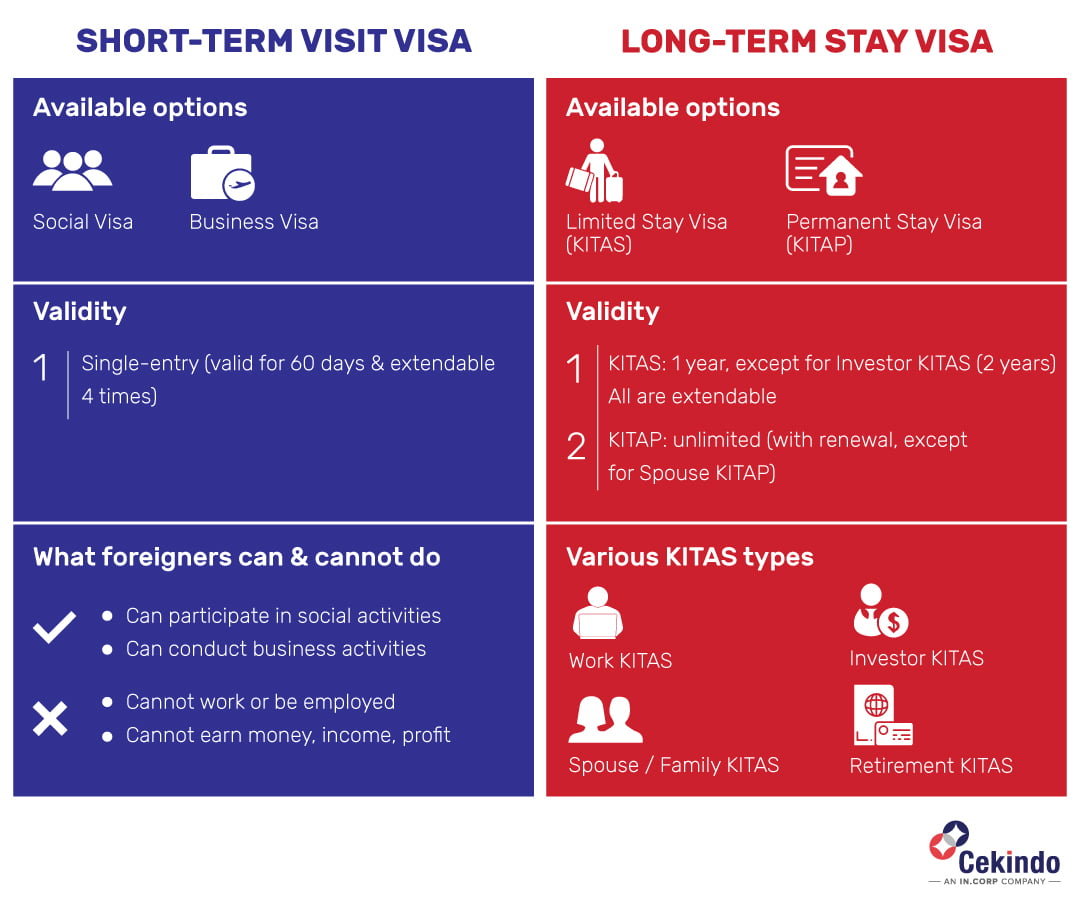 Why Choose Cekindo for Your Indonesian Spouse Visa Application
1
EXCELLENT SERVICES ONE STEP AWAY
We are operating in several strategic locations such as Jakarta, Bali, and Semarang, so we are able to finalize your documents in Indonesian immigration offices in a timely manner.
2
EXPERIENCED VISA AGENT
Having been assisting both foreign individuals and businesses for over a decade, our visa agent can ensure your application meets all the requirements for an Indonesian spouse visa.
3
ONE-STOP SOLUTIONS
We understand that the Indonesian immigration policy is prone to changes. That is why we always keep ourselves updated with the latest changes, so you do not need to do it on your own.
4
TIME AND COST SAVING
With Cekindo appointed as your visa agent, you will not be required to visit the immigration offices on your own. You just need to sit tight, and we will do it on your behalf.