Indonesia is sometimes criticized for having a complicated and ambiguous process for getting a visa through spousal sponsorship, also known as a spouse-sponsored marriage visa. This can be dealt with efficiently with the proper research and the engagement of a professional consulting firm.
You may be wondering what a spouse visa is. It is a visa type among several others, for foreigners who married Indonesian nationals. There are two types of spouse visas: KITAS/ITAS (Kartu Izin Tinggal Terbatas) and KITAP which can be obtained through spousal sponsorship. A KITAS is a Limited Stay Permit and a KITAP is a Permanent Stay Permit. In most cases, KITAS serves as the foundation for you to apply for KITAP.
In this article, we will let you know what a spouse visa is, the process of acquiring a spouse visa, and how it can be beneficial for you for living and doing business in Indonesia.
Requirements for a Spouse Visa in Indonesia
While being married to an Indonesian citizen is the first requirement you must have to get a spouse visa, you will also need an official marriage certificate approved by the government in Indonesia.
Getting Married in Indonesia vs. Abroad
The best way to apply for a spouse visa is to do it directly in Indonesia. According to marriage law in Indonesia, the marriage to your Indonesian spouse is legitimate only when it is performed in accords with the regulations and the religious beliefs of both the husband and wife in Indonesia.
Authorized offices that can perform the marriages are local mosques or Muslim (Kantor Urusan Agama) and civil registry offices (Kantor Catatan Sipil).
On the other hand, if you get married outside of Indonesia, a marriage certificate from your country of origin is not sufficient. A CNI (Certificate of No Impediment to Marriage) is required along with your official marriage certificate. Both documents need to be translated into the Indonesian language and notarized in Indonesia.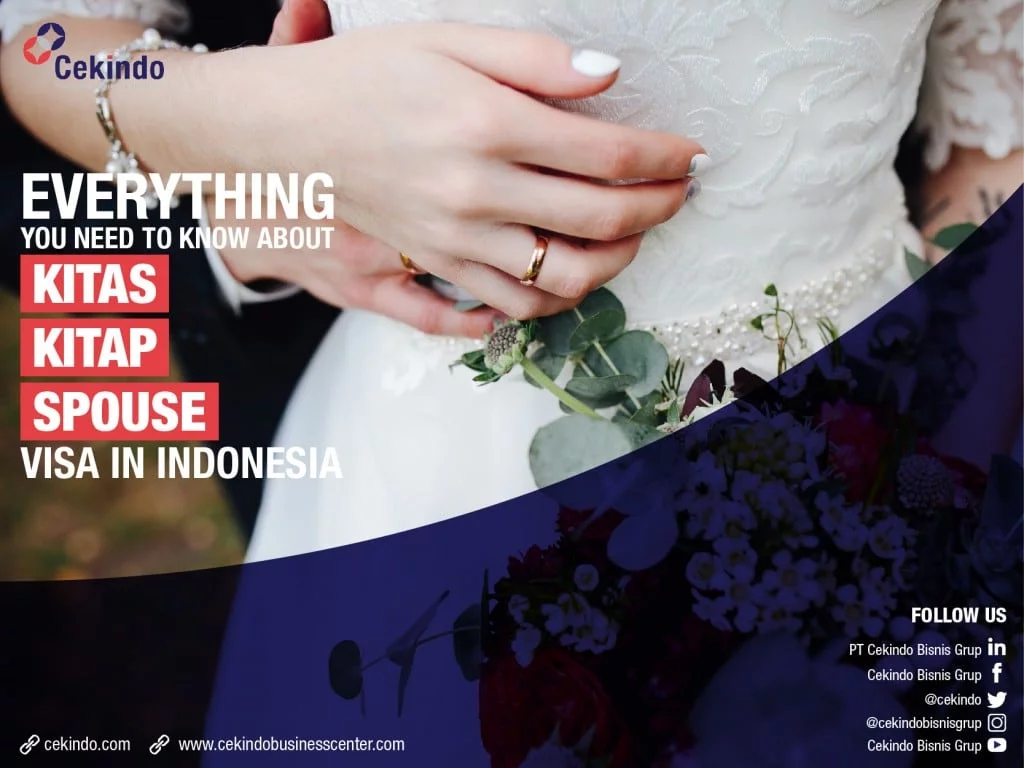 Step-by-Step Procedure to Get a Spouse Visa through Cekindo
By engaging Cekindo for your spouse visa application, you will only have to visit the immigration office once during the whole process — which is during the conversion of VITAS to KITAS — for biometric data processing.
Process for Spouse-Sponsored KITAS/ITAS
1. Electronic VITAS
Prepare documents: valid passport and a copy of passport, marriage certificate, copy of ID and family card of your Indonesian spouse with "married" status, copy of Indonesian spouse's latest bank statement, and sponsor letter.
Apply for an Electronic VITAS, which is issued by the Indonesian Immigration Office in Jakarta within 10 working days.
2. Convert VITAS into KITAS/ITAS
Once entering Indonesia, when your passport is scanned, your VITAS will automatically be converted into a KITAS/ITAS
Validity and Renewal of KITAS
KITAS is valid for 6 months to a year. It must be renewed every 12 months with 5 years of validity in total.
3. Civil Registration and Reporting
A foreigner with spouse-sponsored KITAS/ITAS must register at the civil department within 14 days upon KITAS issuance.
Prepare required documents.
Present at civil administration department.
You will get SKSKPS (Certificate of Family Formation of Temporary Residents) and STM (Police Report Certificate).
4. Convert KITAS/ITAS into KITAP/ITAP
You can consider converting your KITAS/ITAS spouse visa to a KITAP/ITAP spouse visa after two years of marriage with your Indonesian spouse.  The KITAP/IRAP is just one step before full citizenship.
What If I Have a Company-Sponsored KITAS/ITAS instead?
You can still convert your company-sponsored working KITAS/ITAS to KITAP sponsored by your spouse. You can't work for any company other than your spouse's, without having a work permit RPTKA (Pengesahan Rencana Penggunaan Tenaga Kerja Asing or the Foreign Worker Utilization Plan) from the Manpower Department in Indonesia. The company still needs to sponsor you for the RPTKA.
Validity and Renewal of KITAP/ITAP
After that, you will need to renew your KITAP every 5 years, and it can be done four times consecutively—a total of 25 years.
How can a Spouse Visa in Indonesia Benefit You?
By having a KITAS/ITAS or KITAP spouse visa, you are entitled to the following:
Validity for a stay in Indonesia: 5 years (for spouse KITAP)
Validity of MERP (Multiple Exit/Re-Entry Permit): 2 years
An Indonesian ID, KTP (Kartu Tanda Penduduk) with validity of 5 years (for spouse KITAP)
An Indonesian driver's license, SIM (Surat Izin Mengemudi)
Ability to open bank accounts, apply for loans and credit cards in Indonesia
Eligibility for local prices of tourist attractions
Eligibility for becoming an Indonesian citizen
In the Event of Divorce: What Will Happen?
If you are in a marriage with your Indonesian spouse for less than 10 years, you will have to submit a new sponsor to the immigration in Indonesia in 60 days to remain on your spouse visa.
On the other hand, if your marriage has lasted for more than 10 years, a divorce upon a court decision will have no influence on your permanent residency in Indonesia with a KITAP. You can stay in Indonesia indefinitely without being married.
Conclusion
In Indonesia, getting the right context of immigration law for spouse visa applications can be quite a challenge. Most of you will be taken aback by all the complicated processes and requirements thrown at your way if you do this on your own.
Do not get held up because of the burdensome paperwork requested, or time-wasting showing up at the immigration office multiple times. Let's get started here at Cekindo, and we will take care of all the hassles for you.