It is a universal requirement that when you want to work or live in another country outside your home country, you will have to comply with certain rules of the foreign country that you plan to relocate to. Indonesia is no exception.
More and more foreign expats have been working and living in Indonesia for many years and some of them would like to bring their family over so that they can be with their loved ones.
To do so, a dependent visa is necessary.
In this article, you will understand what a dependent visa in Indonesia is and what the requirements and processes are for you to obtain one.
Who are Eligible for Dependent Visa in Indonesia?
A dependent visa is also known as a family or spouse KITAS/ITAS, and it permits a foreigner who holds a KITAS/KITAP to bring their spouse and kids who are under 17 years old over to Indonesia.
Before a foreigner's spouse or child can apply for the dependent visa in Indonesia, they must first get a Limited Stay Visa (VITAS) to Indonesia to enter the country.
Once they have gained entry into the country, they can then convert the Limited Stay Visa into the dependent or family KITAS. Furthermore, a foreigner who has been legally married to an Indonesian citizen for at least 2 years is eligible to apply for Permanent Stay Permit (KITAP).
Dependent Visa Options in Indonesia
There are two options to get a dependent visa or family KITAS in Indonesia:
Convert a social visa B-211 into a dependent visa
The Dependent Visa application process is being conducted online. Foreigners are no longer required to go to Indonesian embassy or consulate general office.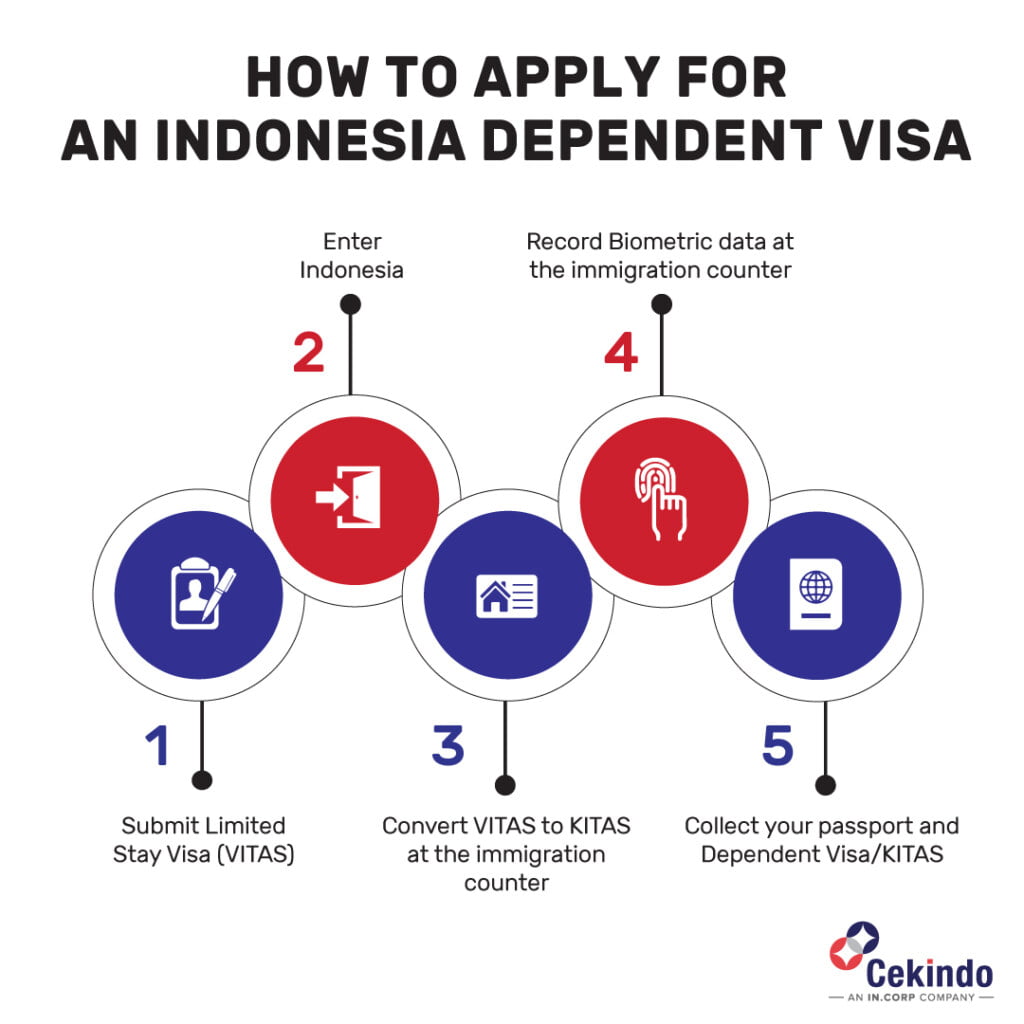 Document Requirements
You will need the following documents to process your family KITAS application:
Certificate of marriage
Indonesian spouse's family registry (if any)
Bank statement
Indonesian spouse's identity card
Photograph
Copy of passport's with a validity of 18 months
Application Process
A dependent visa has validity as long as the KITAS validity of the foreign sponsor.
If you prefer text, here is the brief process to apply for a dependent visa in Indonesia:
Apply for a single-visit visa to enter Indonesia.
Enter Indonesia.
Convert the single-visit visa to KITAS at a local Indonesian immigration office.
Fill in necessary forms and submit them along with the applicant's original passport to the mentioned office.
Go through the interview.
Collect files and submit them to Kantor Wilayah.
The head of immigration issues the approval letter upon successful review.
The letter is then submitted to Jakarta's Directorate General of Immigration (DGI).
DGI decides if the new status will be granted.
The decision will be updated online in 14 days.
Collect the dependent visa and passport at the immigration office.
Dependent Visa Application with Cekindo
Cekindo is a registered expert visa consultant in Indonesia focusing on offering quick and convenient visa application services to all your traveling and stay requirements.
Be it a dependent visa in Indonesia, tourist visa, business visa, residence visa or whatever it is, we cover it all.
We provide the simplest solution for processing your visa in Indonesia. So now you can say goodbye to dealing with complex immigration regulations and endless research on your own. We enable foreigners to process their visas most easily and efficiently.
What makes us distinct from our competitors is that we are among the few visa consultants in Indonesia that provide professional consultation for countries from all over the world.