KITAP Indonesia: When Will You Need One?
With its natural beauty and friendly people, Indonesia has attracted many foreigners to settle down for a long-term tenure. If you are one of them, you will need KITAP Indonesia to make your new life in the country a lot easier.
For instance, a KITAP allows its holders to stay for up to five years and two years of multiple entries into Indonesia. However, for foreigners who don't enter Indonesia within one year, the validity of KITAP is automatically void.
Once it has expired, KITAP holders have two options; extend it for another five years or convert it into an unlimited KITAP. Once converted into an unlimited KITAP, foreigners only need to report to the Indonesia immigration office once every five years instead of annually
What Are The Requirements for KITAP Indonesia?
The Indonesian government only issues a KITAP to foreigners who already hold KITAS (limited stay permit) and sets strict KITAP requirements. Those who are eligible to obtain KITAP Indonesia are:
Foreigners who are married to an Indonesian citizen for a minimum of two years (spouse-sponsored KITAS holders)
Foreign investors, directors or commissioners in a Limited Liability Company or PT PMA (current Indonesian investor visa holder for three consecutive years)
Foreigners who plan to retire in Indonesia (holders of an Indonesian retirement visa)
Indonesians who are in the process of regaining their citizenship
Obtain Your Indonesian KITAP With Cekindo
To obtain an Indonesian KITAP, make sure to meet all the requirements and provide the compulsory documents. You can just sit tight by engaging with us, and our experienced visa agents in Bali, Semarang, and Jakarta will do it on your behalf.
As a registered company in the country, we can also sponsor certain Indonesian visas if you do not have one. Consult with us for more details.
Notice | Due to the Indonesian regulations, we are not able to provide visa services to the following nationals: Afghani, Guinean, Israeli, North Korean, Cameroonian, Liberian, Nigerien, Nigerian, Somalian
Understanding The Different Types of Visas in Indonesia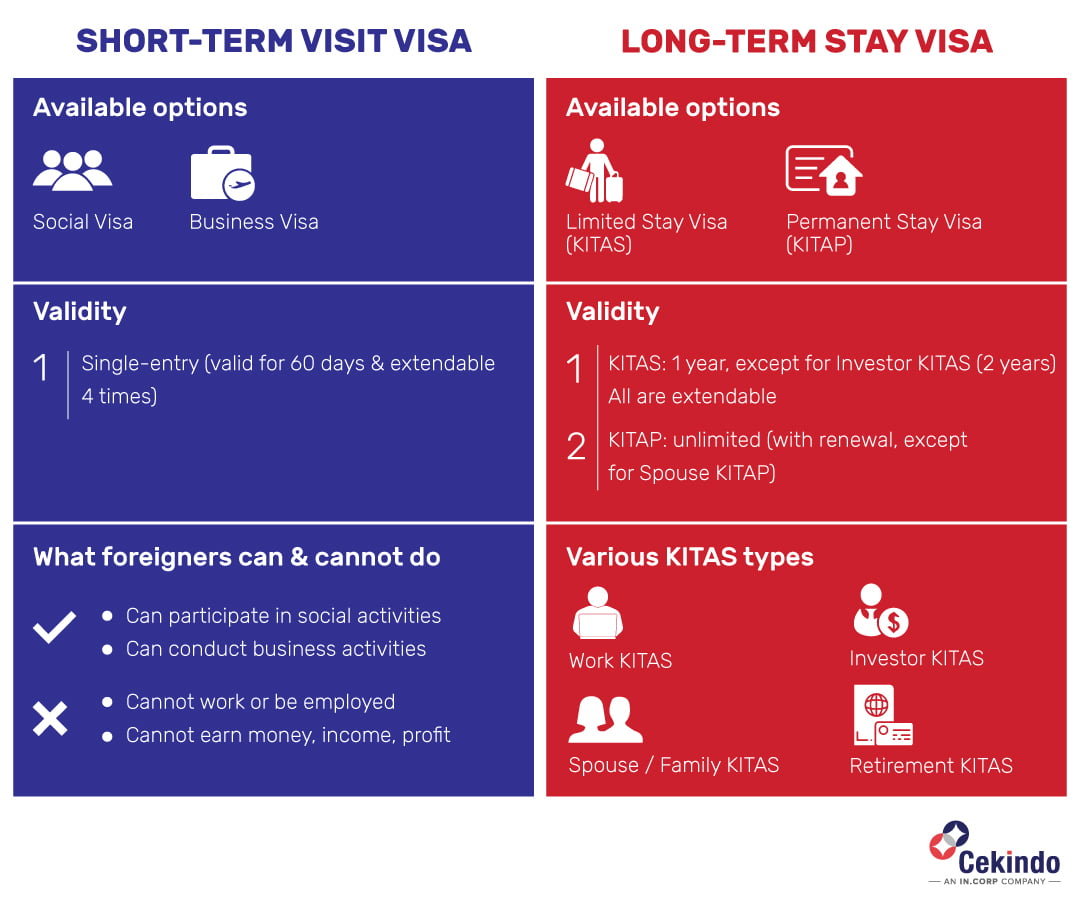 Why Choose Cekindo for an Indonesia KITAP Application
1
EXCELLENT SERVICE
To provide high-quality services tailored to your needs, our visa specialists always try to hear and understand you thoroughly.
2
EXPERIENCED VISA AGENTS
Our visa agents have experience with the local regulations for over a decade, and we can ensure your KITAP application is 100% compliant with the latest policy.
3
ONE-STOP SOLUTIONS
We always give our best effort to meet our client's satisfaction. Aside from visa consultancy, we also provide visa sponsorship in Indonesia.
4
TIME AND COST SAVING
Indonesian visa applications often require applicants to go to the immigration office several times. Avoid any of this hassle by handing over your KITAP application to us.