When talking about Sumatra, it is hard not to include a popular island Batam. Batam is not only the largest city in Riau, but it is also an industrial city and part of Indonesia's free trade zone. Over the years, Batam has emerged as the transport hub as well as a well-known destination for visitors from all over the world including westerners. So, it is important for visits to know the Batam visa requirements.
According to the Batam City Culture and Tourism Office, between February and March in 2019, the number of visitors to Batam increased from 150,888 to 173,947 in just a month. The boom of the number of tourists is no doubt because of the government's several tourism investment programs and the arrival of more business investors.
There will be more ongoing initiatives to boost the number of visitors and investment opportunities in Batam. For example, a 7-km sea bridge linking Bintan and Batam. The bridge is estimated to be completed in three to four years, aiming to transform the transport connections to keep pace with the developing business landscape in Batam.
Whether your purpose of visiting Batam is leisure or business, if you are a foreigner, you will require a Batam visa to get in.
Below Cekindo lists, out the major Batam visa options, you can consider.
Batam Visa Options
The significant development and economic growth in Batam are the reasons many foreigners come here to invest, vacation, or even reside permanently. That's why there are many Batam visa options available to cater to the growing immigration requirements.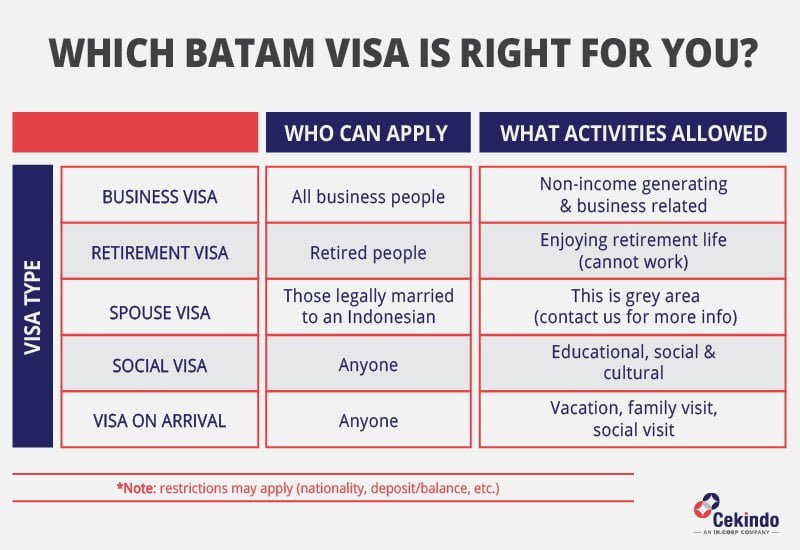 Business Visa
A business visa is one of the Batam visa options that most foreigners need when they want to enter Indonesia for business purposes.
The visa can be of single entry or multiple entries, allowing foreigners to participate in activities such as workshops, seminars, business meetings, training, business negotiations, and other non-income generating activities. Each entry with a business visa has a maximum stay of 60 days only.
Retirement Visa
A retirement visa is also known as a retirement KITAS or retirement ITAS. This Batam visa option is a temporary stay permit for seniors who wish to retire in Batam.
However, some requirements do apply for foreigners opting for this visa: they must have enough funds for their living expenses and they should not work in Batam or Indonesia during their retirement. Also, not every nation is allowed for a retirement visa. Please contact Cekindo to know more about the eligibility.
Spouse Dependent Visa
A spouse-dependent visa, also known as a spouse-sponsored KITAS, is permitted for application for foreigners who are legally married to an Indonesian citizen.
This visa can be later on converted to a permanent residency permit (KITAP).
Social Visa
Known as a visa sosial budaya, a social visa allows foreigners to stay in Indonesia for more than 30 days for visiting purposes or taking part in cultural, educational, and social activities.
Visa On Arrival (VoA)
Foreigners from specific countries are eligible to receive a VoA upon their arrival in Batam. However, these particular nationals must meet certain criteria.
Consult with Cekindo for the Right Type of Visa
Cekindo is an Indonesian premier provider of visa services for foreign individuals and businesses.
Our specialized services on visa applications and consultations are backed by decades of experience and an illustrious track record of successful visa applications.
Our team of visa consultants is led by professionals legal experts and practitioners who are legally registered with the Indonesian government and relevant authorities.
Find out more about our visa services and know which Batam visa is the right choice for you.
Contact us through the form below and one of our dedicated representatives will be in touch with you shortly.