Background Check Services in Indonesia
Coming to Indonesia from faraway? Are you afraid to start business with unreliable or incompetent business partner?
Are you going to share sensitive information in Indonesia?
Yes you are. That's what starting a business in Indonesia is about. You are sharing very sensitive information when you want to establish a long term partnership in Indonesia, to prove that your services, your product and your business model is the best. It doesn't matter if you have already a distributor or a partner in Indonesia or if you are searching for a new one for various reasons.
In general, and especially in a new place, it is always tricky to start and find a trustworthy partner, which is the key to success in Indonesia. Partner selection in Indonesia, in combination with a proper company background check, is very important. Always try to learn as much as possible about people you are dealing with.
What are the steps you can undertake to do this?
There are two methods of contact:
1. You have been contacted by a potential client
2. You are actively searching for a business partner in Indonesia
Being approached… it sounds like you are lucky to have saved time from searching, but actually you must be more careful. Yes, you were approached by someone with interesting offer. But in the end you need to verify information about this company.
It is similar to finding a good worker to renovate your bathroom…
Start with references, which are always the best option. You know what to expect! If a company provides you with references, use them. Call and ask… in many cases references can be within Indonesian companies, so it's good to have a local consultant with knowledge of Bahasa Indonesia.
Check the company's online presence and compare it to several sources. Be doubly suspicious about the email provided. If a company contacts you from a gmail.com or yahoo.com account, it is at least not very respectable.
Do desktop research. Further try to go through justice registry and other government sources to find out the status of the company and its passed development.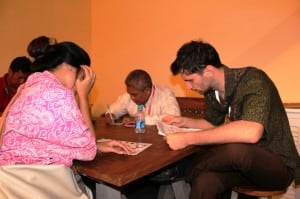 Go beyond the invitation or initial communication. Just sending an invitation and initial communication can tell you a lot. Speaking to your contact via Skype, for example, is the best.
Meet the company. You can't establish a proper partnership in Indonesia without a meeting in person to see how they communicate with you, how they behave, how they dress, by what transport they arrive, etc.
If you are coming to Indonesia, it is also possible to visit the partner at their office, which is also good practice.  This isn't always possible because it may be too far away and transportation in Indonesia can be very tricky and truly time-consuming. In case you want to arrange more than one meeting in a day, you need to plan this in advance, and schedule meetings in locations close to one another.
What you can find out?
Having experience with companies, there will be many different kinds. With some, there are troubles from beginning.  There are a few indicators, however, to quickly prove that it may not be a suitable partner.
A company may not really respond – at all or with delay.  Maybe they are answering questions poorly or are answering a question you didn't even ask. When you try to meet them, maybe they arrive late without an excuse or don't come at all.
This can happen legitimatley if there is a major traffic jam or heavy rain in Indonesia. It's important to stress that the meeting is important and they will be able to manage.
Then there are companies that seem to act normally. They respond to your emails, provide general information, when meeting them in person they are very nice, they smile, they agree with your proposal, they tell you lot about their capabilities and size. But after the meeting you will never hear from them.
Or, you make a mistake and sign a contract with them. They might register your product on your behalf and then… nothing. No sales, no results, just promises and wasted time.
Meeting a good company is different. In Indonesia, it is a long process to prove and test the partnership. The partner should be capable of communicating with you and delivering the agreed information and services.
You should always consider that the Indonesian approach is different and you need to invest more effort to set things right. A capable partner is like saffron: It is hard to find, but if you can find the right business partner, it is a pleasure to cooperate with.
The best way to ensure quality and efficiency is to use an experienced agency in Indonesia to connect you with potential partners. Good agencies have been doing business in Indonesia for years and they have many proven partners and the right contacts. They also cooperate with chambers of commerce or embassies.
This method of partner selection is more comfortable, and you can be sure that when you are traveling a long distance to meet your business partner, do fact-finding trip, or attend an event or fair in Indonesia, you will use the time effectively and you can focus on doing business.
Do you think the last option is the best for you or that you simply don't have capabilities to check out your partner in Indonesia?
Cekindo is your partner in Indonesia and can verify your partners through due diligence and company background checks.  We can even connect you to partners with whom CEKINDO is already cooperating.