What would you think if you heard about "blacklist Indonesia"? The word blacklist strikes fear in many people. Here we are talking about the blacklist stamp you've got on your passport when you've got expelled from Indonesia by Indonesian immigration officers.
There are a few reasons why more and more foreigners are getting the blacklist in Indonesia. Overstaying in the country is one of them. If you get blocked in Indonesia, you are not allowed to enter the country for whatever reason until your blacklist period is over.
However, there are things you can do to make sure you can enter Indonesia legally without any future complications. InCorp Indonesia (formerly Cekindo) has received many questions from concerned foreigners on how they can clear their names and enter Indonesia again.
With that in mind, we decided to tell you about the dreaded situation and how you can clear your blacklist status.
What Is A Blacklist In Indonesia?
A blacklist, also known as Daftar Penangkalan in Indonesian. The blacklist in Indonesia comes as a deportation stamp that foreigners receive on their passports. The stamps act as proof to prohibit you from entering Indonesia.
There are two types of blacklists in Indonesia. First, a temporary blacklist and a permanent blacklist.
You might get a temporary blacklist if you only break minor immigration rules or if this is your first time being blacklisted. The duration will hold you until six months of prohibition.
However, you need to apply for clarification from the blacklist. If you fail to do so, the blacklist period will renew automatically every six months to indefinitely.
How To Stop A Temporary Blacklisting?
Unfortunately, the temporary blacklisting for foreigners will not end unless they initiate it alone. For starters, foreigners m, you must ensure the blacklist status details with the Directorate General of Immigration in Jakarta.
Only authorized agents can check the blacklist records. Therefore, opting for an external service from InCorp Indonesia will help you to get the information from the Directorate General.
Before the blacklist in Indonesia is revoked, foreigners should understand the process in advance.
The Blacklist Removal Process in Indonesia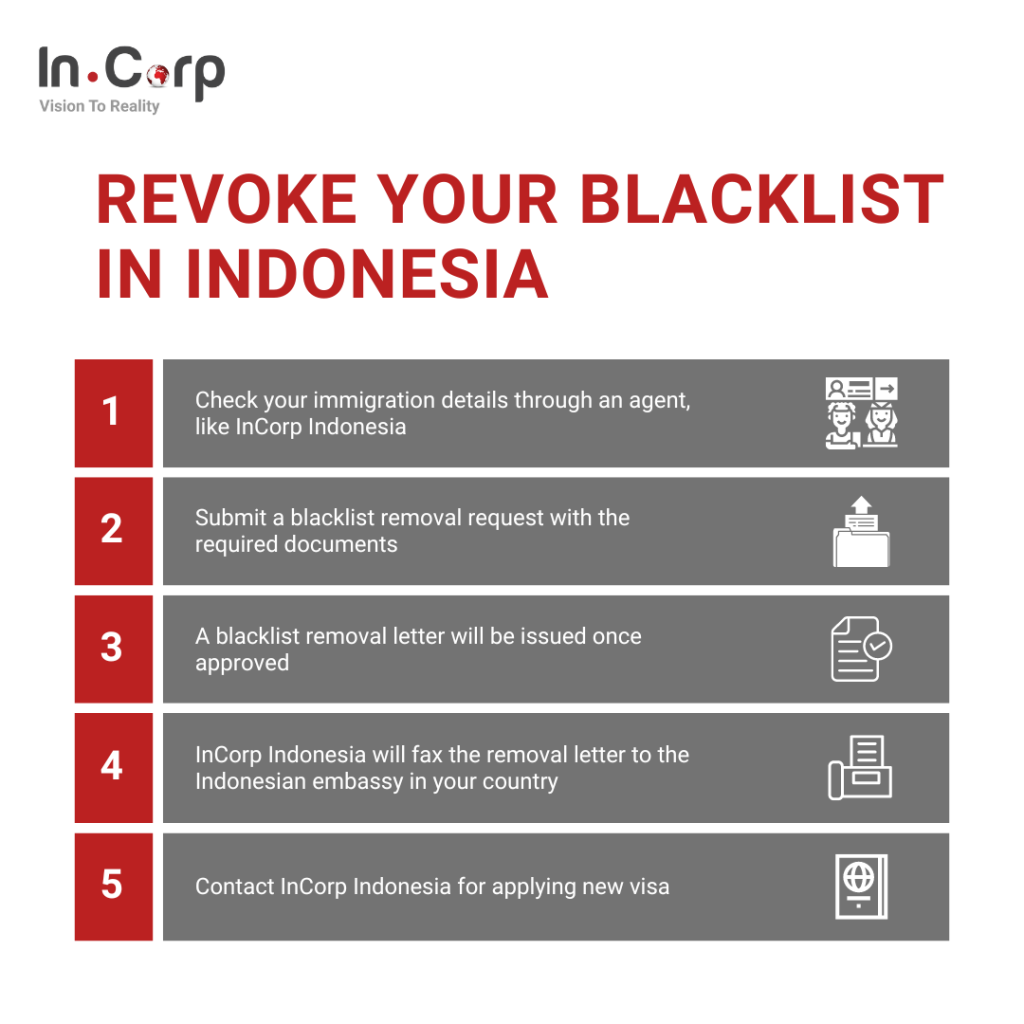 Before appealing the ban, remember to wait until your minimum blacklist period is over. After that, you may follow the steps below.
Appoint an agent to appeal in person at the immigration office in Jakarta for you. Clear their names and enters them to help you apply with mandatory documents.
The immigration will issue a blacklist removal letter, or Surat Berakhir Masa Penangkalan, on the same day.
Your agent will then fax the letter to the Indonesian Embassy or Consulate, where you will apply for your visa afterward. Faxing is the only option here.
Then, your agent will assist you in applying for a visa once the embassy or consulate receives the fax.
Documents Required For Blacklist Removal In Indonesia
You must prepare the following documents for your agent for the appeal submission:
You signed a petition letter called Permohonan Pencabutan Cekal on IDR 10,000 stamp. A generic letter called Surat Permohonan is possible too.
Please contact InCorp Indonesia for more information on preparing the letter.
Agent's passport/ID copy
Your passport copy (must include all pages with stamps and blacklist stamp)
What If Your Application is Rejected?
If your application is rejected, you must take your case further to the State Administrative Court or Peradilan Tata Usaha Negara. This will be a more complex procedure; you must engage a professional law specialist to resolve it.
Consult with InCorp Indonesia
At InCorp Indonesia, we have a team of visa specialists and legal experts who specialize in dealing with all visa and permit issues and taking care of immigration issues in Indonesia.
Book a free consultation with us today, and we will learn about your circumstances and provide you with actionable steps to get through immigration in Indonesia. Start by filling in the form below.