The world is big but technology and the internet have reduced the world to a global village. People from different countries with diverse cultural backgrounds can communicate and interact easily and quickly. This has also changed conventional marriages – the trend of mixed marriage can be seen everywhere, including in Indonesia.
In accordance with Indonesian law, a mixed marriage is defined as a marriage between a foreigner and an Indonesian citizen. Although mixed marriage is very common in Indonesia, the laws and regulations surrounding mixed marriage in the country may be more complex than they appear to be. This is especially true when it comes to the foreign spouse's legal status in Indonesia, a place to stay, stay permits such as KITAS or KITAP, and others.
If you are in a mixed-marriage situation in Indonesia or entering one, here are some basic things you need to pay attention to. Ultimately, you may want to consult with a professional legal consultant to make sure that you comply with Indonesia Law.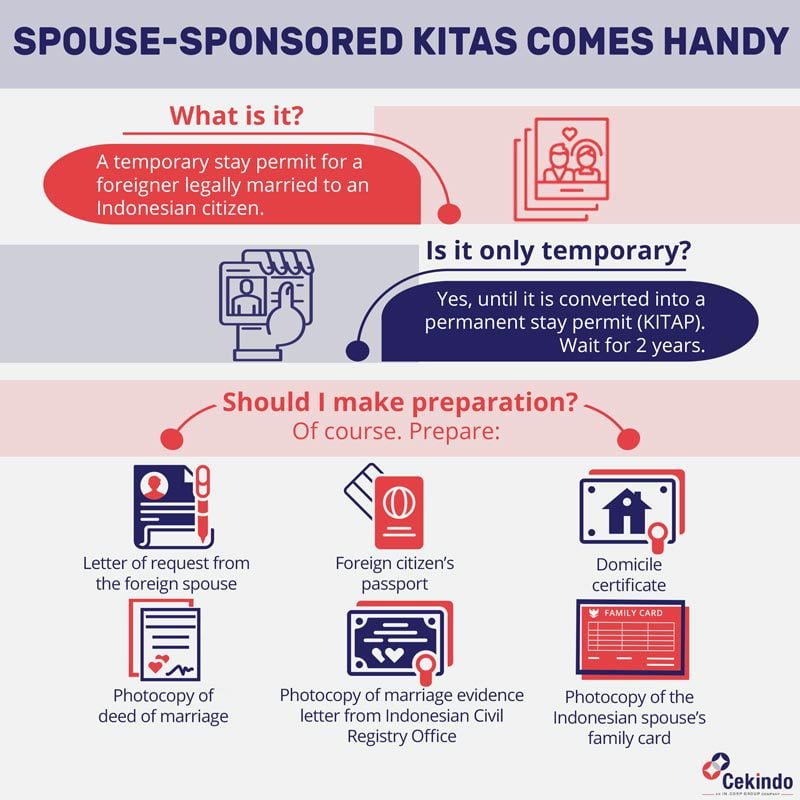 1. Get a Residence Permit (Stay Permit)
The most critical thing you need to pay attention to as a mixed marriage couple in Indonesia is a residence permit. Most mixed marriage couples often opt for the Temporary Stay Permit (KITAS). A KITAS can be granted to a foreign spouse by the government through marriage to an Indonesian citizen.
To get a KITAS, a foreign spouse must prepare the following documents:
Letter of request from the foreign spouse
Foreign citizen's passport
Domicile certificate
Photocopy of the deed of marriage
Photocopy of marriage evidence letter from Indonesian Civil Registry Office
Photocopy of the Indonesian spouse's family card
The foreign spouse can apply for a Permanent Stay Permit (KITAP) once he or she has obtained and held a KITAS for at least 2 years.
KITAP application comes with the following requirements:
Domicile certificate from the Indonesian Civil Registry and Population Service
Foreigner's passport with KITAS
Guarantee letter
Guarantor's ID card and family card
Integration statement
Power of attorney letter with stamp (if the application is done through an attorney)

2. Find a Place to Stay in Indonesia
Upon your arrival in Indonesia as a foreign spouse in a mixed marriage to an Indonesian citizen, you will need to find a place to stay. The address of the place you stay will be stated in the domicile certificate. The domicile certificate can be obtained from your local office and must be submitted to apply for your KITAS.
Renting is the best way to secure your place to stay in Indonesia, but you can also buy an apartment through the form of Right of Ownership. However, do keep in mind that the apartment you buy should be built on land with the Right of Use.
3. Keep Track of Your Wedding Records
You will need to show your wedding record to relevant authorities in order to apply for your KITAS and KITAP as a foreigner. If your wedding with an Indonesian national is held outside of Indonesia, it is highly advisable for you to obtain a deed of marriage.
All information on the deed of marriage must be translated into the Indonesian language and legalized by an Indonesian representative.
You shall also acquire a marriage certificate from the Indonesian representative. As a mixed-marriage couple in Indonesia, you will only have 30 days to register your marriage upon arrival in Indonesia.
KITAS and KITAP Applications with Cekindo
Cekindo offers both KITAS and KITAP applications for all foreigners to stay and live in Indonesia.
Get in touch with us now and we will connect you with our experienced legal consultants who can help answer questions regarding your KITAS or KITAP application.
Start by filling in the form below.