In order to boost foreign and domestic investments in Indonesia, the government of Indonesia is going to update the Negative Investment List (NIL), which was last amended in 2016.
Reasons for the Change?
The new list was announced in November 2018 as part of the 16th economic policy package by the Coordinating Ministry for Economic Affairs. This amended list is a gesture to many foreigners to make investments that will contribute to the reformative and consistent progress in the country.
Another important goal is to decrease the current national deficit as foreign direct investments in Indonesia play a significant role. The account deficit of Indonesia has hit US$8.8 billion (3.7% GDP) as of the end of 2017.
Also, foreign investments in particular sectors were much lower than expected. It is believed that the low awareness among foreign entrepreneurs was one of the major reasons for their poor development. These fields include market research services, and power plants (> 10 megawatts capacities), oil and natural gas exploration and exploitation, as well as the power grid construction in free trade zones.
However, the official announcement of the reform caused disagreement among local entrepreneurs as Indonesians fear of the global corporations entering the market and 'devastating' its local businesses. Therefore, it is expected that the NIL will undergo several updates until releasing its final version.
The Changes of 2018 Negative Investment List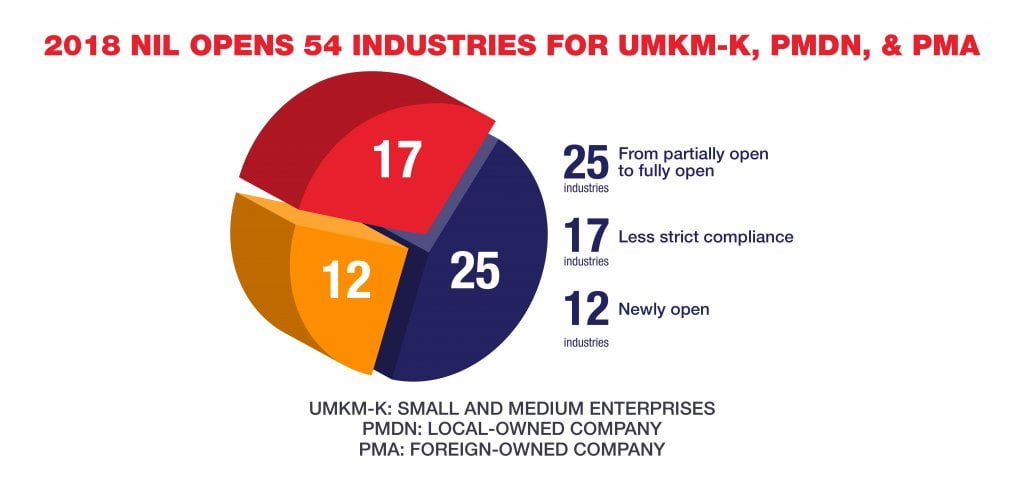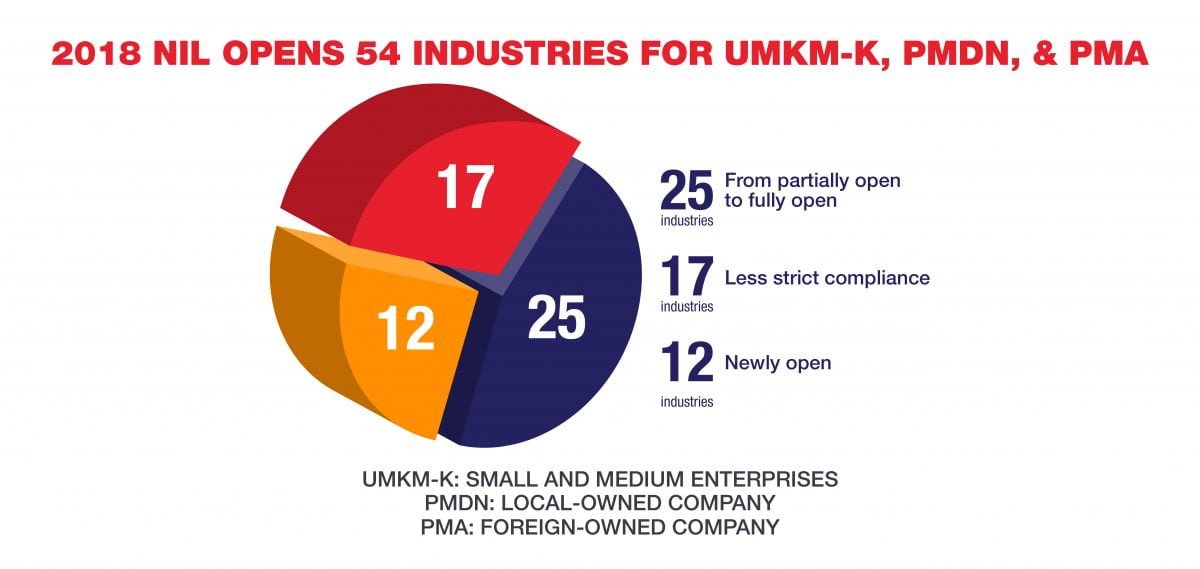 To further drive the restructuring of the market, the negative investment list will be shortened, especially in those sectors where investments have slowed down, and many industries will be further expanded.
The revised list will open 54 business activities, and full foreign ownership is going to be permitted in 25 business activities from 8 different sectors. Noticeably, not all 54 fields are suitable for a foreign company (PT PMA) as it requires capital of IDR 10 billion.
Industries Suitable for Full Ownership
The 25 business activities from 8 different sectors that are proposed for full foreign ownership include industries that were previously open to foreigners, but the number of investors was low. These fields are related to trade, tourism communications, transportation and telecommunications mainly.
The details are listed as follows (the bracket shows the current allowed foreign ownership):
Oil and gas construction (75%)
Ecotourism for areas of forestry (51%)
Geothermal survey and drilling (95%)
Oil and gas drilling (offshore) (75%)
Geothermal facilities operation and maintenance (90%)
High-voltage electrical installations testings (49%)
Power plants (more than 10 megawatts capacities) (95%)
Theatres and art galleries (67%)
Polling services (70%)
Land transportation (without specific tracks) (49%)
Data communication (67%)
Telecommunication networks and content services (fixed and mobile) (67%)
Sea transportation of passengers (overseas and it excludes cabotage) (70% for Southeast Asians)
Call centres and other telephone services (67%)
Internet services for the public (67%)
Pharmacy industry with more than US$6.8 million investment (85%)
Job training (67%)
Fumigation and pest control (67%)
Acupuncture facilities (49%)
Industries Used to be Closed to Foreigners
Other specific fields that will open up to full ownership from its current closed status:
Construction machinery leasing
Other machinery leasings (textile, powerplant, etc.)
Surveyor services
Industries for Every Size of Company
Good news for small and medium companies is that the following sectors are no more restricted based on the size of businesses:
Fabric printing
Lace knitting
Tuber cleaning and stripping
Industries with No Special Recommendations
Previously requiring special recommendations, these sectors below will not need them anymore. They are:
Cigarette industry
Crumb rubber
Operation of wood processing
Saccharin, cyclamate or artificial sweeteners
Medical equipment
Banks
Cell and tissue culture laboratories.
Industries that Require No Local Partnerships
The business sectors which are affected and will not require local partnerships include retail trade that is portal-based or internet-based (e-commerce).
Final Note
The Negative Investment List significantly influences the development of the Indonesian economy and the amount of foreign direct investment pouring into the country. Even though its final version has not been approved by the Indonesian president yet, investors should be aware of its latest development.
Cekindo offers one-stop market entry solutions that assist global investors when setting up businesses in Indonesia. Contact us today, and our teams located in Jakarta, Semarang and Bali will get back to you within one working day.