Another prestigious award was bestowed on Cekindo in 2020, in addition to Best Market Entry Consulting Firm 2020 – Indonesia by APAC Insider. It was an honor to be awarded Employer of the Month –  September 2020 by a leading job portal in Indonesia, Glints.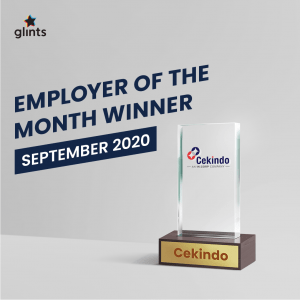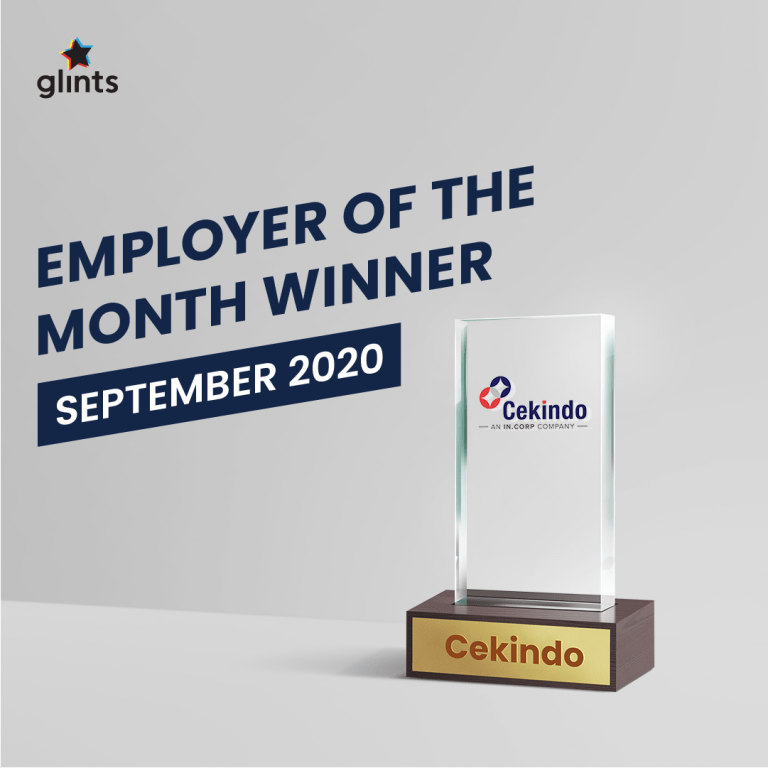 The prestigious award was bestowed in recognition of being the most active recruiter on Glints' job portal throughout the entire month of September, successfully defeating 30,000+ companies across the country, to accommodate our hiring needs as a recruitment outsourcing provider in Indonesia.
On the occasion of winning the award, Glints had an interview with the Cekindo HR team, discussing people strategy and business strategy and how they can be integrated to support business expansion to a new country. Here is the English transcript.
Q&A: People Strategy and Business Strategy during Business Expansion
Glints: What are the aspects that need to be considered when a company wants to expand?
Cekindo: Companies expanding overseas must take into account multiple aspects. In addition to business aspect, such as market size and competition, they need to consider local regulations that can be limiting foreign investments or defining how some business activities should be done.
In addition, it is important to take local culture into consideration. Each country is different and has different values of customers and employees. What works in China might not work in Indonesia, like what works in Indonesia might not work in India.
Glints: How can the company culture, mission and vision be applied globally amidst the different cultures of each country?
Cekindo: It is important to have a strong vision that goes beyond one-country specifics. Culture is communicated via social interactions, so it is important that there are strong links between employees in different countries and cross-country initiatives that take different offices into account.
It is important not to try to completely enforce the same culture everywhere, which would not work well. Instead, focus on what is important – key values and principles are crucial for differentiating from others and smooth running of the company.
Glints: How can HR integrate a people strategy with a business strategy in a new market?
Cekindo: People strategy should be well aligned with the business strategy. Just simply having the right people onboard from the beginning can significantly influence the success of business expansion. This can often be challenging during the expansion to a new market as companies need to move fast and might have limited HR resources to build a brand, attract and select the right talent. Fortunately, this process can be successfully outsourced to a recruitment company that can assist with recruitment as well as administration related to hiring employees.
Glints: How can a company effectively build an HR strategy for competency determination, career development, and employee performance appraisals when expanding into new markets?
Cekindo: HR must be able to convey the company's vision, mission and values ​​to all employees as their reference when carrying out business strategies and realising achievement targets for a determined and mutually agreed period of time.
When entering a new market, the company must prepare a comprehensive strategy, namely product acceptance and product experience, to seize the market.
What will automatically happen in implementing this strategy is an increase in the product development process (research and development), resulting in changes and expansion in terms of facilities and marketing. In this phase, the company usually has problems with job backlogs and scheduling.
In general, HR focuses on staffing. This can be done internally or through external parties (outsourcing). HR must focus on recruiting new candidates with qualified competencies, because at this stage the training program is still being developed.
Thus, in supporting the synergy between people strategy and business strategy, recruiting candidates who are highly competent, ready to face change, and have high independent learning power is the most important things HR and companies do.
On the other hand, managers/leaders must try to maintain morale, work motivation, repetitively share product and technical knowledge information in the field. With strong support from all lines of the company, the integration of the people strategy and business strategy can be realised efficiently in new markets.
Glints: What is the recruitment trend in the midst of a pandemic for companies that are expanding their businesses?
Cekindo: It is no secret that many companies had to be pragmatic during the pandemic and looked for ways to compensate for loss of revenues or protect themselves from further business risks. Some companies stopped hiring for new roles, some cut employee salaries, forced unpaid leaves, early retirements or laid-off part of the workforce.
The recruitment process is a little easier than normal, because during this pandemic, many qualified candidates became jobless due to efficiency or layoffs.
The understanding is like this: when a business line closes and reduces or layoffs employees, those who are in the executive, senior and specialist positions do not work. Their negotiation level is low due to the pressure of not having a job, but they still have their competence and skills with them.
Companies that thrive during this pandemic should attract these candidates. The recruitment team extends the selection and interview process because they are now more available than when they were still working as specialists. Then we get the best candidates that we recruit from big companies or highly skilled candidates who are willing to work for new developing companies.
Companies or recruiters today must be good at seeing this opportunity, because it could be that next year the pandemic is over, the need is increasing sharply, the workload is high, while we are just starting to recruit from scratch. It will be too late.
Glints: How to attract competent candidates in new markets? Is it recruiting internally or using services from external parties?
Cekindo: In attracting competent candidates in new markets, companies must employ employer branding. Not only company products, but each employee, primarily in HR, is required to do personal branding.
Employer branding can be done by promoting activities within the company, such as sharing sessions, podcasts, updates on employee development, business events, family days, corporate social responsibility events (if any) and many more. This makes it easier for candidates to know the positive culture and working atmosphere in the company and of course can create interest to work in our company when recruiters post job vacancies.
The candidate's internal and external sources are both good, although each has its own pros and cons.
For internal recruitment, HR needs to ensure that training has been developed first, employees who have received promotions are ready without any big skill gaps and successors appointed internally. This is important to prevent backlogs of work.
External recruitment is popular because it is easier to manage in terms of training and forwarding. In addition, there are benefits from working with third parties. The third party will look for the best candidate according to company requirements.
These newly hired candidates must have the skills and experience associated with the position being applied for. So usually external candidates are more experienced than internal candidates, and can also bring new knowledge to the company.
For the initial stage, you should consider the aspects of cost effectiveness and efficiency. The needs for non-managerial positions and admin support should be fulfilled by working with a business process outsourcing service provider company, like Cekindo in Indonesia.
Meanwhile, for top executive management positions, we can recruit candidates as in-house employees. The recruitment process can leverage services provided by a third party (such as an external recruitment and hiring service provider) who is more familiar with the local conditions.
Glints: What impacts did Cekindo have after using a recruitment service? For example, recruiting candidates faster (timing), hiring more competent candidates, or saving more on recruitment costs because retention is higher.
Cekindo: Using an external party like Glints, we can have our needs for quality candidates satisfied. In addition, the Glints recruitment platform has an activity log feature for each candidate. This makes it easier for recruiters to view the history of a candidate's application, especially for candidates who have previously been processed, without having to double-check in the database.
Get Ideal Candidates in Indonesia with Cekindo's Recruitment Services
Cekindo provides top-notch outsourcing services of recruitment and hiring in Indonesia for small and medium businesses, as well as large corporations.
We are an international leader in talent acquisition and management solutions to help you maximise your organisational performance and deliver great business outcomes.
Our team of recruitment specialists is ready to help you create a dynamic talent supply chain in Indonesia by combining our recruitment skills and industry expertise.
In need of ideal candidates to support your company growth? Talk to us now. Complete the form below to discuss further about recruitment in Indonesia.