Many foreigners are attracted to Indonesia as a place to start their entrepreneurial journey. Thanks to Indonesian reform policy in recent years, now the time it takes to complete all the legal procedures for starting a business in Indonesia has been significantly reduced.
There is a wealth of options for starting a business in Indonesia as the country has diverse industries and sectors that are thriving and delivering excellent results – one of those is the shipping business.
The fast-paced growth of shipping business in Indonesia is undeniable.
In Indonesia, water transport or shipping via water is the most important form of transport in the country as Indonesia is an archipelago consisting of 17,504 islands; and about 66% of Indonesian territory is surrounded by water.
Indonesia connects with countries from all over the world through its shipping business and particularly in Southeast Asia. Every day, shipments in large volumes leave and enter Indonesia and that's why foreign investors are eyeing on the shipping industry, believing that the shipping business is one of those they will gain significant profits from.
Of course, there are laws and regulations that govern the shipping industry. These regulations are enacted to protect the maritime and shipping industries, as well as to provide more opportunities for foreign investments.
In this article, you will gain insights into how to set up a shipping business in Indonesia.
Why Start a Shipping Business in Indonesia
The shipping companies in Indonesia have contributed a lot to the country's GDP – approximately 11%.
It means that there are plentiful opportunities for starting a business in Indonesia in the shipping industry, especially during this time when the market conditions are thriving evidenced by the heavy investments.
To support the growth and to encourage more investments, the Indonesian government has also introduced several initiatives such as major port development.
At present, the Indonesian Shipbuilding Association (Iperindo) has 117 shipyard companies with the operation of 27,000 commercial vessels at major ports across the country.
Most of the shipping companies are in East Java, Surabaya and Batam.
In addition to port shipping business opportunities, shipbuilding activities have also become more prominent – another area for investors to dive into.
However, the Indonesian government has set restrictions for foreign investors to participate in the shipbuilding sector and designed attractive incentives for domestic investors to get into the market.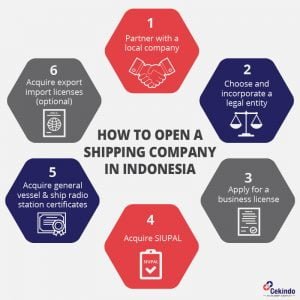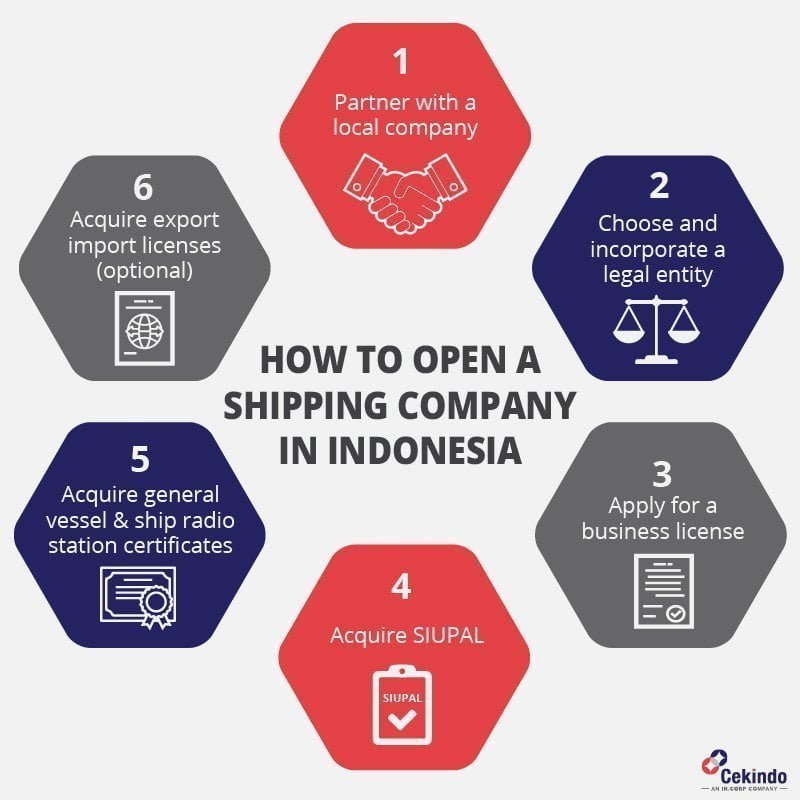 How to Start a Shipping Business in Indonesia
Starting a business in Indonesia in the shipping industry is possible for foreigners. Allowed maximum foreign ownership in a shipping company in Indonesia is 49% in order to protect local investments.
Therefore, foreign investors need to partner with a local company in order to set up a shipping company.
Process and Requirements for Setting Up a Shipping Company in Indonesia
Starting a shipping company in Indonesia is only possible through the share distribution schemes under the Shipping Law of Indonesia.
Below is the process that you need to go through before you are able to run your shipping business.
Seek a local partner
Incorporate a company in accordance with Indonesian Company Law
Register for a business license
Acquire Sea Transportation Business License (SIUPAL) upon the receipt of temporary business license
Obtain general vessel certificate and ship radio station certificate for each shipping vessel
Export and import business licenses if the shipping company is involved in exports and imports
How Cekindo can Assist in Establishing Your Shipping Company
The foundation of any successful business ventures in Indonesia lies with choosing the right legal entity at the beginning and proceeding with the subsequent steps with an effective business plan or strategy.
The decisions will affect the performance and operation of your business.
Our competent team at Cekindo will assist in establishing your shipping company by creating and implementing the best strategy and approach, and we assure you that you can rely on us.
Connect with us to know more of our business formation services. Fill in the form below.