The laws in Indonesia make it mandatory for a whole range of businesses in the country to acquire a business license before they can be legally established and operated. Some businesses may also obtain a more specific license such as a commercial license to sell alcohol.
Follow Cekindo's guide to understand the different types of business licenses in Indonesia.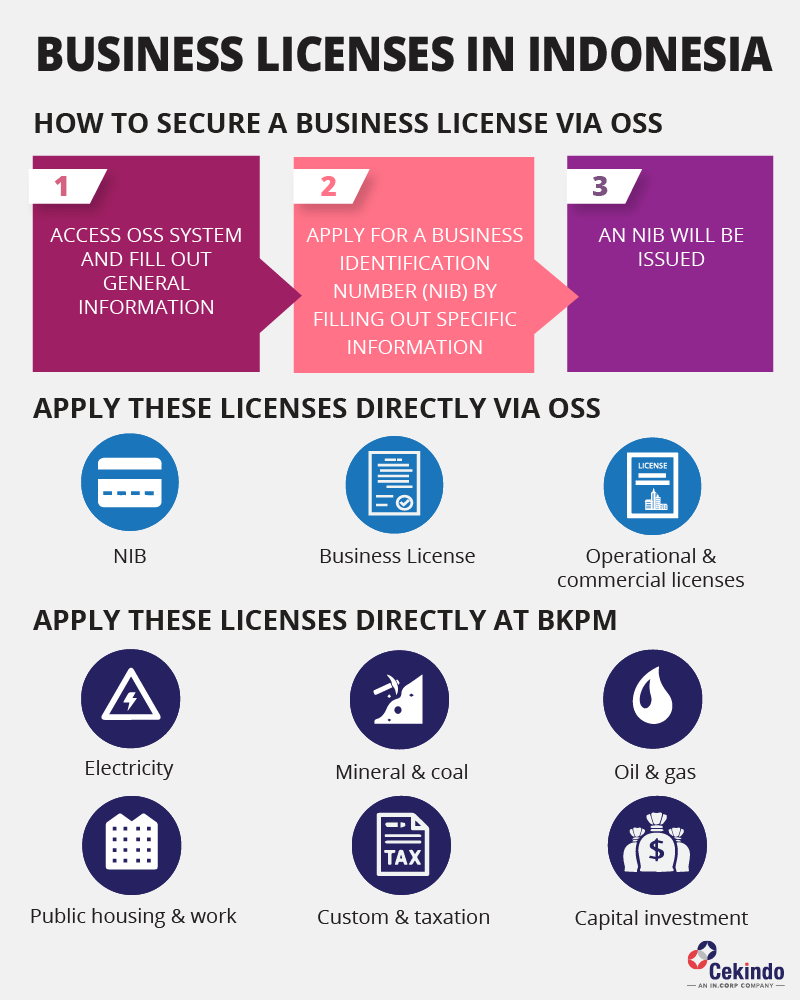 Different Types of Business Licenses in Indonesia
There are primary and non-primary business licenses in Indonesia. Primary licenses are the most widely used business licenses.
Companies in Indonesia often use one of the three primary licenses including general business license, industrial business license, and construction business license.
Non-primary licenses include commercial and operational licenses and permits. These licenses are required before businesses start their operations based on their business activities.
Licenses that can be Applied via OSS
Three types of licenses that can be applied through OSS are introduced by the Indonesian government to replace and consolidate the previous licenses. This implementation is to integrate and simplify the license-issuing procedures.
Business identification number (NIB)
Business licenses
Operational and commercial licenses
A Step-by-Step Guide to Securing Business Licenses in Indonesia via OSS
The OSS licensing procedure system is relatively straight-forward. Business owners need to first complete their registration with the OSS; then proceed to acquire the Business Identification Number (NIB).
The business license will then be processed upon the acquisition of NIB, and the applicant will afterward receive the business license.
1. Access the OSS System
You can start the OSS registration by preparing the following for application submission:
Applicant's name
Identity card number or passport number
Registration number of the deed of establishment for private companies
Establishment's legal basis for public companies
2. Apply and Obtain an NIB
Then, the applicant (as an individual or non-individual) shall proceed to provide the following information to get the NIB:
Individuals
Applicant's name
Identity card number or passport number
Business line or category
Business address
Investment location
Planned investment value
Business contact number
Plan of manpower utilisation
Taxpayer identification number
Plan of fiscal and customs application
Non-individuals
Investment type
Business registration number or name of the deed of establishment
Business line
Investment location
Planned investment value
Plan of manpower utilisation
Entity's contact number
Plan of fiscal and customs application
Taxpayer identification number
Business or person-in-charge's ID number
Once all required documents have been submitted and proved valid and complete, it takes approximately 14 business days to process the business license.
Licenses that Cannot be Secured via OSS
BKPM is still in charge of licensing processes of several sectors in Indonesia that cannot be done through OSS.
The sectors with licenses that cannot be secured through OSS include the following:
Electricity sector
Mineral and coal sector
Oil and gas sector
Public housing and public work sector
Custom and taxation
Capital investment
How Cekindo can Assist
Indonesia offers excellent options for running a business and has emerged as one of the fastest-growing economies in the world.
If you are planning to expand your business in the country, then you must be familiar with the process of acquiring a business license in Indonesia. A business license is mandatory to complete your company registration in Indonesia.
Cekindo can provide you with a customised and comprehensive business registration service that fits your budget. We also help you explore the best possibilities of registering a company in Indonesia.
Having years of experience in providing company registration and business consultancy in Indonesia, Cekindo has an impeccable track record with outstanding end-to-end solutions for global businesses.
Talk to us now. Fill in the form below.